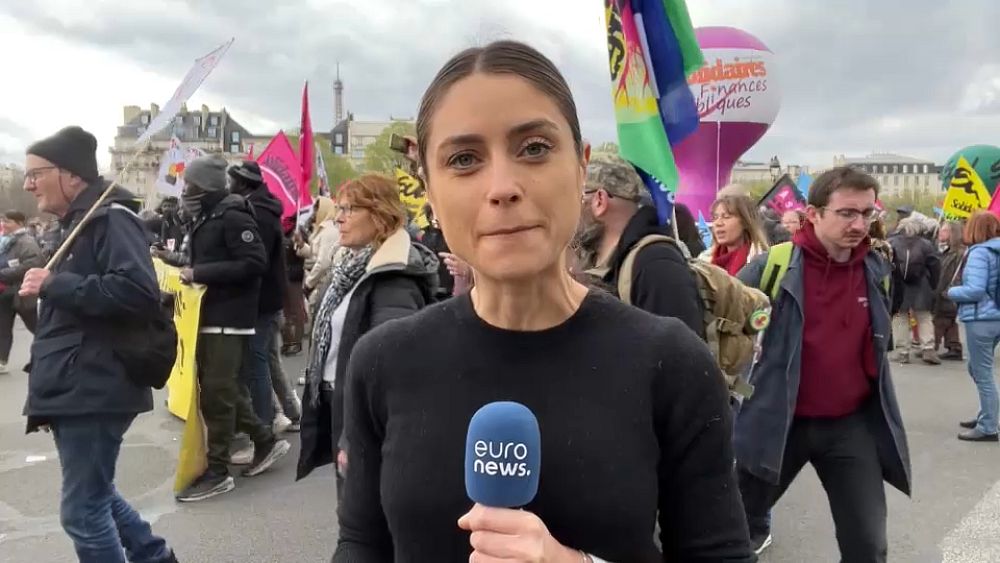 Protesters disrupted vehicle traffic at Paris' main airport and police fired clouds of tear gas in other French cities in the latest round of strikes and demonstrations on Thursday against President Emmanuel Macron's contested pension reforms.
However, the number of strikers has fallen, particularly in the transportation sector, since protests began in January. About 400,000 people joined the protest in Paris on Thursday, down from 450,000 the week before, said the powerful CGT union. Police estimates of the marchers' numbers weren't immediately available but are always lower.
On Thursday, the Paris Metro ran almost normally, in stark contrast to previous days of action. Less than 8% of teachers were on strike, according to the Education Ministry. However, the sizeable TotalEnergies oil refinery in Gonfreville-l'Orcher remained closed.
In Paris, police were pelted by projectiles when the protest reached La Rotonde, a restaurant patronized by Macron during the 2017 presidential election that he went on to win. Parts of the façade of the chic venue were vandalized.
Experts say violence seen in the nationwide protests, with dozens of demonstrators and police hurt, has turned off less activist parts of the population.
Ten previous rounds of nationwide strikes and protests since January have failed to get Macron to change course, and there was no sign from his government that Thursday's 11th round of upheaval would make it back down.
Talks between trade union leaders and Prime Minister Elisabeth Borne quickly broke up Wednesday with no breakthrough, setting the stage for protesters to return to the streets.
Advertisement
The new Emirates Premium Economy has arrived on the latest Emirates A380
Get the best value from your summer holiday with exclusive offers and discounts across Dubai and the UAE with Emirates Pass