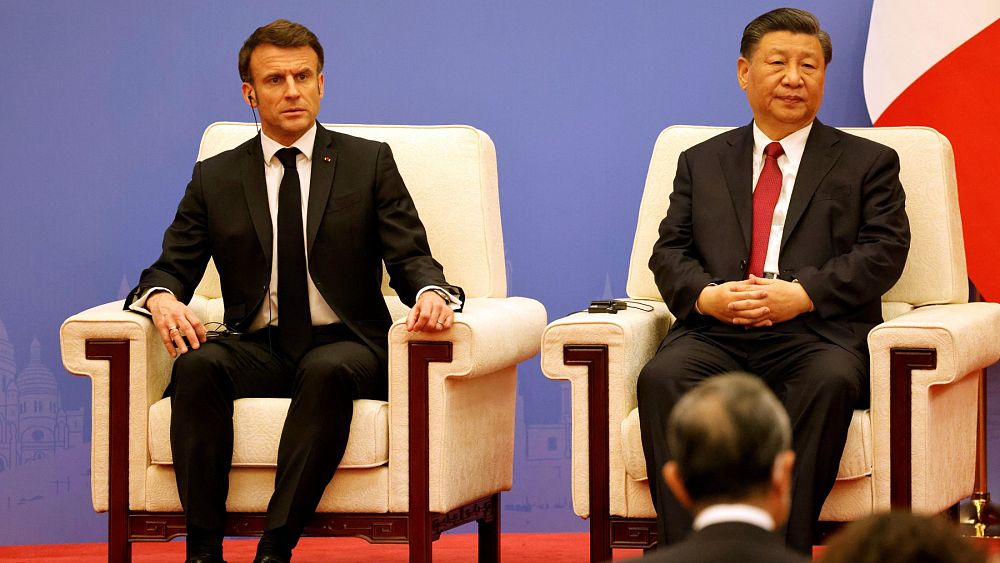 China is once again opening its doors for business and the European Union, hosting a visit of Commission President Ursula Von der Leyen and French President Emmanuel Macron.
But while Beijing seeks to intensify trade ties, the EU wants to gradually break out of dependence.
How to "de-risk without de-coupling"? This is the main point of contention in the bilateral meeting between China and the EU.
Von der Leyen has said the relationship between China and the EU needs to be re-assessed: "Over the last ten years, the European Union's trade deficit has more than tripled. It reached almost €400 billion last year. We discussed that because this trajectory is not sustainable and the underlying structural issues need to be addressed".
However, decoupling won't be easy. In 2022, China was the EU's third-largest partner in terms of exports of goods and the largest in terms of imports. A trade volume that Von der Leyen puts at €2.3 billion per day.
Andrew Small, a Senior Transatlantic Fellow, told Euronews: "I think the real concern on the Chinese side is precisely that Europe will take a view of China, that given the security and political developments that Europe is seeing, that it will impose a set of tightened restrictions when it comes particularly to technology access, which I think China's counted on being able to continue to acquire from Europe".
The second point of contention is the relationship with Russia. Clearly, this visit has a commercial engagement agenda, but also a diplomatic one. After several years of isolation as a result of its COVID-19 zero policy, there is a collective effort to begin to re-engage China at the highest levels of geopolitics.
And the most pressing engagement for Europe is for China to play a more constructive role in the war in Ukraine.
"Ensuring that Russia senses that essentially China is able to operate either as a broker to try and encourage peace talks, to try to act as a restraining influence on Russia," said Small.
Or, at least, that it commits itself not to escalate the conflict.
Macron outlined that France wants nuclear weapons to be completely excluded from the conflict, that all international treaties on the subject should be respected and that under no circumstances should nuclear weapons be deployed outside a state, particularly in Europe.
The third point of contention is human rights. A disagreement has led the EU to place sanctions on China over its alleged abuses of ethnic and religious minorities in the Western region, especially Xinjiang's millions of predominantly Muslim Uyghurs. China then responded by placing sanctions on the EU.
"The situation in Xinjiang is particularly concerning. It is important that we continue to discuss these issues and I, therefore, welcome that we have already resumed the EU-China human rights dialogue," said von der Leyen.
Despite the differences of opinion, there are some areas where they have agreed to cooperate, such as the climate.
"But it's not because we have differences that we can't talk about them first, share them in a very frank way, but do it in a respectful way, considering somehow that one would have lessons to give to the other," said Macron.
Advertisement
The new Emirates Premium Economy has arrived on the latest Emirates A380
Get the best value from your summer holiday with exclusive offers and discounts across Dubai and the UAE with Emirates Pass