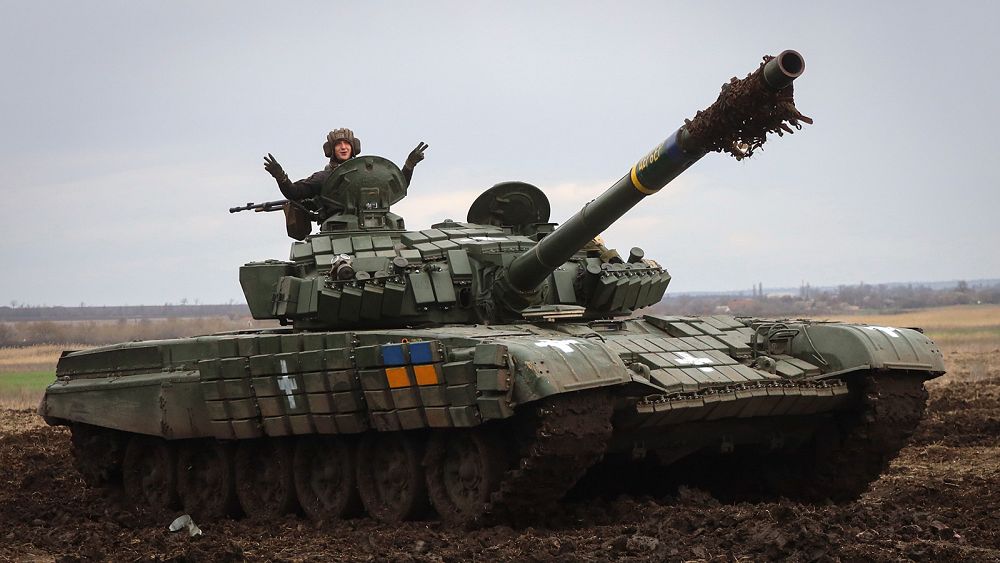 An alleged leak of Pentagon documents that were posted on several social media sites on Friday appeared to detail US and NATO aid to Ukraine.
The images of the documents may also have been altered or used as part of a misinformation campaign.
Now, the Justice Department has launched an investigation into the incident.
The documents, which are said to have been originally posted on Discord and widely shared on social media platforms such as Twitter, are labelled "secret" and resemble routine updates that the US military's Joint Staff would produce daily but not distribute publicly. 
They are dated ranging from 23 February to 1 March and provide what appear to be details on the progress of weapons and equipment going into Ukraine with more precise timelines and amounts than the US generally provides publicly.
Some of the markings on the documents, seen by Euronews, suggest that they might have been shared with Ukraine and NATO allies, among others.
They are not war plans, and they provide no details on any planned Ukraine counter-offensive. 
Some of the copies of the allegedly leaked documents showed inaccuracies or outright edits — including estimates of Russian troops losses that are significantly lower than numbers publicly stated by US officials — leading some to question the documents' authenticity.
In a statement Friday, Sabrina Singh, a Pentagon spokeswoman, said the Defence Department "made a formal referral" of the matter to the Justice Department for investigation. 
And the Justice Department, in a separate statement Friday, said, "We have been in communication with the Department of Defence related to this matter and have begun an investigation."
'Russia's most successful operations take place in Photoshop'
The investigation comes as questions continued to swirl about the origin and the validity of the documents, and as reports suggest, more have begun to appear on social media sites.
"It is very important to remember that in recent decades, the Russian special services' most successful operations have been taking place in Photoshop," Andriy Yusov, a spokesman for Ukraine's military intelligence directorate, said on Ukrainian TV.
"From a preliminary analysis of these materials, we see false, distorted figures on losses on both sides, with part of the information collected from open sources."
Separately, however, Ukrainian President Volodymyr Zelenskyy's office released a statement Friday about a meeting he had with his senior military staff, and it noted that "the participants of the meeting focused on measures to prevent the leakage of information regarding the plans of the defense forces of Ukraine."
If the published documents are authentic to any degree, however, the leak of classified data is troubling and raises questions about what other information about the Ukraine war — or any coming counter-offensive — could be distributed. 
It also brings into question the possibility of a mole, either within US structures or those of Ukraine's allies.
Little real intelligence value
US officials on Friday provided no clarity on the origin of the documents, their authenticity, or who actually was the first to post them online.
Overnight on Friday, domestic outlets in the US reported that more documents involving Ukraine, as well as other sensitive national security topics such as China and the Middle East, had begun appearing on social media.
One US official, who spoke to AP on the condition of anonymity, said the initial documents resemble data produced daily by the Joint Staff, although some numbers are wrong. 
Even if they were legitimate, the official said, the US believes there is little real intelligence value to the documents since much of it is information Russia would already know or could glean from the battlefield.
The charts and graphs describe some battlefield status of both sides from a month ago, US military movements during the previous 24 hours, personnel numbers and the local weather outlook.
But there are errors in some of the images circulating online. Under a section titled "Total Assessed Losses," one image of a document from the supposed leak lists 16,000-17,500 Russian casualties and up to 71,000 Ukrainian casualties. 
General Mark Milley, chairman of the Joint Chiefs of Staff, said publicly last November that Russia has lost "well over" 100,000 soldiers, and Ukraine had lost about that many also. 
Those estimates have continued to climb in recent months, although officials have stopped providing more exact numbers.
Advertisement
The new Emirates Premium Economy has arrived on the latest Emirates A380
Get the best value from your summer holiday with exclusive offers and discounts across Dubai and the UAE with Emirates Pass