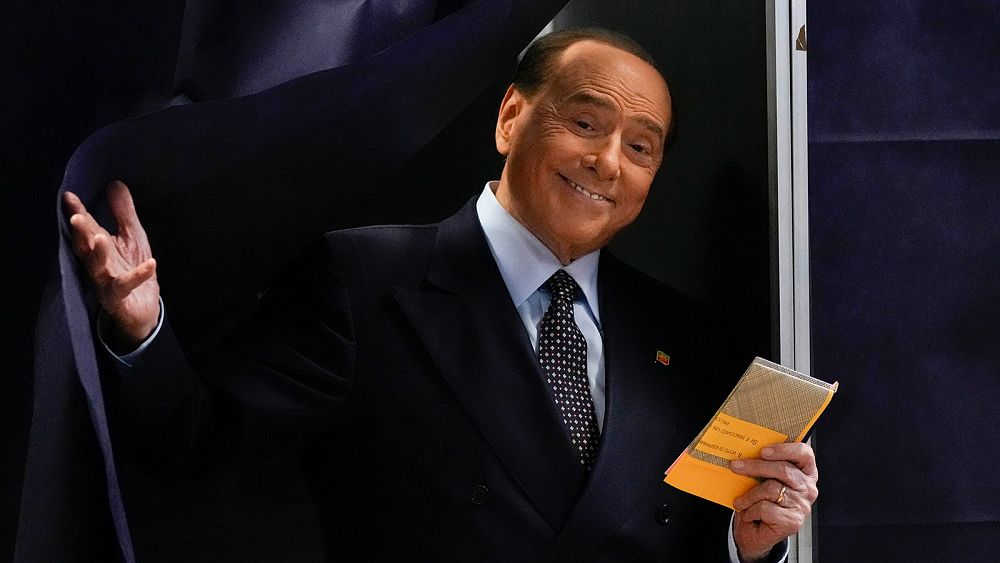 Former Italian PM Silvio Berlusconi said he believes he will overcome the lung infection caused by chronic leukaemia that has hospitalised him in intensive care, Italian daily Il Giornale reported on Friday.
"It's hard, but I'll make it once again," the 86-year-old populist mainstay and media mogul said in a phone call with Il Giornale's editor-in-chief, Augusto Minzolini.
"I managed, also in delicate and difficult situations, to pull myself up," Berlusconi added, according to the report.
The three-time premier spent a second consecutive night in intensive care at Milan's San Raffaele Hospital, where his doctors on Thursday signed off on a medical bulletin saying that he has had leukaemia "for some time" but that the cancer of the blood cells is in a "persistent chronic phase".
The statement was the first official word from doctors since Berlusconi was admitted to San Raffaele on Wednesday.
"The current treatment strategy envisions treatment of the pulmonary infection" as well as a specialised treatment "aimed at limiting the negative effects" of chronic leukaemia, the bulletin stated.
On Friday morning, Foreign Minister Antonio Tajani, quoting Berlusconi's personal doctor Alberto Zangrillo, reported that Berlusconi was alert and was responding to the treatments. 
Tajani is the coordinator of Forza Italia, the political party that Berlusconi created some three decades ago.
Gianni Letta, Berlusconi's close advisor and confidant, told the Italian news agency ANSA that Berlusconi was "better than I thought" after visiting him on Saturday.
"We can send him an Easter wish … because the road to rebirth, if not resurrection, has been taken," Lett said.
A long list of health issues
Berlusconi was admitted to an intensive care unit at San Raffaele Hospital on Wednesday for treatment of what aides indicated was a respiratory problem stemming from a previous infection.
Amid rumours in the domestic press and on social media that Berlusconi's condition was much more grave than originally thought, Zangrillo confirmed the leukaemia diagnosis later on Wednesday.
He addressed the journalists gathered at the Milan hospital, saying, "There are a lot of people who enjoy talking bullshit."
"Go to sleep, think of your families," Zangrillo said.
Doctors said the kind of leukaemia afflicting Berlusconi usually appears in people of advanced age and is characterised by an increase in white blood cells known as monocytes.
Treatment for older patients can involve a stem cell transplant. But that could be difficult, according to an Italian nonprofit association dedicated to combating leukaemia. Another treatment would involve controlling the white blood cell count.
The last years have seen Berlusconi, now senator, suffer numerous health problems, including heart ailments and COVID-19 in 2020, which saw him hospitalised in critical condition with pneumonia.
He has had a pacemaker for years, underwent heart surgery to replace an aortic valve in 2016 and overcame prostate cancer decades ago.
Advertisement
The new Emirates Premium Economy has arrived on the latest Emirates A380
Get the best value from your summer holiday with exclusive offers and discounts across Dubai and the UAE with Emirates Pass