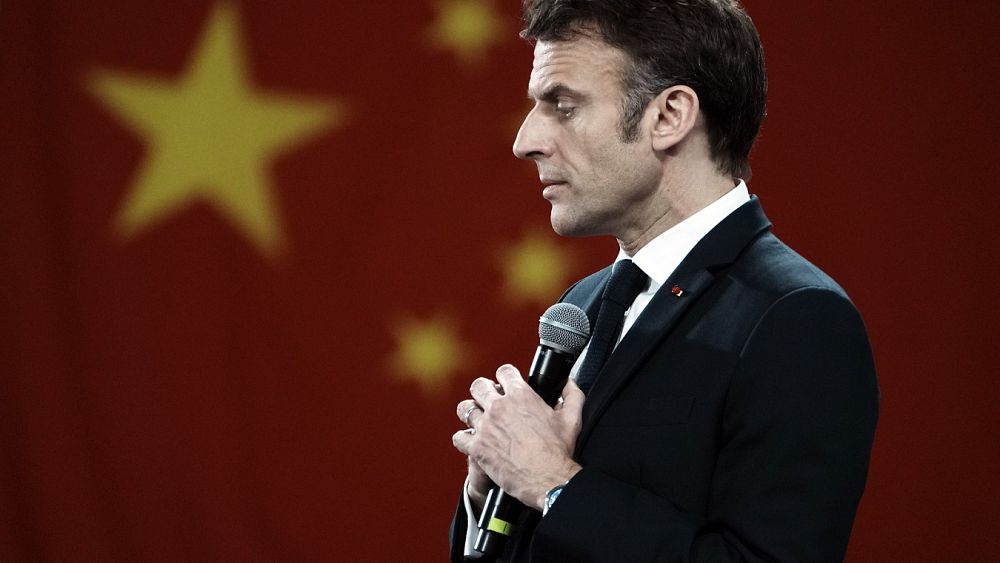 French President Emmanuel Macron's comments on Taiwan published over the weekend have parked wide debate and criticism on social media about the EU's relations with China and the United States.
Interviews published in the newspaper Les Echos and digital outlet Politico on Sunday quoted Macron as saying that Europe did not have an interest in accelerating on the issue of Taiwan, warning that Europe should not become a "follower" on the topic and "adapt to the American pace and to a Chinese overreaction."
The French president's interviews came ahead of a planned speech in the Netherlands on Tuesday about European sovereignty during a two-day state visit to the country, which will be closely watched after his comments caused a stir.
The overarching message of his interview in Les Echos was that "strategic autonomy" should be Europe's goal.
"We Europeans must wake up. Our priority is not to adapt to the agenda of others in all regions of the world," Macron was quoted as saying, adding that Europeans can have common views with the US but still needed a "European strategy."
'Catastrophic timing'
Many criticised first the timing of the interviews published on Sunday, as hours after Macron's visit to Beijing, China launched combat exercises around Taiwan.
Antoine Bondaz, a French researcher focusing on Chinese, Taiwanese and Korean foreign and security policy, criticised Macron's comments as a "total error of analysis", writing on Twitter that the timing of his words was "catastrophic."
He argued that Macron played into China's hands by suggesting France would remain neutral in the event of a crisis in Taiwan.
Meanwhile, David Cadier, an assistant professor of international relations at the University of Groningen said that while he had some issues with the wording and delivery of Macron's interview, he was also "disturbed by the nature and proportions of (some of) the reactions."
He said that while the optics were bad, Macron's main point was not about criticising the US but rather "about Europeans needing to define their own interests and strategy first, before pursuing them with Washington wherever interests (or) values align." 
Jean-Marie Guéhenno, a former French diplomat, said that Macron spoke "too much as a professor in a seminar instead of a head of state whose words are always political signals."
Some US lawmakers interpreted the French president's comments as calling for distance in relations but when asked White House National Security Council spokesman John Kirby said the US and France have "terrific bilateral cooperation."
Eric Mamer, a spokesman for the European Commission, was asked about Macron's comments as Ursula von der Leyen had joined the French president for a part of the trip to China.
Mamer said that what counts are the actions that Europe takes on China, saying that the EU's policies were "consistent".
Advertisement
The new Emirates Premium Economy has arrived on the latest Emirates A380
Get the best value from your summer holiday with exclusive offers and discounts across Dubai and the UAE with Emirates Pass