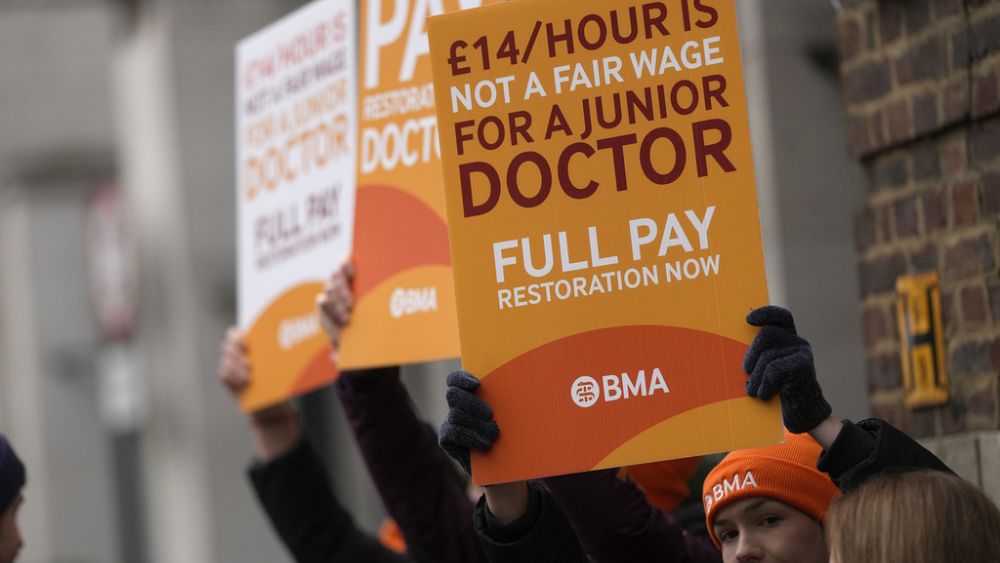 Britain is bracing for a four-day walkout by tens of thousands of doctors at the state-funded health care system that one official has warned could be "catastrophic" and postpone up to 350,000 appointments.
The strike by National Health Service (NHS) doctors early in their careers comes amid walkouts by public workers across many sectors demanding pay hikes during a cost-of-living crisis. A three-day doctors' strike last month crippled the system that has been trying to dig out of an appointment backlog that predates the pandemic and has led to longer waiting times to see a doctor.
"These strikes are going to have a catastrophic impact on the capacity of the NHS to recover," NHS Confederation chief executive Matthew Taylor said.
"The health service has to meet high levels of demand at the same time as making inroads into that huge backlog. … That's a tough thing to do at the best of times, it's impossible to do when strikes are continuing."
With inflation ballooning above 10 per cent and spikes in food and heating costs, wages have fallen in real terms and people have struggled to pay bills.
While some unions across the public sector have reached agreements with the government, many others have not. Teachers recently rejected a pay raise offer and nurses are still voting on a deal offered last month.
Health Secretary Steve Barclay has said the doctors' demand is "unrealistic" and said strikes had been planned to "cause maximum disruption." The Department of Health and Social Care has insisted that strikes be called off before negotiations can take place.
Taylor, who said the strikes would risk patient safety, suggested the government and the union called in outside negotiators to help break the impasse.
NHS England's national medical director Stephen Powis said emergency, urgent and critical care would be prioritised during the strikes, adding the walkout would be the most disruptive in the health service's history.
Advertisement
The new Emirates Premium Economy has arrived on the latest Emirates A380
Get the best value from your summer holiday with exclusive offers and discounts across Dubai and the UAE with Emirates Pass