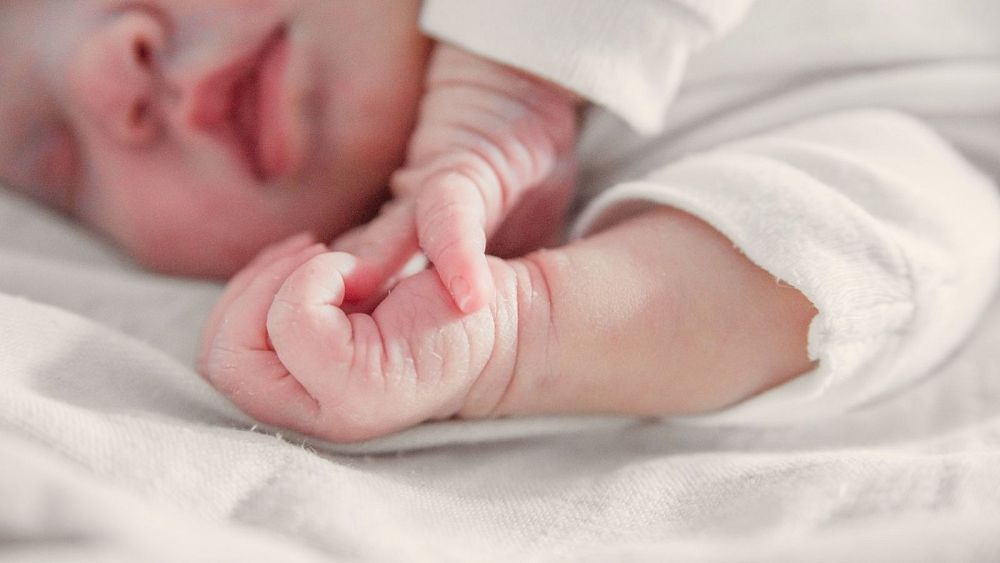 In Italy, a woman who — for whatever reason — decides she can't take care of her baby can leave it in a safe haven baby box, in complete anonymity.
It's increasingly rare for Italian women to choose this option, but it still happens. 
Over Easter, one woman decided to anonymously drop her baby boy into such a box at one of Milan's biggest hospitals, Policlinico di Milano.
Many would say the event should have been private, as the concept of anonymity suggests. 
But it wasn't. 
Instead, the name of the boy, Enea, and the letter that his mother left him with, were passed to the media by doctors, who called for the mother to change her mind and take her baby back.
Quoting the mother's words that she loved her boy, but couldn't take care of him, TV presenter Ezio Greggio — a well-known figure in Italy — published a video on social media offering the woman financial help to not "abandon" her baby. 
"A baby needs her real mother," he said, sparking a backlash from adoptive parents worldwide. 
The fierce debate that followed focused on what freedom Italian women have over their bodies and pregnancy, despite existing legislation supporting their autonomy, at least on paper. Many others were simply baffled by the fact that anonymous births and safe haven baby boxes still existed at all in their country.
How come anonymous births and safe haven baby boxes are still a thing in Italy?
"In Italy, there's always been the possibility, regulated by law, for women to leave their babies in the hospital at the time of birth," Elisabetta Canitano, a gynaecologist and president of the abortion rights NGO Vita di Donna, told Euronews.
"It can be done in two ways: either the mother goes to the hospital before the birth and lets them know that she wants to give birth anonymously and leave the baby there, or she can say she wants to give birth anonymously once she's recovered."
At that point, hospital staff and social services get in touch with an adoptive family who will stand ready to pick up the baby after a period of 10 days given to the mother to reconsider her choice. 
"We don't have any use for a safe haven baby box, as you can see," Canitano said. "Women who don't wish to keep their babies can safely and anonymously leave them with the hospital staff. And there's an abundance of people willing to adopt these babies." And yet, those baby boxes still exist.
The practice goes back a long way. 
Women were allowed to anonymously drop off their babies for adoption in 13th century Italy, when it was considered scandalous to have a child out of wedlock. Women left their babies in the "ruota", a rotating wheel embedded in the wall of a "foundling institute" – usually linked to the Catholic Church – which would deliver the baby directly inside the building.
The practice was very much alive in the 1940s and 1950s, but gradually lost relevance as norms around religion and having children out of wedlock changed. 
In the 1970s, Italy legalised abortion and birth control, allowing women to have greater control over their bodies and decide whether to have a baby or not.
Though it remained legal for a woman to give birth anonymously and have the hospital staff sign her baby's birth certificates under Italian law, the foundling homes, which had caused so much shame and despair to many Italian women through the centuries, were finally closed.
But the "ruota" remained in Italy. 
In 2006, Italy's anti-abortion movement reintroduced a more modern version through the "Culla per la vita" (cradle for life) project – a series of safe haven baby boxes installed across hospitals throughout the country.
Is leaving your baby a common practice?
Not really. About 300 women give birth anonymously in Italy every year, according to estimates from the Italian Society of Neonatology, while the number of those using safe haven baby boxes is much lower.
Only three newborns, including Enea, have been left at the Clinica Mangiagalli baby box in Milan. The first was in 2012, the second in 2016 and the third in 2023.
The boxes themselves are heated, constantly monitored and 24/7. An alarm for doctors inside the hospital goes off the moment a baby is dropped inside. In Enea's case, the alarm rang on Easter day at 11:40 am. 
How do Italians feel about it?
Safe haven boxes are hotly contested in Italy, especially between pro-abortion and anti-abortion groups.
"If you ask me, the problem is that we have this all-Mediterranean ambivalence towards these women," Canitano said. 
"On the one hand, we know they have a right to give birth anonymously. On the other hand, we think that women shouldn't leave their children to our institutions, because we judge them morally for it."
"Cradle for life" is just "anti-abortion propaganda to tell women that they should keep their children," she continued. "Instead of informing women about the option of giving birth anonymously in the hospital, these groups advertise the cradles for life."
For Canitano, the safe haven baby boxes are symptomatic of difficult economic conditions. 
"They want us to have children when we're poor, because women have lost so many jobs with the Jobs Act [a reform passed by Matteo Renzi's government in 2014 aimed at making the labour market more flexible]." 
Without fixed-term contracts, it's harder for Italian women to be into work while they're pregnant, she added. 
"What do you do if you don't have a job, or you don't have a house? There's this idea that you should have children when you're living in misery. We don't support women, but we want them to be mothers."
On the other hand, anti-abortion groups and supporters claim a "Cradle for life" offers a much-needed alternative to women who want to carry out their pregnancy but are unable, for whatever reason, to take care of a baby, especially if feel uneasy communicating their decision to the hospital staff. 
Baby boxes are also a feasible solution to the problems of infanticide and child abandonment, they say. 
According to the latest estimates by the Italian NGO Friends of the Children, roughly 3,000 babies are abandoned in Italy every year, either left out in the streets, dumped in the bin, or even thrown out of windows. 
One reason why only a minority of women rely on their right to give birth anonymously is that many don't know about it, while others fear causing an uproar like in the case of Enea, which shows stigma still exists towards mothers who put their children up for adoption in Italy.
"The media hype around the newborn surrendered to the cradle for life is proof that, in Italy, a woman's right to choose for herself is significantly limited, even when they act within their legal rights and do something that normally should be praised," journalist Jennifer Guerra told Euronews. 
"In Ezio Greggio's words, as in the words of the doctors who intervened in the case, it transpires the idea that there's an unbreakable bond between biological mother and child, a bond which is superior to any other circumstance […]. We don't know the reason why this woman took that decision, even though everyone took for granted that she had financial difficulties." 
She added: "Whatever her choice she would have made, we know it would have been stigmatised, disrespected and judged by the entire country."
Like gynaecologist and NGO leader Canitano, Guerra thinks the story has been instrumentalised by anti-abortion groups to promote cradles for life as an alternative to abortion. 
But the whole issue of giving birth anonymously itself still creates controversy.
One of key issue identified by critics is that because it protects the anonymity of the mother, it prevents the child from accessing key medical information which could be lifesaving under certain circumstances.
Another issue is that the practice, as highlighted by researcher
Advertisement
The new Emirates Premium Economy has arrived on the latest Emirates A380
Get the best value from your summer holiday with exclusive offers and discounts across Dubai and the UAE with Emirates Pass