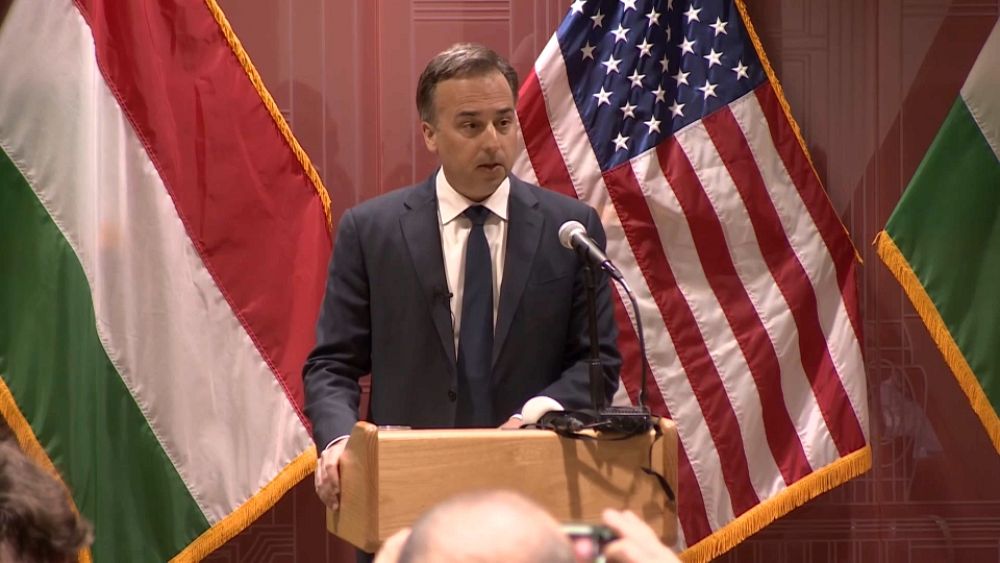 Three executives of the Russian-founded, Budapest-based International Investment Bank, two Russian citizens and Imre Laszlóczki, the bank's vice-president and former Hungarian ambassador to Kazakhstan and Azerbaijan, have been placed on the US sanctions list.
The announcement was made by US Ambassador David Pressman in Budapest this Wednesday. 
"Since this Russia-controlled entity moved from Russia to Budapest in 2019, The United States' government has engaged the Hungarian government on numerous occasions to register our concern about the risks its presence in Hungary poses for the NATO alliance", said Pressman.
According to the US, The International Investment Bank is a front for Russian intelligence services, and Hungary has granted diplomatic immunity to its officials. 
The bank's European owners — Slovakia, Romania, and Bulgaria among others — have withdrawn from the project, leaving Hungary as the last European stakeholder.
Pressman said Hungary's government had ignored pleas from multiple US administrations to withdraw its stake in the bank.
"The presence of this opaque Kremlin platform in the heart of Hungary threatens the security and sovereignty of the Hungarian people, their European neighbours and their NATO allies," Pressman said. "Unlike other NATO allies previously engaged with this Russian entity, Hungary has dismissed the concerns of the United States government regarding the risks its continued presence poses to the alliance."
Pressman had earlier raised concerns over intensifying anti-American rhetoric among some leading Hungarian politicians and in the government-aligned media. The ambassador has suggested that the hard-right administration of Prime Minister Viktor Orban — widely considered Putin's strongest advocate in the EU — was borrowing from "Russian propaganda" when discussing the war in Ukraine and was dividing NATO's unity in its support of Kyiv.
Poster problems
The latest tension in Washington-Hungarian relations stems from the US embassy's financial support for a poster campaign drawing parallels between the '56 Hungarian revolution suppressed by the Soviet Union and the Ukrainian war against Russian aggression. 
The Hungarian government described the campaign as pro-war, as opposed to the Hungarian "pro-peace" stance. 
Budapest is demanding an immediate cease-fire and peace talks, denying that it would require Ukraine to cede territory to the aggressor.
Advertisement
The new Emirates Premium Economy has arrived on the latest Emirates A380
Get the best value from your summer holiday with exclusive offers and discounts across Dubai and the UAE with Emirates Pass