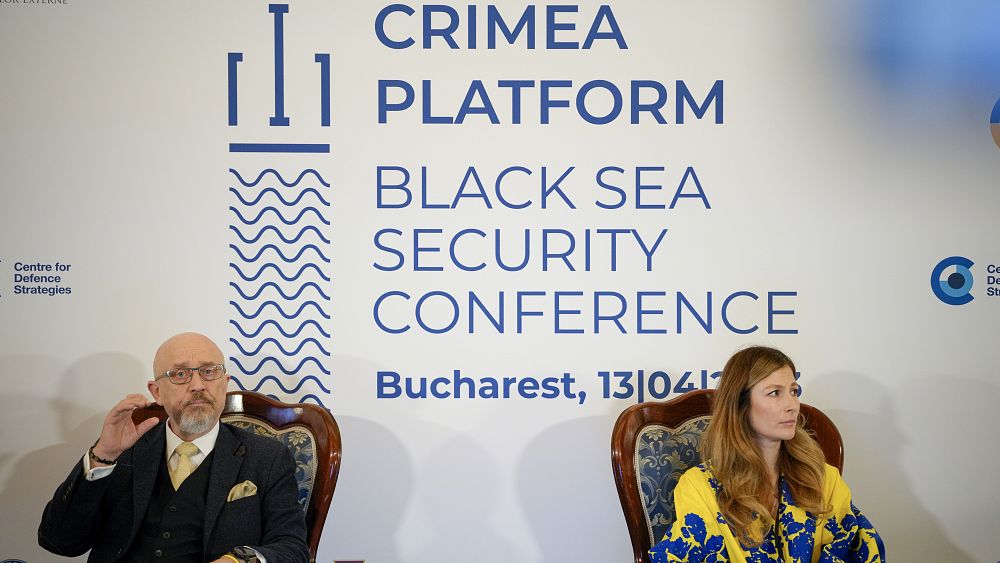 Ukraine's deputy foreign minister called on Thursday for decisive action against Russia, advocating for sanctions, isolation, and a special tribunal on the "crime of aggression".
"Without punishing the Russian leadership, we cannot speak about accountability of Russia," Emine Dzhaparova said. Later adding: "we have to be a bit more decisive when it comes to the isolation of Russia and sanctioning Russia."
Dzhaparova and Ukraine's defence minister, Oleksii Reznikov, were in Bucharest meeting Romanian and Moldovan top diplomats and defence ministers.
Ukraine's Reznikov said his country shares the common threat of "Russia hybrid war against Moldova".
Russia's war on Ukraine "threatens all the Azov and Black Sea region states," he said.
Moldovan Foreign Minister Nicu Popescu expressed solidarity with Ukraine, reaffirming support for its sovereignty and territorial integrity.
Meanwhile, Romanian Foreign Minister Bogdan Aurescu voiced support for Ukrainian President Volodymyr Zelenski's peace proposal, saying discussions on how to implement the peace formula took place during a trilateral meeting.
At the Black Sea Conference in Bucharest, Moldova, Romania, and Ukraine signed cooperation agreements to strengthen security in their region.
A 'NATO sea'
The Black Sea region is crucial for NATO's collective defence and for the future of European security.
Ukrainian Foreign Minister Dmytro Kuleba called to demilitarize the Black Sea and simultaneously make it a NATO sea.
"It's time to turn (the) Black Sea into what the Baltic Sea has become a sea of NATO," said Kuleba on the one-year anniversary after the sinking of a flagship Russian warship Moskva on the Black Sea.
Kremlin spokesman Dmitry Peskov said Thursday that the Black Sea would "never become a sea of NATO."
"The sea is shared by all littoral nations and it must be a sea of cooperation, interaction, and security. The security must be indivisible," said Peskov.
Kuleba said Thursday his country wouldn't budge from its demand that Russia withdraw its forces from Crimea, as well as from other parts of Ukraine that Moscow annexed more recently.
Advertisement
The new Emirates Premium Economy has arrived on the latest Emirates A380
Get the best value from your summer holiday with exclusive offers and discounts across Dubai and the UAE with Emirates Pass