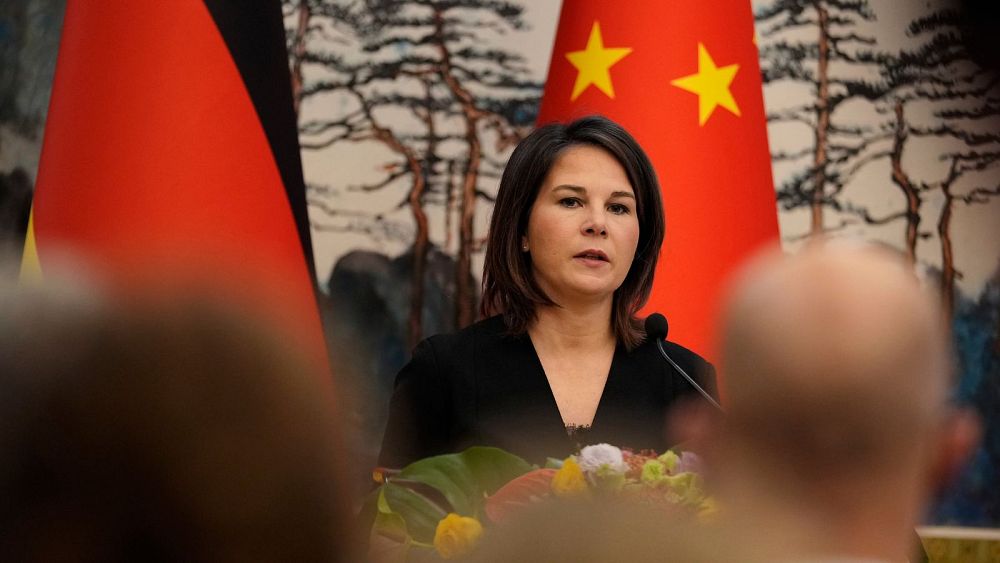 Germany's Foreign Minister has called on Beijing to use its influence on Moscow to halt its invasion of Ukraine. 
During a press conference on Friday, Annalena Baerbock urged China to ask "the Russian aggressor to stop the war" in Ukraine, saying "no other country has more influence" on Moscow. 
"I have to say openly that I wonder why the Chinese position so far does not include a request to the Russian aggressor to stop the war", she added.
Chinese President Xi Jinping visited Moscow in March, pledging to bolster strategic ties and combat the West with his Russian counterpart. 
Germany's foreign minister said this meeting showed "that no other country has more influence on Russia than China and the decision to use this influence directly affects the essential interests of Europe."
On her first trip to China since taking over in September, Baerbock called on Beijing to use the same influence it recently exerted to broker a peace deal between Iran and Saudi Arabia. 
Chinese officials should "pressure Russia to finally end its aggression" and call on Moscow to participate "in a peaceful solution to the conflict," she said. 
Baerbock's visit to Beijing came a week after one by French President Emmanuel Macron, who sparked controversy with his comments over Taiwan. He urged the European Union to not be a "follower" of either Washington or Beijing on the question of the island.
European Commission President Ursula von der Leyen also visited the Chinese capital recently and called on Beijing to pressure Moscow to end the war in Ukraine.
Beijing's stance on the Ukraine war is complicated, pushed and pulled in several competing directions. 
China has until now failed to condemn the Russian invasion, declaring itself officially neutral to the conflict. Plus concerns have been raised that Beijing could supply Moscow with lethal weaponry. 
Experts told Euronews this is unlikely to happen as it could escalate tensions with the West and scupper China's chances of rebuilding a shattered Ukraine.
Pressure is growing on Beijing to intervene and use its influence to end the war. But it is unclear whether European appeals for China to get involved are in any way persuasive. 
On Friday, Chinese Foreign Minister Qin Gang reiterated that Beijing believes "the only way to resolve the Ukrainian crisis is to promote peace and talks," saying his country remains committed to supporting negotiations. 
After the press conference attended by Baerbock, China announced that the country's Defense Minister Li Shangfu would visit Russia on Sunday, where he will meet his Russian counterpart Sergei Shoigu. 
For three days, between April 16 and 18, the two will discuss "bilateral cooperation in the field of defence, as well as questions 0f global and regional security", according to the Russian Ministry of Defence.
Advertisement
The new Emirates Premium Economy has arrived on the latest Emirates A380
Get the best value from your summer holiday with exclusive offers and discounts across Dubai and the UAE with Emirates Pass