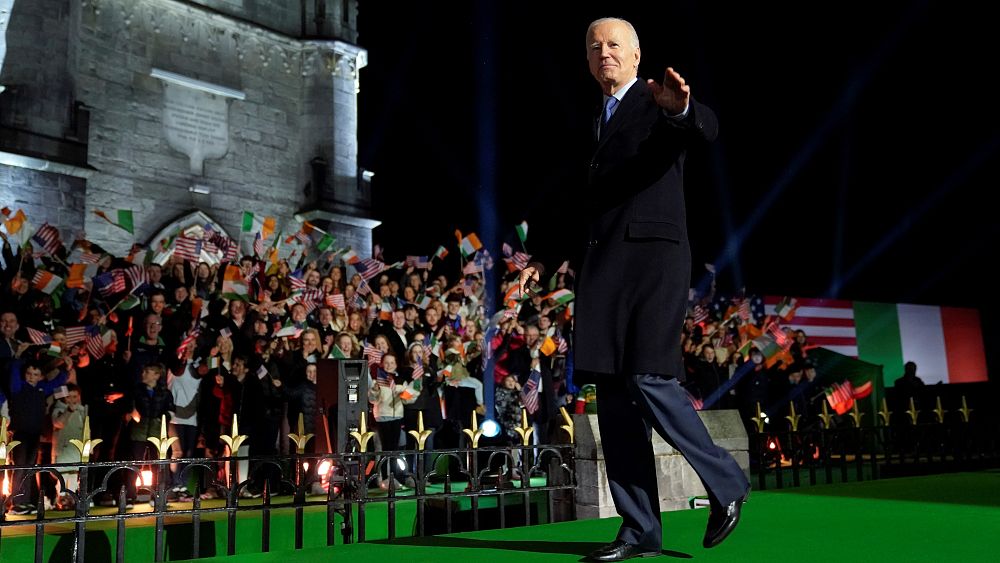 US President Joe Biden concluded his visit to Ireland on Friday with a passionate address to tens of thousands of people at his ancestral town in County Mayo.
Biden celebrated Irish and American values and spoke about peace and hope in his speech outside St Muredach's cathedral in Ballina.
"Everything between Ireland [and] America runs deep. Our history, our heritage, our sorrows, our future, our friendship, our joys" Biden said.
"It feels like coming home. It really does. Over the years, stories of this place have become part of my soul, part of my family lore," he added.
A series of concerts and festivities were the prelude to the speech, which was attended by some 27,000 people.
Biden drew a crowd that was more than double the size of the town's population, waving the Irish tricolour and red, white and blue flags, some attendees drove from hours away and waited in the rain and cold for a chance to see him.
It was a homecoming trip for the US president whose great-great-great grandfather Edward Blewitt left Ballina for Scranton, Pennsylvania, in the 1850s.
The US President's visit officially concluded with a departure ceremony attended by members of the Government, at Knock airport in the west of Ireland.
Earlier in his travels this week, Biden met with Northern Ireland leaders to mark the 25th Anniversary of the Good Friday agreement that ended sectarian violence, addressed the Irish parliament, watched Gaelic sports with Irish Prime Minister Leo Varadkar, and saw the widow of his favourite poet, Seamus Heaney.
Advertisement
The new Emirates Premium Economy has arrived on the latest Emirates A380
Get the best value from your summer holiday with exclusive offers and discounts across Dubai and the UAE with Emirates Pass