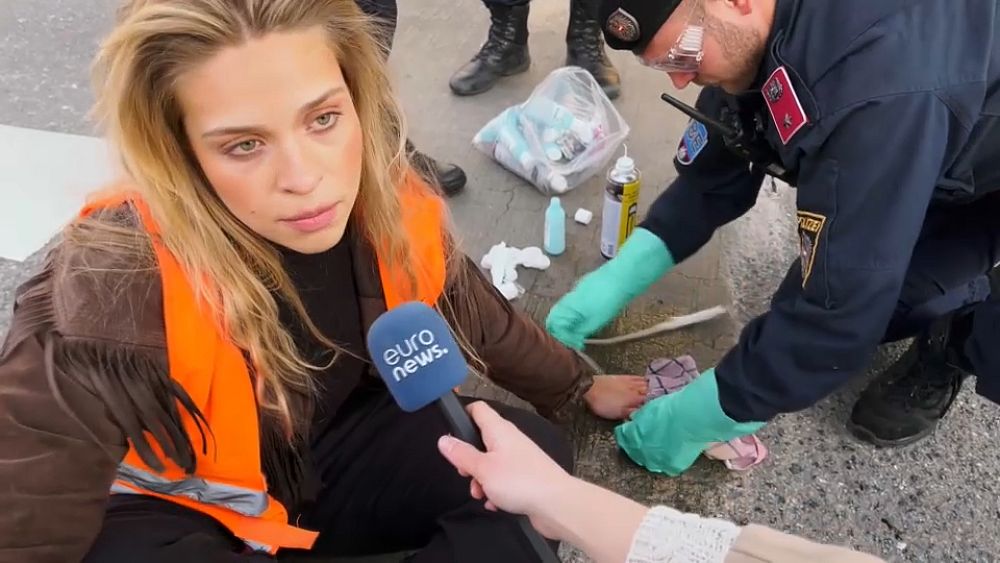 In Austria, the wind against so-called "climate stickers" is getting rougher.
Parts of the government demand prison sentences for those protesters who block streets with extreme methods, such as glueing themselves to the road. 
Now a leading figure from the Last Generation climate movement has said she is facing deportation. 
German-born Bavarian activist Anja Windl is also known as the "Climate Shakira", and she has been summoned to the Foreigners' Office.
"Whether I will be deported from Austria is a question of time," she told Euronews.
"And I have to wait and see if I will get a deportation letter at all. My guess is yes, they will try to get rid of me." 
The activist has gained a following on her TikTok account for posting videos glueing herself to Austrian roads. She has now received attention from around the world with her social media search for an Austrian husband in order to "escape deportation".
"It is sometimes quite painful," she told Euronews reporter Johannes Pleschberger, speaking of glueing her hands to the road. 
"Especially when you have glued your hand already on several occasions as I did then the skin irritation gets greater each time."
The Last Generation is calling for an "effective climate protection law" for Austria. For more than 800 days, politicians have been negotiating a new law that would regulate CO2 limits in many parts of the country after a previous law expired in 2020.
"I am strongly in favour of a quick decision on this climate protection law," Austrian Environment Minister Leonore Gewessler told Euronews. 
"It's no secret, if I could pass it on my own, we would already have one. But I need a parliamentary majority for it and I'm working hard to get one."
The Last Generation movement has announced an intense wave of protests next month. For at least three weeks, major traffic intersections in Vienna are expected to be blocked.
Advertisement
The new Emirates Premium Economy has arrived on the latest Emirates A380
Get the best value from your summer holiday with exclusive offers and discounts across Dubai and the UAE with Emirates Pass