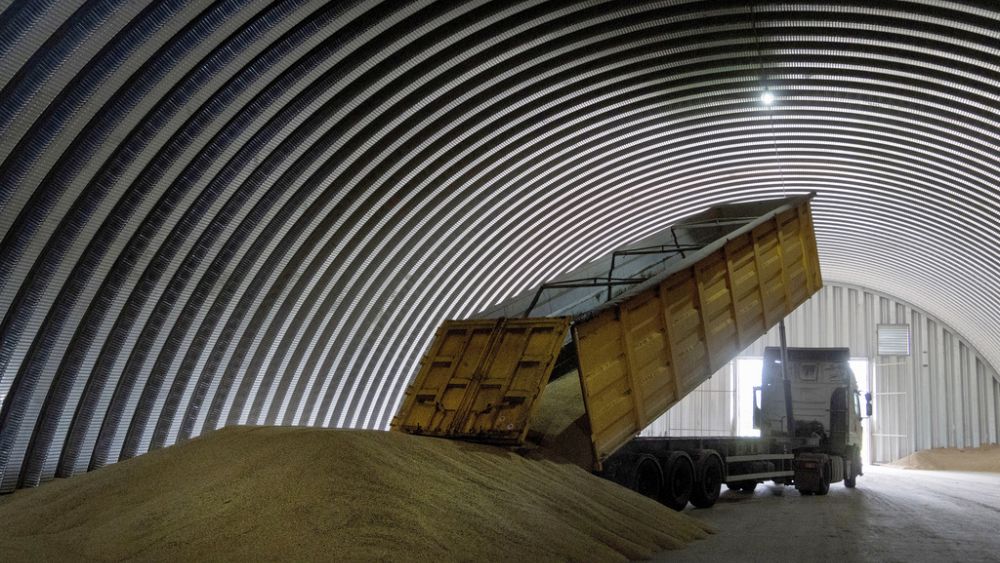 Polish and Ukrainian officials say convoys of Ukrainian grain transiting Poland for export abroad will be sealed, guarded and monitored to ensure the produce stops flooding the Polish market and playing havoc with prices.
Tuesday's announcement came after two days of intensive talks following protests by Polish farmers, who said much of the Ukrainian grain was staying in Poland and creating a glut that caused them huge losses.
The deal will also end a temporary prohibition issued by Poland Saturday to address the protests on the entry of grain from Ukraine. Hungary and Slovakia, which are also affected by the transit of Ukrainian farm produce, later took similar measures. These moves drew the anger of the European Union's executive branch, the European Commission, which manages trade for the 27 member countries.
Polish Agriculture Minister Robert Telus told a press conference Tuesday that Warsaw and Kyiv "have worked out mechanisms that mean that not a single ton of (Ukraine) grain will remain in Poland, that it will all be passing in transit".
Sealed transit
He said that for an unspecified length of time all Ukrainian produce in transit will be sealed, with traceable devices attached, and ferried in special guarded convoys to Polish ports and border crossings, on its way to other countries.
The transit is to ease the accumulation of grain and other produce intended for export to needy countries that's blocked in Ukraine by Russia's invasion.
Telus said the weekend's temporary ban was partly intended to draw the EU's attention to the acute problem. He alleged that the EU, while supporting the idea of the transit, has done nothing to facilitate it and prevent the glut.
Intensive talks
The issue led to intensive talks between Poland and Ukraine's agriculture ministers, with the participation of Ukraine's deputy prime minister, Yulia Svyrydenko. The transit measures will be introduced Friday, when the temporary ban on grain  – mainly wheat – will be lifted.
"We pay attention to the problems of our Polish colleagues with the same attention as Poland treats our problems. Therefore, we have to respond promptly and constructively to this crisis situation," Svyrydenko said in Warsaw.
It was not clear when a ban on the entry of other Ukraine goods such as sugar, eggs, meat, milk and other dairy products and fruits and vegetables would be lifted.
Farmers in Poland and neighbouring countries say that Ukrainian grain and farm produce, apart from flooding their markets, has filled their own storage areas, leaving no room for their own crops from this year.
Grain glut
After Russia blocked traditional export sea passages amid the war in Ukraine, the European Union lifted duties on Ukrainian grain to facilitate its transport to Africa and the Middle East and offered to pay some compensation, which the farmers said was insufficient.
Much of the grain ends up staying in transit countries, and some Polish unions and opposition politicians accuse government-linked companies of causing the problem by buying up cheap, low-quality Ukrainian grain, and then selling it to bread and pasta plants as high-quality Polish produce.
Poland's main ruling party, Law and Justice, is seeking to ease the discontent of farmers – the party's voter base – ahead of Autumn parliamentary elections.
In Romania, another country affected by Ukraine produce overflow, the ruling Social Democrat Party said Tuesday that it will ask its governing coalition partners to "urgently" look to issue a temporary suspension of imports of food products from Ukraine.
"Such a measure is necessary to protect Romanian farmers, in the context in which compensation received from the European Commission cannot cover the total value of the damage," the party said in a statement.
Advertisement
The new Emirates Premium Economy has arrived on the latest Emirates A380
Get the best value from your summer holiday with exclusive offers and discounts across Dubai and the UAE with Emirates Pass