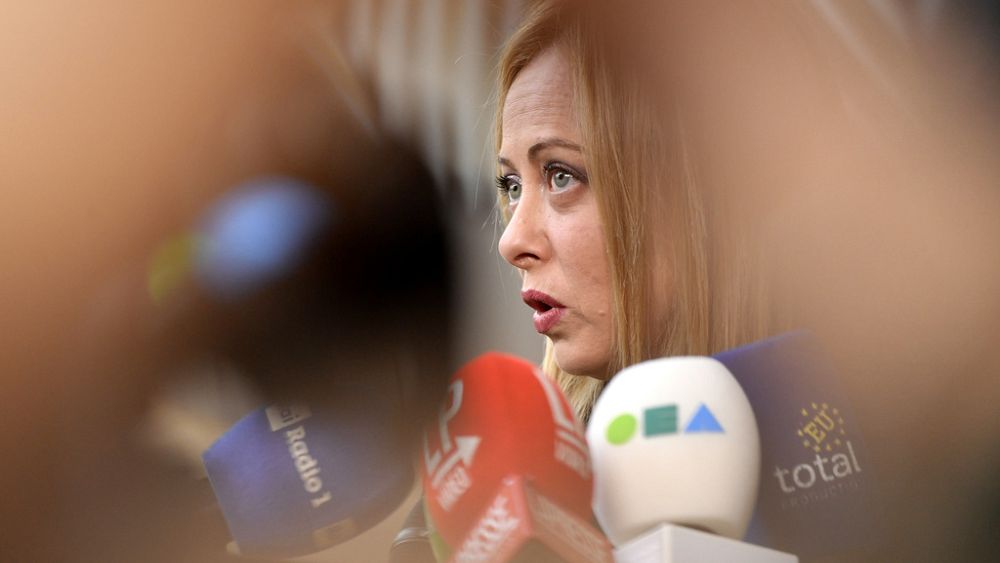 "In recent years, Europe has meddled in everything, including how insects are cooked," exclaimed Giorgia Meloni as she criticised the European Union, in front of a dedicated audience waving Italian flags.
It was one of Meloni's last electoral rallies before she made history: on October 22 the 46-year-old, as the leader of the far-right Brothers of Italy party, became the country's first female premier.
"What hand is it? I have to be careful," Meloni joked on stage, raising a hand in what could have been interpreted as a fascist salute. "What a desire!" she added to the laughter of the public.
Now that Meloni has been in charge of the Government for six months, what has happened to the anti-European and nationalist promises?
'Hands tied' internationally
"Evidently she came with baggage and a resume that, in a sense, scared many international observers because there was talk of post-fascism," explained Cecilia Sottilotta, assistant professor of Political Science at the University for Foreigners in Perugia. "So Meloni immediately began to communicate very carefully and kept a very low, very reassuring profile internationally."
Meloni then followed in the footsteps of her predecessor, former Prime Minister Mario Draghi, then leader of the centre-left Italian Democratic Party (PD), by reaffirming alliances with the United States, NATO and Italy's commitment to the EU.
"In respect of foreign policy and economic policy, the Meloni government, like any other Italian government, regardless of political ideology, has had its hands tied," added Sottilotta.
Italy's relationship with Brussels affects the allocation of subsidies.
One-third of planned payments from the EU, amounting to some €19 billion, have been suspended since the end of March. The European Commission has asked for more time to review some of the investments financed by the previous payment.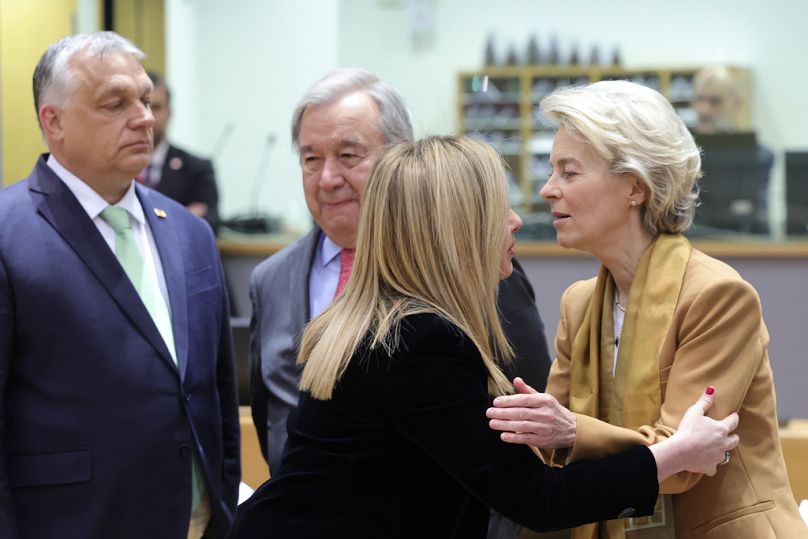 Another campaign promise that has not quite materialised at an international level is the naval blockade in the Mediterranean Sea, one that Meloni promised to enforce in order to prevent migrants from reaching European coasts.
"It's interesting to see how it [the Government] is colliding with reality," says Sottilotta. "It has to be more realistic and the rhetoric at the European level has changed a lot. Now the Government has had to prioritise seeking solidarity with Europe. Which is interesting, coming from a fundamentally eurosceptic party."
A focus on cultural battles in the midst of debt and declining birthrates
One of the electoral promises that Meloni was able to fulfil was the elimination of universal minimum income, promoted by the 5-Star Movement in 2019. It is expected to end this summer, although it will be replaced by other aid.
At a domestic level, Meloni has managed to stick to her electoral expectations and to her far-right profile. So far she has issued a first decree-law which criminalises the organisers of rave parties, penalised the use of English words in formal documentation, blocked LGBTQ+ couples from registering their children in the civil registry and targeted the NGOs that assist immigrants.
"Therefore, as her administration was unable to fully carry out its electoral promises, the government moved a bit towards somewhat gratuitous cultural battles that, in a way, keep the electorate at bay," said Sottilotta.
In these six months, Meloni has discovered that her main enemies do not come from the opposition but are her own allies in her coalition government: Matteo Salvini's Lega and Silvio Berlusconi's Forza Italia, with whom she obtained 44% of the votes.
"Let's say that, clearly, both Berlusconi and Salvini are not easy allies. In a certain sense, the gender issue also counts for a lot; that is, the fact that she is a woman also counts a lot," explained Cecilia Sottilotta.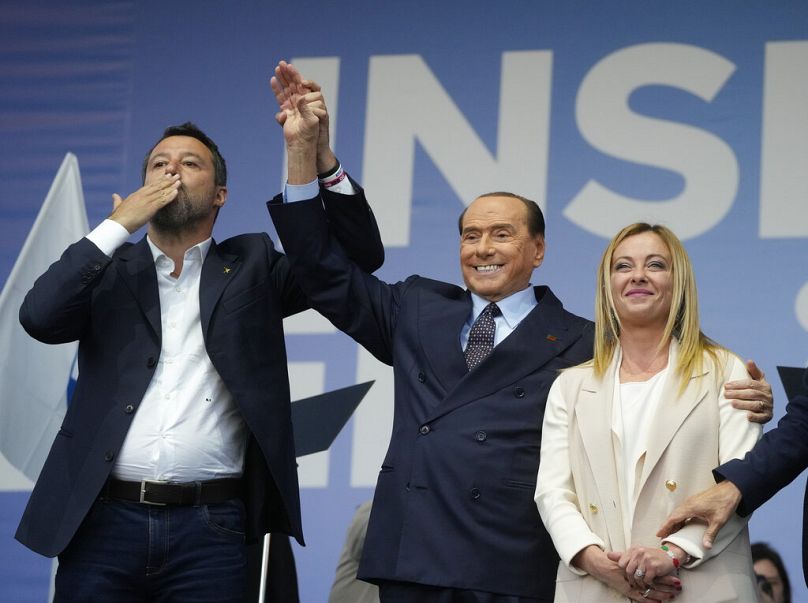 Currently, neither Salvini nor Berlusconi is interested in weakening the government. Berlusconi, 86, has serious health problems while Salvini, in the current climate, would struggle to garner more electoral support if there were another election.
"If we also look at the polls and their popularity there is no incentive, frankly, for Forza Italia or for La Liga, to jeopardise the strength of the coalition."
It is an unusual situation for Italy's turbulent political landscape, which has seen seven prime ministers in less than ten years and none of these premiers managed to secure a third year in power.
The economic winds are also blowing in favour of Meloni. Italy has reduced its fiscal deficit to 4.3% and raised its growth in 2023 to 0.9%.
However, now the debt challenge is pending: Italy is the third largest economy in the Eurozone but has the largest debt after Greece. Meloni's objective is to reduce it to 140% of its Gross Domestic Product in 2026.
On the domestic front, another one of Meloni's great challenges is tackling the declining birth rate. In 2022, Italy recorded a historically low number of births: for every 1,000 inhabitants, seven people were born and 12 died.
Her government recently promised "no taxes for those who have children," a pledge which will be up for review in approximately six months.
Advertisement
The new Emirates Premium Economy has arrived on the latest Emirates A380
Get the best value from your summer holiday with exclusive offers and discounts across Dubai and the UAE with Emirates Pass