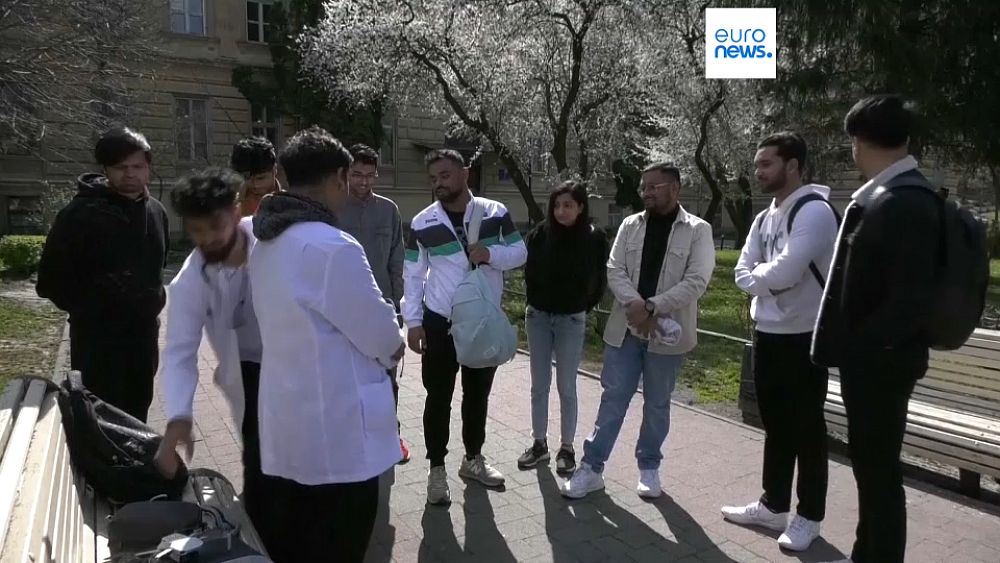 Kartikey Tripathi did not think he would ever study in the middle of a warzone.
Now in his fifth year of studying medicine, every day he arrives for class at the Lviv National Medical University. 
But Tripathi is not a local. He, like many of his fellow students, is from India. They are a long way from home at a time when their host country is at war.
Studying in Lviv when war broke out
"It was a very different feeling because for the first time in life, we were experiencing this kind of thing (war). More than us, our parents were very bad in India because they did not know exactly what was happening there and everyone was so panicked," says Tripathi.
"The first thing we did was that we made a call to our parents that yes, we are fine and we are safe, because we were in Lviv and everyone was thinking that everything will be fine and everyone was rushing toward the borders."
Tripathi left Ukraine when fighting began. He documented the journey home on his YouTube channel. But Tripathi's desire to become a doctor remained.
During the first two weeks of the war, after the full-scale Russian invasion, all foreign students of the Lviv Medical University went back to their countries.
Classes stopped for a while.  But with the beginning of the new school year in September, most began to return to Lviv.
Drive to qualify greater than fear
The drive to become qualified doctors is greater than their fear of war. Abandoning their studies would mean losing the last four years of education. It would also mean they had spent around €4,500 a year on university costs with nothing to show for it. In India, a similar course would cost around €10,000 a year.
University officials say they are doing their best to keep the students safe.
"When the war started we organised transfer of foreign students from Ukraine. And now, when foreign students came back, we care about their safety. We organised and equipped such shelters where students can go down in the case of alarm. So, now we have boarding exams, we are preparing for them and we hope, we want our graduates, our students (to) become good specialists and (we) will do everything for this," says Natalia Chukhrai, professor and deputy dean of the Faculty of Foreign Students at Halytsky Lviv National Medical University.
Lviv Medical University has students from more than 40 countries.
Advertisement
The new Emirates Premium Economy has arrived on the latest Emirates A380
Get the best value from your summer holiday with exclusive offers and discounts across Dubai and the UAE with Emirates Pass