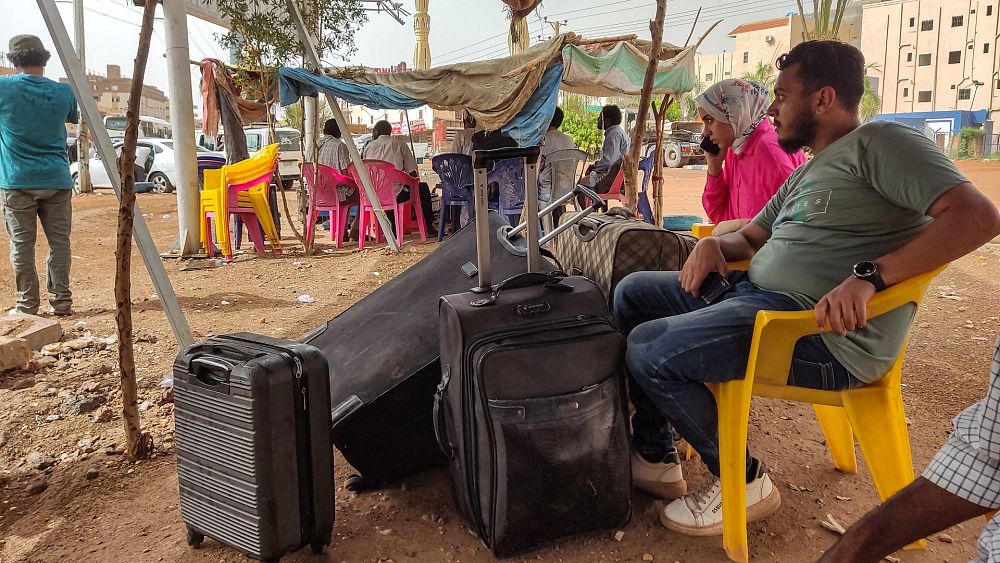 The UN refugee agency warned of "further displacement" of people from Sudan after thousands streamed into neighbouring Chad, Egypt and South Sudan despite a cease-fire.
Since fighting began on April 15, at least 20,000 Sudanese have fled into Chad and some 4,000 South Sudanese refugees — who had been living in Sudan — have returned to their home country, UNHCR spokesperson Olga Sarrado said Tuesday.
In neighbouring Egypt, authorities have not confirmed the number of people who have already entered the country. Although, its state media has claimed that more than 3,000 people have crossed into Egypt since the fighting began.
So far, the UN Refugee Agency (UNHCR) which has 58,995 Sudanese refugees registered in Egypt, also has not released figures on the number of people who have recently entered the country.
But there are some reports that Egypt's border control is asking for visas for some men trying to enter the country from Sudan. 
"Officially, the Egyptian authorities have not announced any information on who can enter without a visa, who cannot and how to obtain that document; nor have they announced or clarified the measures to apply for asylum at the border crossings, nor what the procedures are," Nour Khalil, the director of Refugees Platform in Egypt, said.
But he added: "Women, children, and men under 16 and over 50 can cross without a visa."
A hashtag has also recently appeared on Twitter and other social media networks calling for authorities to "Cancel entry visa for Sudanese to Egypt."
Marie-Helene Verney, the UNHCR's chief in South Sudan, said from its capital of Juba that "the planning figure that we have for the most likely scenario is 125,000 returns of South Sudanese refugees into South Sudan", and 45,000 Sudanese refugees fleeing the fighting.
More than 800,000 South Sudanese refugees live in Sudan, a quarter of them in the capital of Khartoum, where they are directly affected by the fighting.
UN reduces its footprint in Sudan
Dozens of hospitals have closed across the country due to the fighting. "If the violence does not stop, there is a danger that the health system will collapse," the UN agency warned last Friday.
Humanitarian aid has also been impacted.
Jens Laerke, a spokesperson for the UN Office for the Coordination of Humanitarian Affairs, said it has been forced to reduce its footprint in Sudan.
"The humanitarian needs in Sudan were already at record levels before this recent eruption of fighting: some 15.8 million people — that's about a third of the population — required humanitarian assistance," he said.
"This [fighting] coming on top of it, is, I would say, more than just a slap in the face. It's more than a fist in the face of those people who were already in need," Laerke added, echoing the calls for "the fighting to stop."
Advertisement
The new Emirates Premium Economy has arrived on the latest Emirates A380
Get the best value from your summer holiday with exclusive offers and discounts across Dubai and the UAE with Emirates Pass