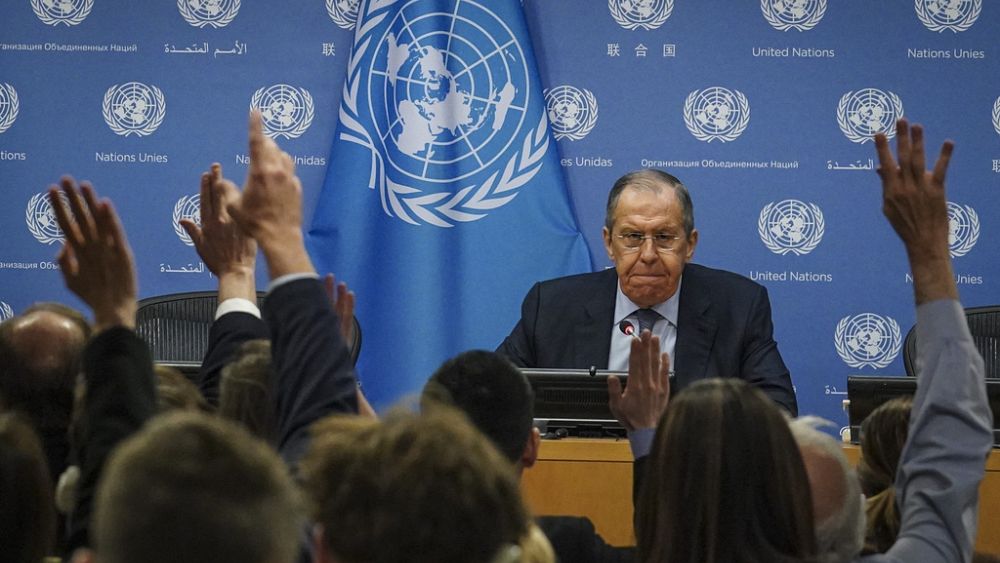 The European Union (EU) "is becoming militarised at a record rate", claimed Russia's top diplomat on Tuesday. 
Russian Foreign Minister Sergey Lavrov told reporters the bloc had become increasingly aggressive in its goal of containing Russia, saying there was now "very little difference" between the EU and NATO. 
He alluded to a "strategic partnership" declaration between the Western military alliance and Brussels signed in January
Criticising Russia's invasion of Ukraine as the "gravest threat to Euro-Atlantic security in decades", the text called for closer EU-NATO cooperation, though did not say it would ensure the security of the EU. 
Lavrov echoed complaints by Russian President Vladimir Putin about NATO's expansion, which the Kremlin has used to justify invading its western neighbour.  
Russia was promised on several occasions new states would not join but "those were lies", he claimed. 
"Unbiased assessments that our political scientists as well as those abroad made is that NATO sought to break Russia apart…but in the end it only made it stronger, brought it closer together."
Russia's invasion sent shockwaves through Europe, prompting Finland to join the US-led alliance earlier this month. 
With Sweden also seeking protection under its security umbrella, Putin has been dealt a major political blow as the war has galvanised NATO's growth.  
Finland's membership doubles Russia's border with NATO, the world's largest security alliance. 
Lavrov was asked whether the war in Ukraine was a miscalculation on Moscow's part in light of this, with Ukraine now also hoping to join the military alliance. 
"NATO never had any intention of stopping," he replied. Sweden and Finland were "increasingly taking part in NATO military exercises and other actions that were meant to synchronise the military programs of NATO members and neutral states."
Though formally neutral, both were closely aligned with the Western military group. 
Last week, NATO chief Jens Stoltenberg defiantly declared that Ukraine's "rightful place" was in NATO, pledging more support for the country on his first visit to Kyiv since the fighting began in February. 
The Kremlin responded by repeating that a key goal of its invasion was to stop Ukraine from joining NATO, arguing that Kyiv's membership would pose an existential threat to Russia.
In October, experts told Euronews Ukraine is unlikely to join NATO any time soon. 
They pointed to the risk of provoking a wider war, the difficulty in getting all members to back the bid and the possible "propaganda victory" for Putin, amongst other things. 
Ukraine is also seeking EU membership, with officials in the bloc pledging to do what they can to get Ukraine in.  
But they have not offered a firm timetable for talks on joining the EU, as Ukraine's President Volodymyr Zelenskyy has wished for.
Advertisement
The new Emirates Premium Economy has arrived on the latest Emirates A380
Get the best value from your summer holiday with exclusive offers and discounts across Dubai and the UAE with Emirates Pass