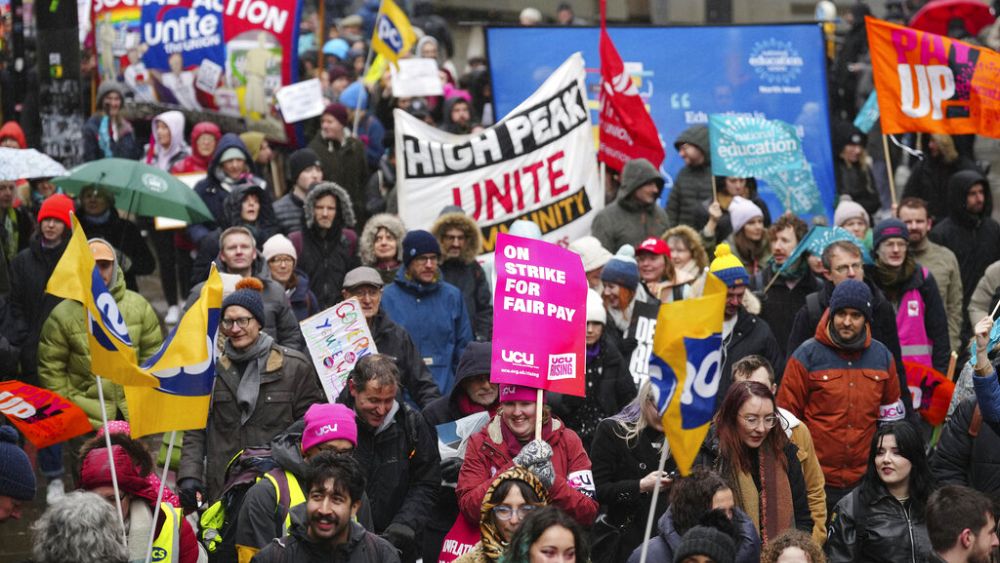 New anti-strike laws in the UK have been blasted as "draconian" across Europe.
The legislation was condemned by 121 politicians from 18 countries, including Germany, France, and Ireland, in a joint letter published on Tuesday. 
The government claims the law is needed to curb disruption caused by industrial action. 
"This [letter] is a damning verdict on the [government's]… abhorrent anti-strike legislation which punishes workers for… taking action over poor working conditions and pay," commented a Scottish MP Chris Stephens.
"Ever since Brexit, the UK's standing in the world continues to decline and this is another nail in the coffin," he added.  
The Strikes Bill, unveiled by Rishi Sunak's Conservative government, will introduce "minimum service requirements" or require that a minimum level of work be completed before workers are permitted to strike.
Workers who strike anyway can then be dismissed and unions will be subjected to hefty fines, though officials have not defined how much minimum service there should be.
Similar legislation was adopted in Hungary during the Covid pandemic, where it has been criticised as a "deliberate" policy "making strikes "invisible". 
The letter dismissed any likeness to similar measures in other European countries and condemned British ministers for attempting to justify the bill by comparing it to anti-strike legislation on the continent.
"We reject the UK government's attempt to limit workers' rights and its attempt to justify it with comparisons to international norms," they wrote.
"The UK already has some of the most draconian restrictions on trade unions anywhere in the democratic world and workers in the UK are faced with disproportionate regulatory hurdles before participation in a strike can be considered legal."
Britain has been rocked by a wave of industrial unrest in recent months, amid break-neck inflation and deeper structural problems. 
Nurses, doctors and ambulance drivers have walked out over pay and unfavorable working conditions in the country's National Health Service (NHS), which they say is crumbling due to chronic underfunding. 
Prime Minister Sunak has scrambled to get a grip on the industrial disputes, claiming there is not enough public money available to meet their demands, while calling strikes in the NHS irresponsible. 
"The right to strike is a fundamental freedom – but the Conservative government is attacking it in broad daylight," said Paul Nowak, General Secretary of the Trade Union Congress. 
In March, MPs and peers warned the controversial legislation risks clashing with the UK's human rights obligations. 
Article 11 of the European Convention on Human Rights (ECHR), which the UK is a signatory to, guarantees the freedom of association for workers.
The Strikes Bill will be debated in the UK's upper legislative chamber the House of Lords on Wednesday.
Advertisement
The new Emirates Premium Economy has arrived on the latest Emirates A380
Get the best value from your summer holiday with exclusive offers and discounts across Dubai and the UAE with Emirates Pass