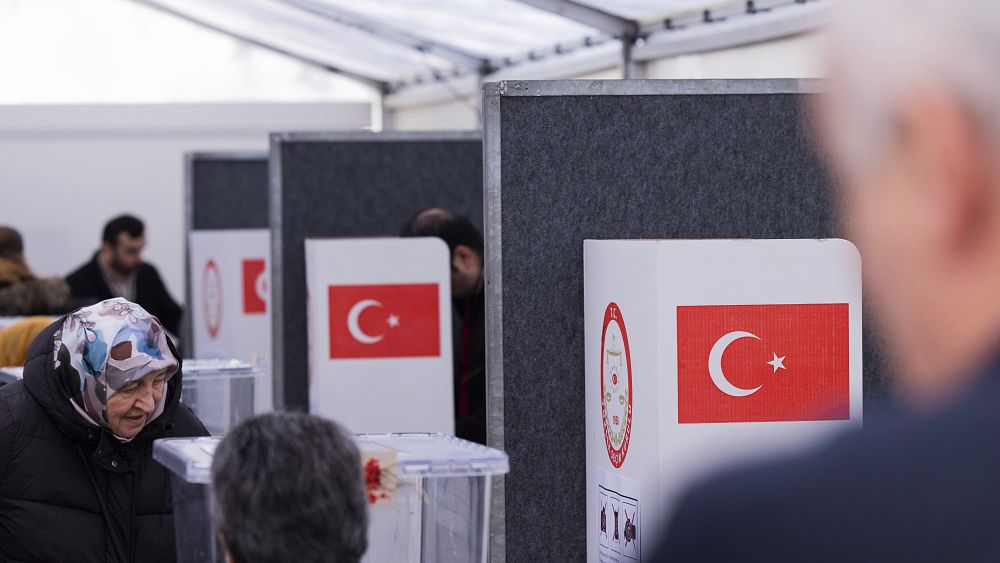 Within the scope of Turkey's presidential and 28-term parliamentary elections, the voting process for citizens registered abroad has started. Turks living in Germany gathered at the consulate in Berlin on Thursday morning to cast their votes.
The Turkish diaspora is the first to vote and Germany contains the highest number of registered voters outside of the territory; polling booths open in Turkey itself on May 14.
Turkey has consulates in Berlin, Hamburg, Hanover, Münster, Essen, Düsseldorf, Cologne, Mainz, Frankfurt, Frankfurt, Karlsruhe, Stuttgart, Munich, and Nuremberg.
In addition to these cities, additional ballot boxes were set up in Aachen, Bremen and Regensburg, where Turkey has honorary consulates.
Surveys say President Recep Tayyip Erdoğan is running neck and neck with his main rival, Kemal Kılıçdaroğlu.
Erdoğan cancels campaign visits due to health issue
Turkish President Recep Tayyip Erdoğan announced he was cancelling a day of election campaigning on Wednesday to rest at home, a day after he was forced to interrupt a television interview due to a stomach complaint.
Erdoğan was mid a live interview late on Tuesday when the programme ground to a halt. When the interview resumed some 20 minutes later, Erdoğan, 69, explained that he had developed a serious "stomach flu" while campaigning and apologised for the interruption.
The president, who was scheduled to make a series of appearances in the cities of Kirikkale, Yozgat and Sivas on Wednesday, announced on Twitter that he would rest at home on the advice of his doctors and that his vice president, Fuat Oktay, would represent him at the events.
Turkish officials denied online rumours claiming that Erdoğan had suffered a serious illness and was hospitalised.
Erdoğan, who is seeking a third term in office as president, has been campaigning hard in the run-up to the presidential and parliamentary elections, sometimes attending three or more events per day.
He is facing his toughest electoral test yet after 20 years in office as prime minister and president. Opinion polls show his main challenger, centre-left opposition party leader Kemal Kılıçdaroğlu, has a slight lead.
In 2011, Erdoğan underwent what his doctors said was a successful surgery on his digestive system.
Advertisement
The new Emirates Premium Economy has arrived on the latest Emirates A380
Get the best value from your summer holiday with exclusive offers and discounts across Dubai and the UAE with Emirates Pass