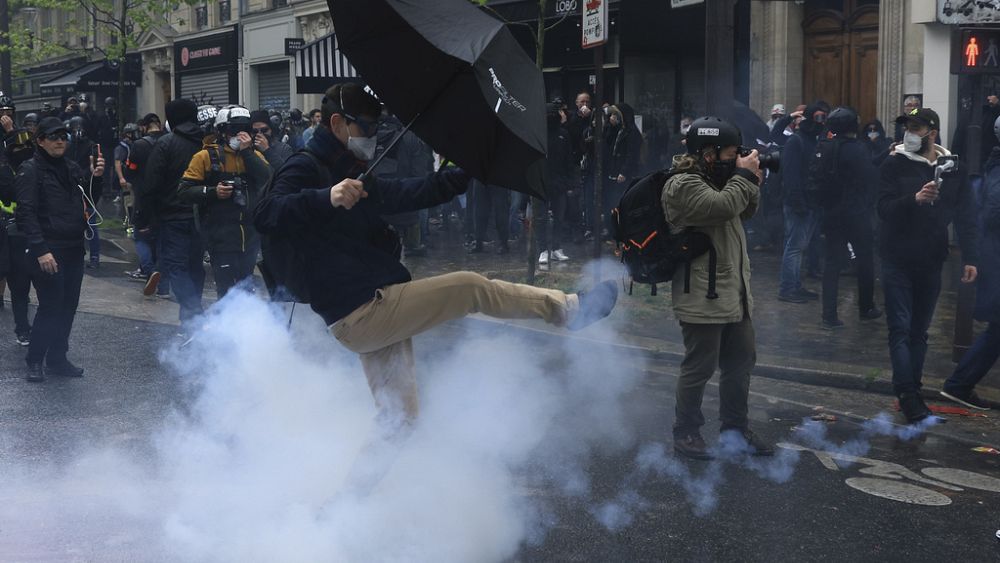 France was gripped by widespread May Day protests on Monday as unions joined forces to call for "tidal wave" street marches to force the government to repeal an unpopular pensions law that was rammed through parliament by decree.
Police fired teargas at protesters in Nantes, Lyon, Rennes and Paris – where an officer was injured after being struck in the face by a Molotov cocktail that was reportedly thrown by a masked Black Bloc anarchist on the sidelines of the march.
French interior minister Gérald Darmanin announced 108 police officers had been injured and 291 arrests were made including 90 in Paris.
The French Prime Minister Elisabeth Borne condemned the violent actions of some protesters.
Two police officers were injured in Toulouse, where security forces were hit by cobblestones, and banks and storefronts were vandalised.
Across the country, hundreds of thousands of people vented their anger at President Emmanuel Macron's move to raise the retirement age to 64, waving banners and banging on saucepans as they marched through cities and towns.
According to the French Interior Ministry, there were 782,000 protesters including 112,000 in Paris. The CGT trade union claimed 2.3 million took part with 550,000 in Paris alone.
Advertisement
The new Emirates Premium Economy has arrived on the latest Emirates A380
Get the best value from your summer holiday with exclusive offers and discounts across Dubai and the UAE with Emirates Pass