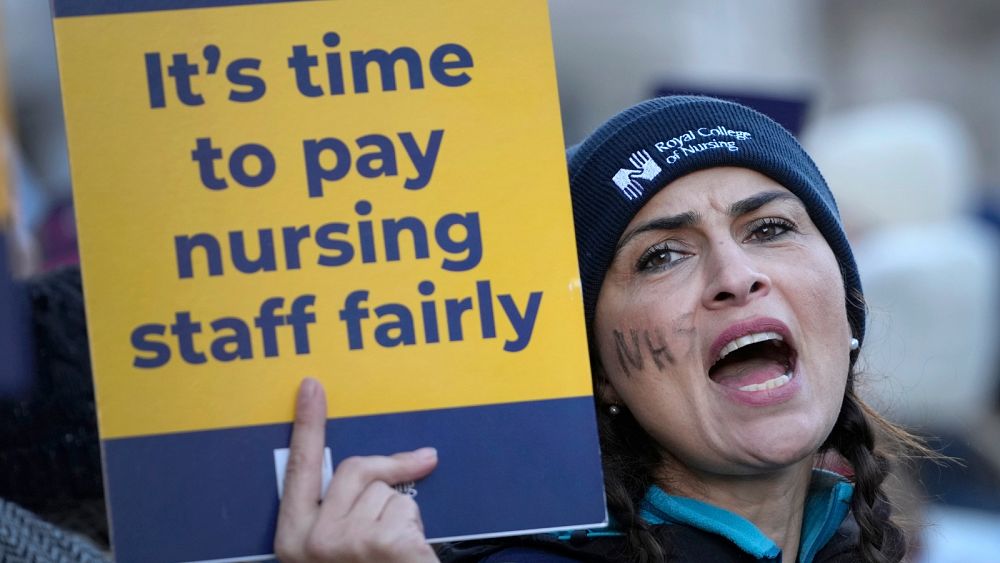 The UK's largest nursing union is leading another strike in England on Monday demanding pay rises in the face of inflation, in a walkout that has been cut short by a court order.
The Royal College of Nursing (RCN) has been engaged in industrial action since December, the union's first strike since it was founded more than a century ago. The latest walkout began on Sunday evening after RCN members rejected the government's latest proposals for a 5% pay rise and a one-off payment of at least £1,250 (€1,425).
For the first time, the 28-hour strike will include nurses working in intensive care units and cancer wards, although the RCN said exceptions are being made in hospitals where a lack of nurses could endanger patients' health.
The strike was initially scheduled to continue on Tuesday but has been cut short after a court last week sided with the Department of Health and Social Care's argument that the length of the walkout was unlawful.
"It is for the secretary of state to come back around the table and put a better offer on the table," Pat Cullen, the RCN's general secretary, told Sky News on Monday.
"We need to pay nurses decently," she said, adding that until the government agrees a deal to increase wages adequately, "nurses will be left with no option but to continue with the action that they are taking." The RCN intends to ballot its members again in mid-May.
Health Secretary Steve Barclay called the new walkout "disappointing", denouncing the "additional pressure" it will put on the crisis-stricken NHS.
He also described the action as "disrespectful" given that the government, several health sector unions and NHS officials are scheduled to meet tomorrow to discuss the proposed 5% pay rise.
With inflation running at over 10%, the pressure on salaries has led to a spate of industrial action over the past few months as workers in both the public and private sectors demand pay rises.
Advertisement
The new Emirates Premium Economy has arrived on the latest Emirates A380
Get the best value from your summer holiday with exclusive offers and discounts across Dubai and the UAE with Emirates Pass