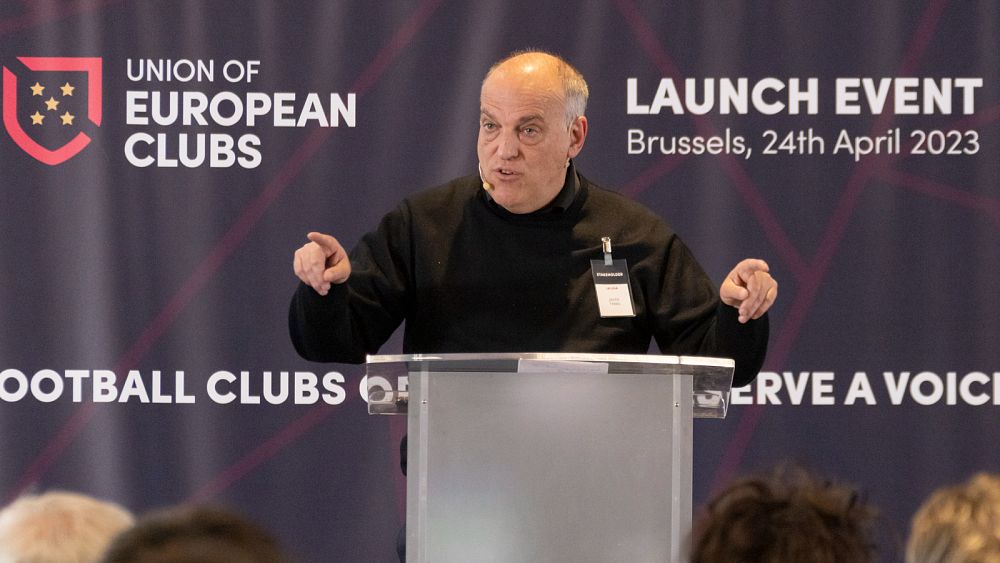 A new organisation of "non-elite" clubs is trying to change the balance of power in European football.
The Union of European Clubs (UEC) counts zero official members so far, but it's already registered the interest of 40 teams, including Sevilla, Aston Villa, Brighton, Crystal Palace and Union Saint-Gilloise.
At the launch event in Brussels – also joined by EU Commission VP Margaritis Schinas and La Liga president Javier Tebas – the new organisation promised to be a voice for the clubs who, at European level, have no power or representation.
"There are over 1,500 professional football clubs in Europe and over 90% of them don't have any possibility to vote in the current representative body, which is the European Club Association", told Euronews UEC General Secretary and sports law professor Katarina Pijetlovic.
"These clubs have absolutely no power or input over the rules that directly govern and impact their financial and sporting opportunities – such as access to competitions and redistribution of money".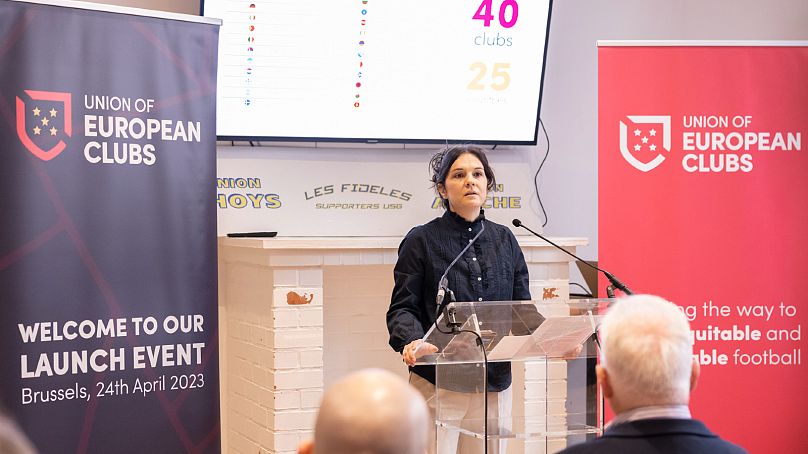 Who's representing European clubs with UEFA at the moment?
Led by PSG president Nasser Al-Khelaifi, the European Club Association (ECA) is at the moment the sole body recognised by UEFA (Europe's football governing body) to represent the interests of clubs at European level. 
The organisation has a strong influence in deciding how the Champions League is run and distributes money. Its founding members include Manchester United, Real Madrid , Barcelona and Juventus.
However, ECA membership with full voting rights is only for clubs that regularly play in UEFA competitions. Something which, according to Ms Pijetlovic, only contributes to "consolidate their dominant position".
Can the new UEC have a real impact on football decisions?
While ECA president Al-Khelaifi has talked down the UEC project, it is yet to be seen whether UEFA will leave the door open to the outsider football organisation. 
Euronews has reached out to both UEFA and ECA, without receiving a reply.
According to James Kitching, former Director of Governance at FIFA, the world football governing body, the newborn Union of European Clubs "is a good thing" for football. 
"With the backing of European politicians, and given the members that it represents, it provides a legitimate alternative voice on European and global club issues", he told Euronews.
What does the UEC want to change specifically?
One of the most pressing points for the UEC is to change how clubs are awarded money in tournaments like the Champions League or the Europa League.
"A good portion of that money is redistributed not because of your sporting success in that competition, but because of where you come from, how large is your market or your historical success", says Pijetlovic.
"So, you may have teams who get more points than others, but earn less money. The sporting aspect is counting only for about 30% or so."
The formal constitution of the UEC is expected to take place in May.
Advertisement
The new Emirates Premium Economy has arrived on the latest Emirates A380
Get the best value from your summer holiday with exclusive offers and discounts across Dubai and the UAE with Emirates Pass