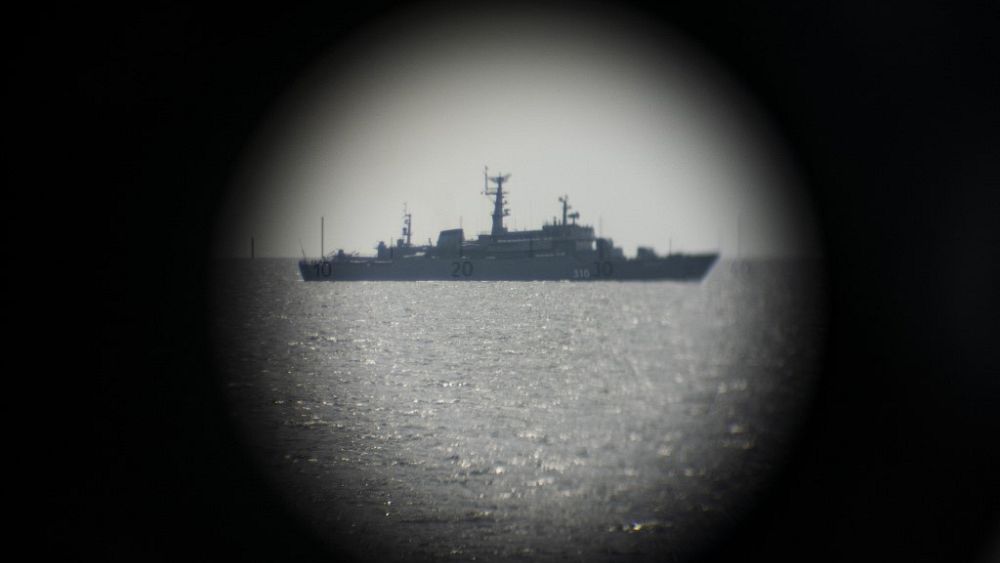 Russian ships were present before last year's Nord Stream pipeline blasts, a documentary has claimed. 
Two Nord Stream pipelines carrying gas from Russia to Europe, via the Baltic Sea, were knocked offline by underwater explosions last September. 
Some Western countries blamed Russia, though Moscow denies any involvement.  
The cause of the blast remains unknown.  
However, in the latest episode of a series called Putin's Shadow War it is alleged there were suspicious movements of Russian ships, which could perform underwater operations, near the explosion site. 
The TV documentary, produced by Nordic broadcasters, does not claim Moscow was behind the blast, but asks questions about the unusual activity of its navy. 
It claimed so-called Russian "ghost ships", including a research vessel, tugboat and a third naval ship, were in the blast zone for several hours and, in one case, nearly a full day. 
They reportedly had their transmitters turned off, though the broadcasters claim their movements could still be tracked using intercepted radio communications. 
A retired British naval intelligence officer, who used to work on intercepting the Russian Baltic Fleet, tracked their whereabouts using open-source information and radio communications. 
Russia accused the UK of "directing" the Nord Stream blasts in October – something London dismissed as false. 
Recent reports have suggested pro-Ukrainian operatives were to blame, though not the Ukrainian government itself. 
The documentary made a detailed assessment of what Russian ships were doing in the months leading up to the incident. 
One of its vessels, the Sibiryakov, is believed to be capable of underwater surveillance and mapping as well as launching a small underwater vehicle.
It switched its communications to a secret receiver and took an unusual route near where the pipeline would later blow up in June, according to the Royal Navy officer, who remained anonymous in the documentary. 
Another vessel, the SB-123 naval tugboat, is alleged to have arrived five days before the September explosions.  
Its radio communications suggest it stayed there the whole night, before sailing back towards Russia. 
In April, the series by Denmark's DR, Norway's NRK, Sweden's SVT, and Finland's Yle broadcasters revealed that Russian vessels were mapping out offshore wind farms, gas pipelines, power, and internet cables in the North Sea for possible sabotage attacks.
Some targets included wind farms off the coast of Britain, a vital source of the country's energy. 
Both Sweden and Denmark say the blast, which occurred in their economic zones, was deliberate, though they have not determined who was responsible.
They are investigating the incident, along with Germany. 
The gas leak from the blast spewed out a huge amount of greenhouse gas emissions, estimated at 500 metric tons of climate-change-causing methane per hour.