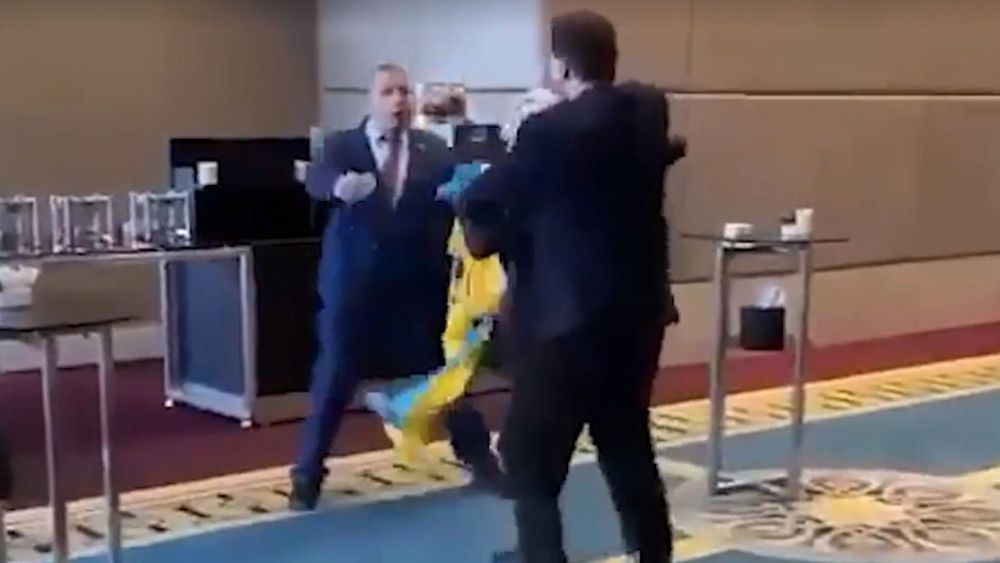 Ukrainian and Russian delegates skirmished over a stunt involving the Ukrainian flag at a Black Sea Economic Cooperation conference.
In footage going viral on social media, Ukrainian MP Oleksandr Marikovsky can be seen unfurling his country's flag behind Russian delegate Olga Timofeeva while she was being interviewed at the Parliamentary Assembly of the Black Sea Economic Cooperation in Ankara, Turkey on Thursday.
Another member of the Russian delegation, reported to be Valery Stavitsky, then rips the flag from Marikovsky's grip, who quickly follows Stavitsky and punches him before pulling the flag back.
The two men are then separated by others.
Marikovsky later posted the footage to his social media channels, with Russian reports claiming Stavitsky went to hospital for an examination following the incident.
The scrap came after an earlier stunt in which the Ukrainian delegation unfurled a Ukrainian flag and the flag of the ultra-nationalist organisation 'Right Sector' and chanted anti-Russia slogans behind Timofeeva while she spoke at the conference, leading to another brief scuffle as the Russian delegation tried to stop them.
The assembly's speaker Mustafa Şentop intervened to demand that the Ukrainians be removed from the hall.
"Whoever we authorise to speak will speak here. I will not let anyone disturb the peace and order of this meeting. If anyone has such an intention, get out," he said.