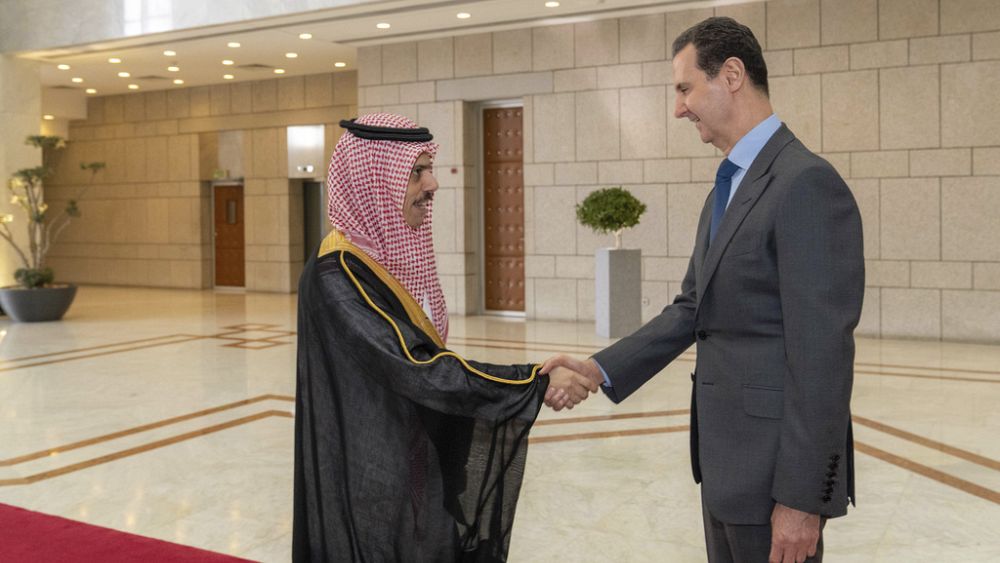 Some influential league members remained opposed to welcoming back the country, chief among them Qatar, which did not send its foreign minister to Sunday's gathering. Thirteen out of the league's 22 member states sent their foreign ministers to the gathering in Cairo.
The decision represented a victory for Damascus, albeit a largely symbolic one. Western sanctions against Assad's government still remain in place and the return into the fold is not expected to lead to a quick release of reconstruction funds in the war-battered country.
Bashar Al-Assad: a political pariah no more?
Syria's membership in the Arab League was suspended early on, during the country's 2011 uprising against Assad's rule, when pro-democracy protests were met by a violent crackdown and quickly turned into a civil war. The conflict has killed nearly a half million people since March 2011 and displaced half of the country's pre-war population of 23 million.
Arab League Secretary-General Ahmed Aboul Gheit said in a televised statement that the decision to return Syria to the organization, which will allow Assad to take part in the group's upcoming May 19 summit, is part of a gradual process to resolve the conflict.
"This doesn't mean that the Syrian crisis has been resolved, on the contrary," he said. "But it allows the Arab (states) for the first time in years, to communicate with the Syrian government and to discuss all the problems."
Aboul Gheit also said restoring Syria's membership in the organization does not mean all Arab countries have normalized relations with Damascus.
"These are sovereign decisions for each state individually," he said.
Syrian Prime Minister Hussein Arnous claimed Sunday that Syria had been the victim of "misinformation and distortion campaigns launched by our enemies" for 12 years. He said Sunday's consultations reflected the "prestigious position" Syria holds regionally and internationally.
A controversial decision
Opponents of Assad saw the move toward normalization as a betrayal.
"Arab states have put their own cynical realpolitik and diplomatic agendas above basic humanity," said Laila Kiki, executive director of The Syria Campaign, an international advocacy group. The move, she said, has "cruelly betrayed tens of thousands of victims of the regime's war crimes and granted Assad a green light to continue committing horrific crimes with impunity."
Sunday's decision came days after regional top diplomats met in Jordan to discuss a road map to return Syria to the Arab fold as the conflict continues to de-escalate. The next Arab League summit is to take place on May 19 in Saudi Arabia.
Advertisement
The new Emirates Premium Economy has arrived on the latest Emirates A380
Get the best value from your summer holiday with exclusive offers and discounts across Dubai and the UAE with Emirates Pass