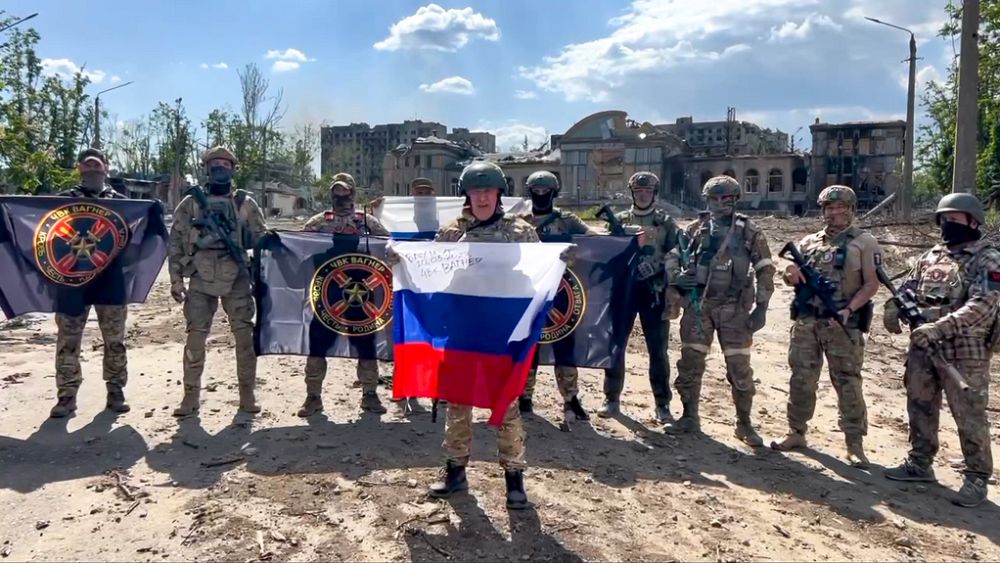 Russia's mercenary Wagner Group is allegedly using social media platforms to recruit new members from all over the world. 
A study published by Logically, a London-based disinformation research group, identified more than 50 examples of Wagner recruitment information being shared in 16 languages on Twitter, Facebook and other social media platforms.
In one post written in English on Twitter, the user boasts fighters can make up to 240,000 rubles per month (2,700 euros) – a common propaganda technique used to recruit new members. 
"That's without the bonuses that can be earned on achieving success," says the Twitter post. 
The mercenary group is apparently looking to fill many positions from IT to medical roles as well as actual foot soldiers. 
Another post on Twitter in Spanish also uses the same language to convince people to join, promoting "life insurance" and working for "a team focused on efficiency and winning."
The Cube also saw similar posts in French, Vietnamese and Indonesian.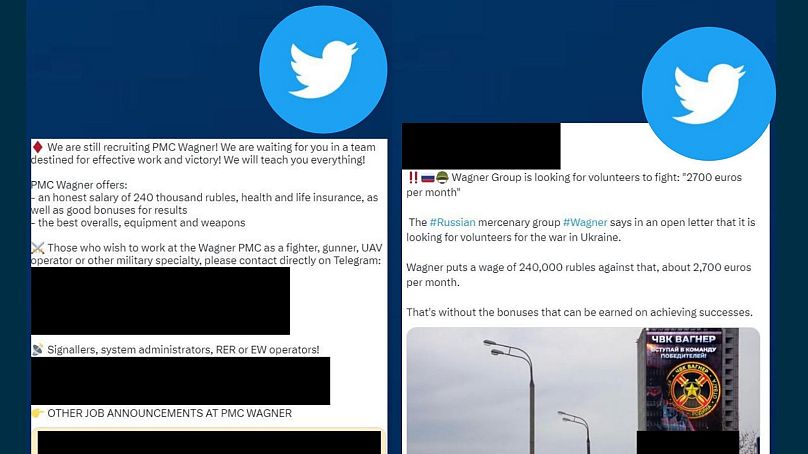 These job adverts garnered nearly 120,000 views across Twitter and Facebook over the last few months, according to the study. 
There are other startling elements to this online recruitment campaign including the reactions to these posts according to Kyle Walter, Head of Research at Logically.
"A lot of these posts were being shared in languages that you wouldn't necessarily expect like Vietnamese, even some in Polish," Walter told Euronews. 
"The reactions to these posts were mostly positive. A lot of people were asking questions about how they can further join the Wagner Group or saying that they support the group in general."
While the researchers couldn't directly attribute these messages to Wagner, the style and arguments presented are very similar to the group's recruitment process in Russia. 
Wagner Group is accused of widespread human rights abuses and other atrocities, especially in Ukraine, alongside other places on the African continent.
Two Russian former convicts who claim they served as commanders for the Wagner mercenary group recently confessed to murdering hundreds of Ukrainian civilians, including children.
Since they're not considered an international terrorist organisation, Wagner's online activity is in a grey zone, according to Logically.
"This allows the group to be able to flourish online, which can be very concerning,"  Because regular everyday people can directly reach out via Telegram or via WhatsApp to representatives of the Wagner Group and find themselves in a very dangerous position," explained Kyle Walter. 
"I think it's something that we need to consider more going forward," he added.
Even before the Russia-Ukraine war, Wagner was involved in fighting throughout Central Africa, where it can be found protecting more odious regimes in exchange for mining rights.
But the organisation rose to prominence in recent months after offering Russian convicts a chance at freedom in exchange for fighting in Ukraine.
Wagner boss Yevheniy Prigozhin claimed the group has since then suffered losses of up to 20,000 mercenaries.
Advertisement
The new Emirates Premium Economy has arrived on the latest Emirates A380
Get the best value from your summer holiday with exclusive offers and discounts across Dubai and the UAE with Emirates Pass