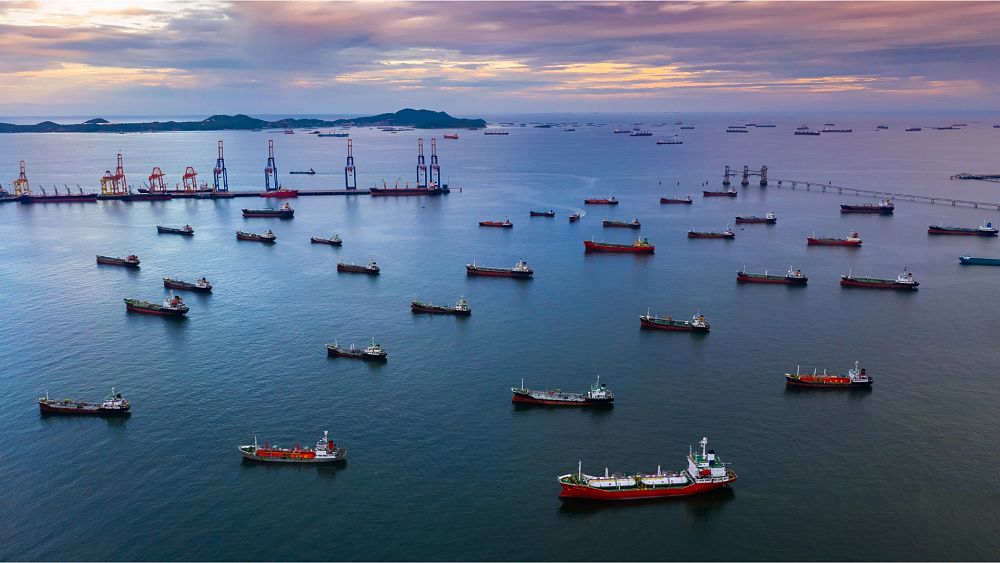 Russian oil exports hit their highest level in April compared to any other month after it invaded Ukraine in February 2022, according to the International Energy Agency (IEA). 
Russia exported an average of 8.3 million barrels of oil a day in April, an increase of 50,000 daily barrels compared to March.
Oil exports from Russia dropped to a low of 7.4 million barrels per day post-invasion, with sanctions taking a toll on its trade. 
The rise corresponds to Russia's increased effort to seek markets in countries that are yet to impose sanctions over the Ukraine war, according to the IEA monthly report. 
The report also noted that despite the rise in exports, Russia has struggled to make more money.  
Although Russia has managed to steadily increase the volume of its oil exports, revenue has not mirrored it. 
Moscow's oil exports earned 13.9 million euros – up from the previous month – yet made close to 6 million less than in June 2022. 700,000 additional barrels were exported in April compared to June of last year. 
This has led to speculations that Russia might be exporting its oil at discounted prices.
Russia's market shift towards the east
Some 80% of the Russian oil exports in April went to India and China, representative of the trend documented by IEA monthly reports. 
According to a report by BBC, India's oil imports have jumped tenfold, reaching 2.2 million barrels per day in April from the pre-invasion average of 0.2 million barrels per day.
India is the world's third-largest importer of oil. 
At the same time, EU oil imports have plummeted. They were stable at 0.6 million barrels a day for the third month running in April, amid repeated rounds of sanctions on Russia.
The EU's first round of sanctions on Russian crude came into effect in December 2022, while the second relating to refined petroleum was actualised this February. 
There is a temporary exception for imports of crude oil by pipeline into the EU states that are overly dependent on Russian oil supplies. 
Is the sanctioned Russian oil coming back to the EU?
India has defended its oil purchases, claiming it cannot pay for more expensive energy imports from countries beyond Russia with millions living in poverty. 
However, the increase in Russian exports has attracted criticism, with the South Asian country accused of helping Moscow evade European sanctions. 
EU's foreign policy chief Josep Borrell recently claimed Indian firms have been buying Russian oil and selling the refined product. 
"It's normal that India buys Russian oil," Borrell said in an interview with FT. "But if they use that in order to be a centre where Russian oil is being refined and by-products are being sold to us . . . we have to act."
Despite importing more oil from Russia, Indian exports have continued to fluctuate, which according to the Bank of Baroda, is due to increased domestic consumption.
Borrell, however, implied that India is selling "because someone is buying". And that the EU should keep a check on buyers. 
India's major exporting markets include a handful of EU member states, including the Netherlands, Germany, Italy, and France, according to India's Ministry of Commerce and Industry. 
Indian foreign minister S Jaishankar recently reacted to Borrell's statement, urging the EU to reflect on its own rules. 
"Look at EU Council regulations, Russian crude is substantially transformed in the third country and not treated as Russian anymore," Jaishankar replied. "I would urge you to look at Council's Regulation." 
He further added India and Russia are committed to increasing trade, and in no way can the imports be looked at as a "direct way of funding the war."
Advertisement
The new Emirates Premium Economy has arrived on the latest Emirates A380
Get the best value from your summer holiday with exclusive offers and discounts across Dubai and the UAE with Emirates Pass