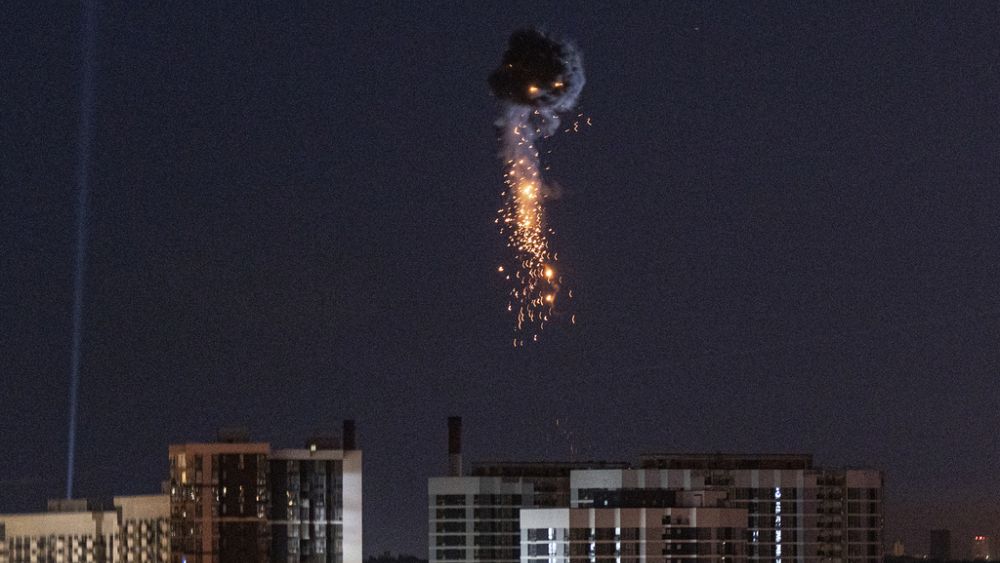 Latest attack on Kyiv kills at least three, leaves several injured
Russian forces began June with a fresh aerial bombardment of Kyiv on Thursday, killing at least three people and wounding others, authorities said.
Following a reported 17 drone and missile attacks on the Ukrainian capital in May, Russian forces hit the capital in the early morning with ground-launched missiles.
The Kyiv City Administration reported one child was among the dead, and 10 people were wounded. 
The casualty toll was the most from one attack on Kyiv in the past month.
In the Desnianskyi district, debris fell on a children's hospital and a nearby multistory building. Two schools and a police department were damaged.
In another district, Dniprovskyi, a residential building was damaged by burning debris, parked cars caught fire, and debris fell onto the roadway and courtyards.
In the Darnytskyi neighbourhood, a water pipeline and a residential building were affected, and the explosive wave broke windows.
Ukraine's General Staff reported that the Air Forces intercepted all 10 missiles, which it identified as short-range ballistic Iskander missiles.
Russia has repeatedly targeted Kyiv with waves of drone and missile attacks since the start of the invasion. Still, attacks against the capital have significantly intensified over the past month as Ukraine prepares for a counteroffensive.
Russian oil refineries attacked by drones
Drones attacked two Russian oil refineries situated near one of the country's biggest oil ports on Wednesday, sparking a fire in one of them, according to local officials. 
The oil refineries are situated just 65-80 kilometres east of the Novorossiisk port, which handles about 1.5% of all global oil supplies. 
One drone struck Krasnodar region's Afipsky refinery, starting a fire which was later brought under control, Governor Veniamin Kondratyev said.
Another drone attacked the Ilsky refinery, just 65 kilometres from Novorossiisk. No significant damage was done to the refinery, which processes 3 million tonnes of oil annually. 
Russia has accused Ukraine of ramping up drone strikes in its territory, although there has been no information from either side about the refinery attacks. Ukraine has often denied attacking the Russian mainland or Russian-occupied parts of its own territory.
Oil refineries and ports have been frequent air strike targets ever since the Russian invasion of Ukraine began in February 2022.
Macron: 'We should have listened to Eastern Europe over Russia'
French President Emmanuel Macron conceded on Wednesday that France should have heard Eastern European nations' warnings about Russia before the country started invading Ukraine. 
"Some said you had missed an opportunity to shut up. I think we also lost an opportunity to listen to you. This time is over," Macron said at the GLOBSEC think tank in Slovakia. 
Macron was alluding to a remark made in 2003 by his predecessor Jacques Chirac, which was directed at Eastern European governments who supported the American invasion of Iraq.
The French president said the division between Eastern and Western Europe should be non-existent when it comes to matters involving Russia.
Both eastern and western EU member states should also establish an integrated defence industry to move away from dependence on the US, Macron argued. 
"Let's be grateful and say thank you to the United States," he said. "But is this administration here forever? That's why a European defence pillar in NATO is indispensable."
Macron added that Russia's invasion has taken a toll on its own interests, citing Finland's entry into NATO and Moscow's stark trade deficit. 
Paris has been frequently criticised by eastern EU member states, including Poland, for continuing to communicate with Russia even after the start of the war.
Advertisement
The new Emirates Premium Economy has arrived on the latest Emirates A380
Get the best value from your summer holiday with exclusive offers and discounts across Dubai and the UAE with Emirates Pass