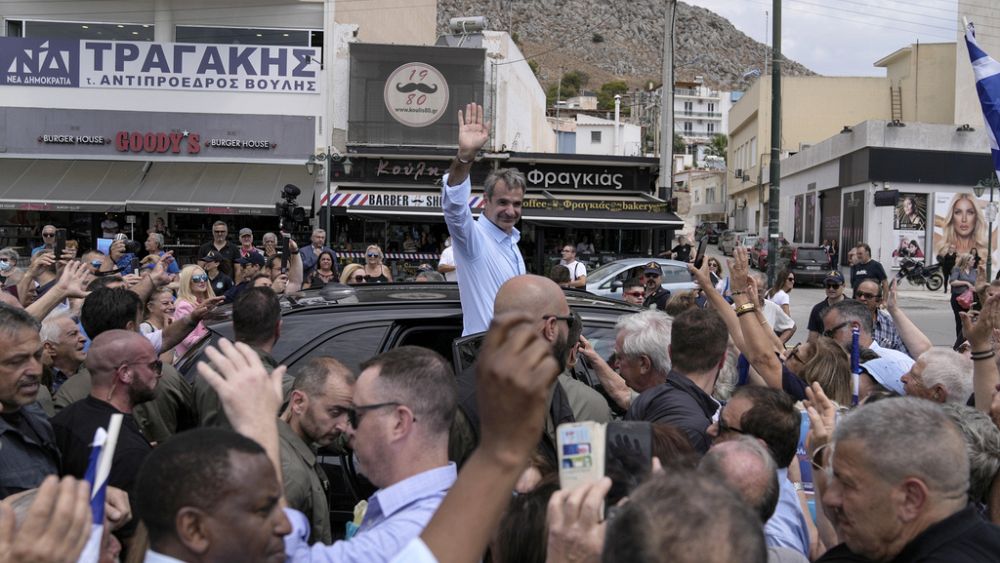 The second vote on Sunday comes after the first elections in May failed to elect an outright majority. 
Observers say that looks unlikely to be the case this time round. 
Former prime minister and conservative New Democracy leader Kyriakos Mitsotakis, won by a huge majority in the first round and heads into the second vote to take advantage of election law changes that favour the winning party.
Sunday's poll falls under new rules that award a bonus of 25-50 seats to the winning party, depending on its performance.
Mitsotakis held his final election rally in Syntagma Square in central Athens where he addressed supporters.
"You are all too familiar with the brave support our government provided [during the pandemic] to keep the economy and society standing, but at the same time honouring our promises," he told a cheering crowd. 
Sunday's vote comes days after hundreds of migrants died and went missing in southern Greece when an over-crowded fishing trawler capsized and sank, drawing criticism over how Greek authorities handled the rescue.
But the disaster did little to dent Mitsotakis' 20-point lead in opinion polls over left-wing rivals.
Opposition leader Alexis Tsipras, head of the left-wing Syriza party, served as prime minister from 2015 to 2019 and, at the age of 48, is now fighting for his political survival.
Tsipras, whose campaign is focused on defending the health service and welfare state, has failed to make any gains from a series of scandals that hit Mitsotakis late in his term, including revelations of wiretapping targeting journalists and senior politicians, and a deadly train crash on Feb 28 that exposed poor safety measures.
Hoping to replace Tsipras as the main opposition party is Pasok leader and former MEP Nikos Androulakis. His party has made progress in that respect but analysts and opinion polls suggest that this scenario might take some time to come to pass. 
Polls open on Sunday morning however the process starts on Saturday (June 24) when Greeks living abroad can vote from their country of residence.
Advertisement
The new Emirates Premium Economy has arrived on the latest Emirates A380
Get the best value from your summer holiday with exclusive offers and discounts across Dubai and the UAE with Emirates Pass