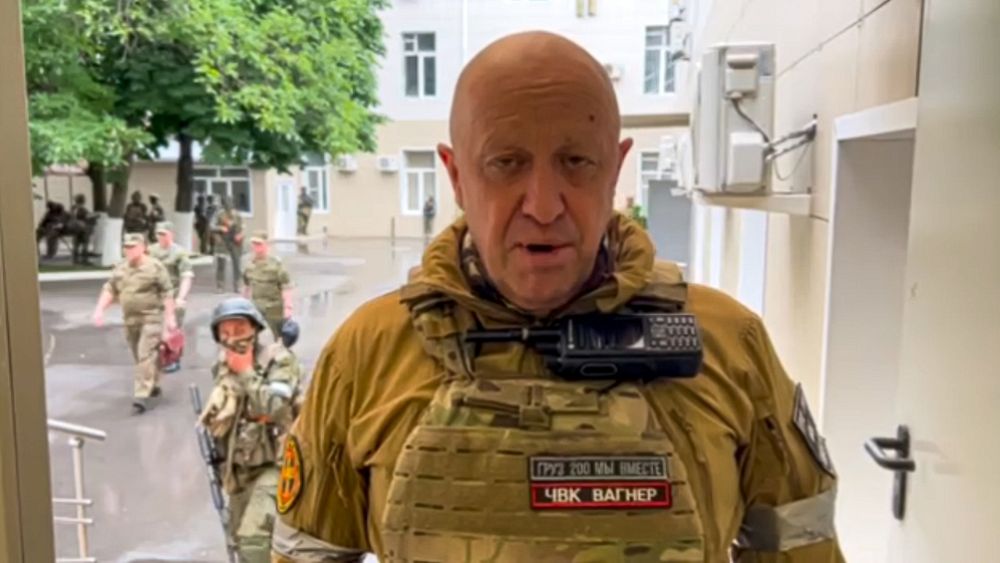 The owner of the Wagner private military contractor who called for an armed rebellion aimed at ousting Russia's defence minister, confirmed Saturday morning that he and his troops have reached a key Russian city after crossing the border from Ukraine.
Yevgeny Prigozhin posted a video of himself in Rostov-on-Don at the Russian military headquarters that oversees the fighting in Ukraine. He claimed that his forces had military facilities in the city under their control, including the airfield.
Other videos posted on social media showed military vehicles, including tanks, on the streets outside.
"We will destroy anyone who stands in our way," he said in one of a series of angry videos and audio recordings posted on social media beginning late Friday.
 "We are moving forward and will go until the end," threatened Prigozhin.
He claimed Russia's Chief of the General Staff, Gen. Valery Gerasimov, scrambled warplanes to strike Wagner's convoys, which were driving alongside ordinary vehicles. Prigozhin also said his forces shot down a Russian military helicopter that fired on a civilian convoy, but there was no independent confirmation.
Prigozhin, who said he had 25,000 troops under his command, said late Friday his troops would punish Russia's Defence Minister Sergei Shoigu in an armed rebellion and urged the army not to offer resistance. "This is not a military coup, but a march of justice," Prigozhin declared.
Russia's National Anti-Terrorism Committee, which is part of the Federal Security Services, or FSB, has charged him with calling for an armed rebellion, which carries a penalty of up to 20 years in prison.
In a sign of how seriously the Kremlin took the threat, security was heightened in Moscow and in Rostov-on-Don. It was not immediately clear how he was able to enter the southern Russian city or how many troops he had with him.
While the outcome of the confrontation was still unclear, it appeared likely to further hinder Moscow's war effort as Kyiv's forces were probing Russian defences in the initial stages of a counteroffensive.
The dispute, especially if Prigozhin were to prevail, also could have repercussions for President Vladimir Putin and his ability to maintain a united front.
The Wagner forces have played a crucial role in Russia's war in Ukraine, succeeding in taking the city where the bloodiest and longest battles have taken place, Bakhmut.
But Prigozhin has increasingly criticized Russia's military brass, accusing it of incompetence and of starving his troops of weapons and ammunition.
President Vladimir Putin has been informed about the situation and "all the necessary measures were being taken," Kremlin spokesman Dmitry Peskov said.
Lt. Gen. Vladimir Alexeyev, a top military officer, denounced Prigozhin's move as "madness" that threatened to unleash a civil war.
Heavy military trucks and armoured vehicles were seen in several parts of central Moscow early Saturday, and soldiers toting assault rifles were deployed outside the main building of the Defense Ministry. The area around the presidential administration near Red Square was blocked, snarling traffic.
Advertisement
The new Emirates Premium Economy has arrived on the latest Emirates A380
Get the best value from your summer holiday with exclusive offers and discounts across Dubai and the UAE with Emirates Pass