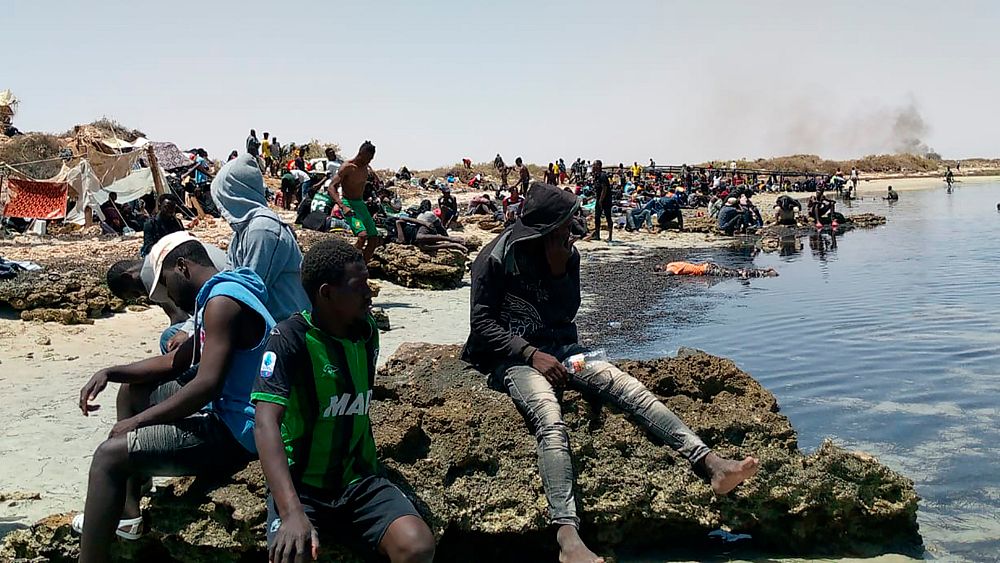 At least 15 migrants have been found dead off Tunisia's coast and on its border with Algeria this week, authorities said on Friday. The deaths come as sub-Saharan Africans face increasing tensions in Tunisia and more and more people seek to leave or transit through the country en route to Europe.
The Tunisian coast guard retrieved the bodies of 13 migrants on Wednesday night and rescued 25 others off the port city of Sfax, according to a statement from the Interior Ministry.
Sfax has been the main departure point in Tunisia for people seeking to reach Europe on risky boat journeys across the Mediterranean Sea, often toward the Italian island of Lampedusa.
The city has also seen clashes between local residents and groups of migrants. After the death of a Tunisian man led to reprisals against the migrants, hundreds were deported to desert areas on the Libyan and Algerian borders.
Two migrants were found dead on theTunisian-Algerian border in the Hazoua region, according to a regional court spokesperson.
The International Organization for Migration says 1,895 people have died or gone missing en route from northern Africa across the central Mediterranean this year, compared with 2,406 in all of 2022.
Tunisia's struggling economy, with soaring debt and high inflation and unemployment, is pushing more Tunisians and other Africans in Tunisia to make the journey.
European Commission President Ursula von der Leyen, Italian Prime Minister Giorgia Meloni and Dutch Prime Minister Mark Rutte are expected in Tunis on Sunday for a second meeting with the increasingly authoritarian Tunisian President Kais Saied to discuss aid.
The European Union last month offered Tunisia more than $1 billion to help its slumping economy, and to beef up border services to stop migrant boats from crossing to Europe.
Saied stoked racist incidents earlier this year by railing at Black Africans who transit through Tunisia toward Europe.
Advertisement
The new Emirates Premium Economy has arrived on the latest Emirates A380
Get the best value from your summer holiday with exclusive offers and discounts across Dubai and the UAE with Emirates Pass