Wagner is Africa bound, saysPrigozhin
Wagner boss Yevgeny Prigozhin has said his troops will head to the African continent in his first video address since the short-lived mutiny.
He confirmed the guns for hire were pulling out of Ukraine, blasting Russia's effort on the frontline as "a shame". 
Messaging app channels linked to Prigozhin's private military company said he spoke at a field camp in Belarus and published a blurry video purporting to show him there, his silhouette seen against the sky at dusk.
"Welcome guys! I am happy to greet you all. Welcome to the Belarusian land!" the video showed him saying on Wednesday. "We fought with dignity! We have done a lot for Russia."
He did not rule out Wagner's return to Ukraine in future but criticised the conduct of the war. 
"We may return to the special military operation when we feel sure that we will not be forced to put shame on ourselves," Prigozhin said. 
In the meantime, his troops will train in Belarus and look to focus on Africa to get better, he added. 
"We will make the Belarusian army the second strongest army in the world. We will train, raise our level and set off for a new journey to Africa," the Wagner boss claimed. 
Wagner has been involved for years in shady business across Africa, providing protection to some of the continent's most controversial regimes in exchange for mining rights and other resources. 
Under a deal brokered by Belarusian President Alexander Lukashenko, Prigozhin called off his rebellion in exchange for an amnesty, with he and Wagner supposedly relocating to Belarus.
Wagner reportedly handed over some of its weapons to the Russian military, as the country's authorities tried to defuse the threat posed by the mercenaries.
Ships sailing to Ukraine potential military targets, warns Russia
Russia's Defence Ministry on Wednesday said all the ships sailing towards Ukraine will be considered potential targets, suspecting transport of military cargo. 
The statement comes as Kyiv revealed its plans of setting up a temporary shipping route for food exports following Russia's withdrawal from the grain deal. 
In a statement posted in Telegram, the defence ministry termed the international waters in northwestern and southeastern parts of the Black Sea "temporarily dangerous" for shipping. 
"The countries whose flags those ships will fly will be seen as involved in the Ukrainian conflict on the side of the Kyiv regime," it said. 
The new provision came into effect on Wednesday midnight, Moscow said, without detailing the type of action it will take against ships in the Black Sea. 
The White House, in response, warned the Russian military is preparing for possible attacks on civilian shipping vessels in the Black Sea.
"Our information indicates that Russia laid additional sea mines in the approaches to Ukrainian ports," White House National Security Council spokesman Adam Hodge said in a statement.
Crucial supplies of Ukrainian wheat and other cereals were blockaded by Russia during the early stages of the war, sending food prices skyrocketing and triggering warnings of famine in certain parts of the world. 
However, an UN-Turkey brokered deal last summer lifted the blockade, though Russia pulled out of it earlier this week. 
Russian attacks on port facilities continue to destroy grain
Russia unleashed intense drone and missile attacks overnight on Wednesday, damaging critical port infrastructure in southern Ukraine, including grain and oil terminals, according to officials. 
At least 12 people were wounded in the strikes, they said. 
The bombardment crippled significant parts of export facilities in Odesa and nearby Chornomorsk and destroyed 60,000 tons of grain, according to Ukraine's Agriculture Ministry.
The ministry estimated it would take a year to restore the facilities damaged on Wednesday, citing various experts.
The destroyed grain was supposed to have been loaded onto a vessel and sent through the grain corridor two months ago, the statement said.
"Such attacks by Russian terrorists are not only affecting our country but also global stability," Ukrainian President Volodymyr Zelenskyy said during a briefing with the visiting Irish prime minister in Kyiv. 
He said Ukraine needs more anti-aircraft defence systems to protect the port.
Zelenskyy said his government is trying to find a way to maintain a corridor to keep grain exports flowing despite Russia's decision to abandon the deal brokered with the U.N. and Turkey.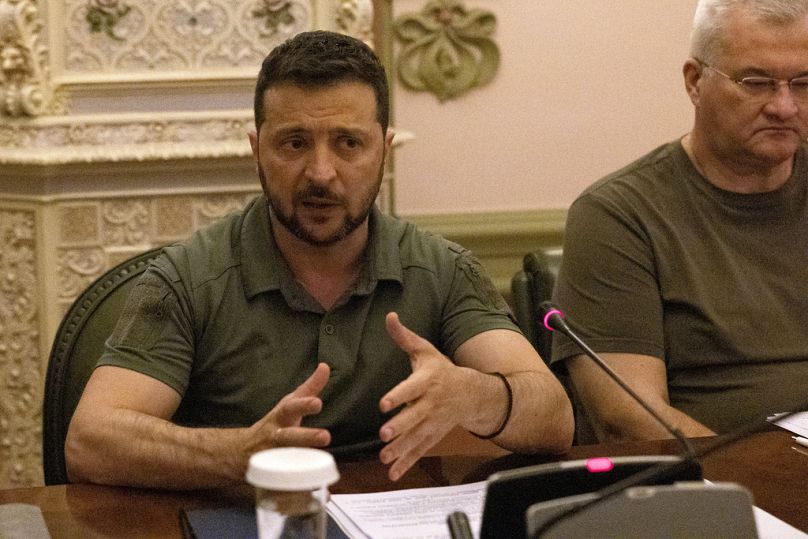 The attack came days after President Vladimir Putin pulled Russia out of its participation in the Black Sea Grain Initiative, a wartime deal that enabled Ukraine's exports to reach many countries facing the threat of hunger.
Putin said on Wednesday that Russia could return to the deal if the West offers Russian banks involved in servicing payments for the country's agricultural exports immediate access to the SWIFT payment system. He adamantly added that Moscow wants its conditions met, not "some promises and ideas."
Advertisement
The new Emirates Premium Economy has arrived on the latest Emirates A380
Get the best value from your summer holiday with exclusive offers and discounts across Dubai and the UAE with Emirates Pass