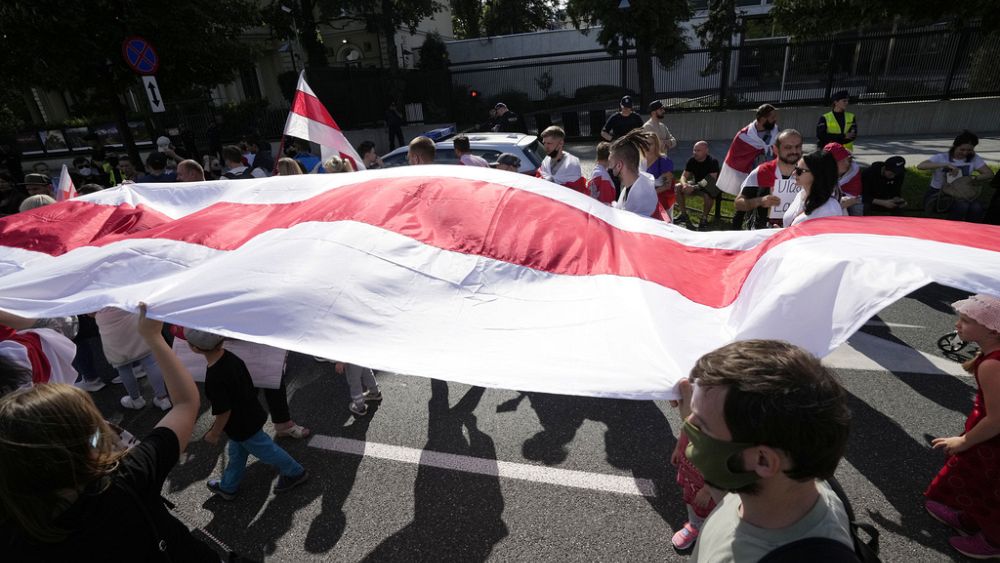 Western countries announced new sanctions against Belarus on Wednesday, three years after the re-election of President Alexander Lukashenko. 
ADVERTISEMENT
The 9 August 2020 vote sparked a massive protest movement in Belarus, with hundreds of thousands of people pouring onto the street to denounce what they considered a falsified result. 
Protests against Lukashenko, in power since 1994, were violently crushed, with hundreds imprisoned and tens of thousands driven into exile. 
The United States (US) and Canada announced new sanctions on Belarus whose government has called criticism from the West "false accusations".
Hundreds of Lukashenko's opponents marched through the Polish capital Warsaw to mark the third anniversary of their unsuccessful attempt to unseat him, while a smaller rally took place in Vilnius, Lithuania. 
Washington, which has already sanctioned Belarus, said it was taking new measures, including targeting the airline Belavia and a tobacco tycoon from Lukashenko's entourage.
Eight individuals and five entities were also sanctioned, while visa bans were imposed on 101 Belarusian officials. 
"The United States continues to stand with the brave people of Belarus who want to live in a country where the rule of law, respect for human rights, and a democratically elected government prevail," said the US Secretary of State Antony Blinken in a statement.
Describing the 2020 election as "fraudulent" Canada's Foreign Affairs Minister said her country was sanctioning nine individuals and seven entities "in response to serious and systematic violations of human rights".
"Perpetrators of human rights abuses must have no right to impunity," Mélanie Joly said in a statement, adding "Belarus' "support for the shameless acts of the Russian leadership will not go unpunished."
She pointed out that the European Union, United Kingdom and New Zealand were planning parallel actions.
As protests were suppressed between 2020 – 21, hundreds of thousands of Belarusians left their country, facing a whirlwind of repression and attacks at home. 
ADVERTISEMENT
Many went to neighbouring Poland and Lithuania, though Vilnius has since controversially begun expelling some Belarusians and tightening visa rules, like it did for Russians. 
Officials in Lithuania are divided over Belarus's exhiles.
"On the one hand, Lithuania has seen the massive repression of civilians in Belarus. It has this ambition of promoting democracy, showing solidarity and being faithful to its values,"  Andrei Vazyanau, a lecturer at Vilnius' European Humanities University, told Euronews in April. 
"On the other, it is a small country and is afraid of the threats of special agents and spies that can infiltrate. Other European countries don't face this issue."
An ally of Moscow, Belarus allowed Russia to use its territory for its 2022 invasion of Ukraine, worsening tensions with Western countries.
ADVERTISEMENT
Polling by an independent Belarusian sociologist Andrei Vardomatsky found that only 11% of Belarusians were in favour of their country participating in the fighting.
Meanwhile, two-thirds of those surveyed are against Russia's use of Belarus as a staging point from which to conduct military operations in Ukraine.
"Despite the illegal sanctions, the closure of airspace and the blocking of borders, pressure in the field of information and provocations by some EU members, Belarus has been able to maintain and strengthen its status as a state," the Belarusian foreign ministry said in a statement on Wednesday.
It denounced claims "based on false, hackneyed accusations" which "cannot influence the path" chosen by Minsk and accused the EU of carrying out an "aggressive policy", following Lukashenko's victory in 2020.
EU diplomacy chief Josep Borrell railed against the way protestors had been "suppressed with extreme brutality by the regime of Lukashenko".
ADVERTISEMENT
Borrell also accused Belarus of having become a "threat to regional and international security" and Russia's "accomplice" for its offensive in Ukraine.
Advertisement
The new Emirates Premium Economy has arrived on the latest Emirates A380
Get the best value from your summer holiday with exclusive offers and discounts across Dubai and the UAE with Emirates Pass