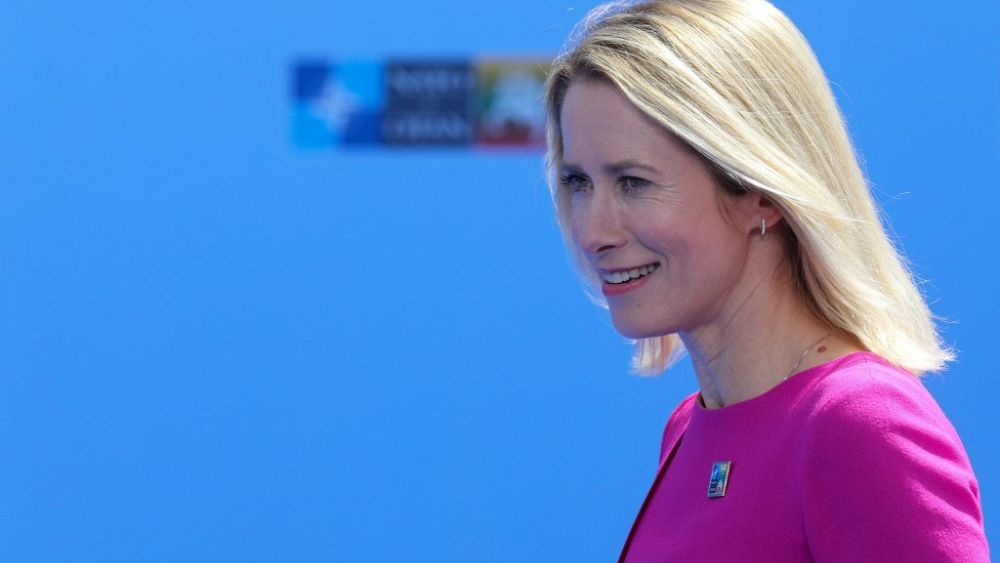 Estonia's Prime Minister Kaja Kallas has said the online world is a key battleground between Russia and Ukraine. 
"Cyberspace is not a sideshow, but a frontline" in Ukraine, she said on Tuesday at the Open Government Partnership Global Summit. 
The Estonian leader pointed to Russian cyberattacks that preceded its February 2022 invasion of Ukraine, and its continued attacks on Ukrainian data centres and communication infrastructure. 
On 14 January 2022 – around one month before Russia invaded – more than 90 Ukrainian government websites were hit by a comprehensive cyberattack, with around 20 of them defaced and losing data, according to Yurii Shchyhol, head of the State Service of Special Communications, which is responsible for defending Ukraine's cyberspace.
That month Ukraine reportedly experienced several major online assaults. 
In her keynote speech kicking off Tuesday's conference, Estonian PM Kallas called on Ukraine's allies to work collectively to "mitigate the threats" posed by Moscow. 
"Democracies can use technology to win every time, but there is a crucial fourth ingredient, and that is collaboration," she said. 
"Take it from a leader of a small country on the front line of the free world, we need to do this together. First and foremost, right now, this means supporting Ukraine until victory with weapons financing and know-how but also bringing Ukraine into the collaborative formats we have [such as] NATO, [the] European Union and others."
Estonia has emerged as a principal ally of Kyiv in its war against Russia, providing extensive deliveries of arms and financial support, while welcoming the arrival of 115,000 Ukrainian refugees inside the country. 
Tallinn nearly doubled its annual cybersecurity budget last year alongside the commitment to spend 3% of our GDP on defence overall, said Kallas. 
The Estonian PM was hit by a scandal at the end of August when it was revealed a business co-owned by her husband Arvo Hallik, continued doing business with Russia after it invaded Ukraine.
He maintained she "was not aware" of his professional activities, but the revelations were an embarrassment for Kallas, who has repeatedly backed Kyiv. 
On Tuesday, she framed the war in Ukraine as a struggle for democracy, suggesting "openness, responsibility and resilience" could help Kyiv win.
"Throughout history, democracy has always been under attack history by authoritarian [regimes]… destroying individual rights and excusing it with protecting security and economy."
"Right now in Ukraine, we continue to witness democracy under attack from… the Kremlin," Kallas explained, adding that democratic governance in Europe was also under threat from AI and Deep Fakes. 
Alarm bells have been sounded across Europe about the potential impact of digital technologies on democratic processes.
Poland's opposition was criticised in August for using AI-generated voices of Prime Minister Mateusz in an election advert. 
Yet, despite the "information warfare" in free societies, Kallas claimed technology was key to Europe's – and Ukraine's – "prosperity and security".
"There are many prophets of doom telling us that the digital era will accelerate the decline [of democratic societies]," she said. "Deep fakes and vector bubbles erode the trust and functioning of free societies. Mass surveillance enables authoritarians to better control their own people and economies." 
"Nevertheless, I believe there is a strong case to be made for optimism," she added. "Openness is our greatest weapon. At its core, openness represents getting rid of barriers that hinder the flow of information, ideas and innovation."
She pointed to the open-source investigations of alleged Russian war crimes conducted by Bellingcat, which plot and highlight incidents of potential civilian harm since Moscow invaded Ukraine.
Advertisement
The new Emirates Premium Economy has arrived on the latest Emirates A380
Get the best value from your summer holiday with exclusive offers and discounts across Dubai and the UAE with Emirates Pass