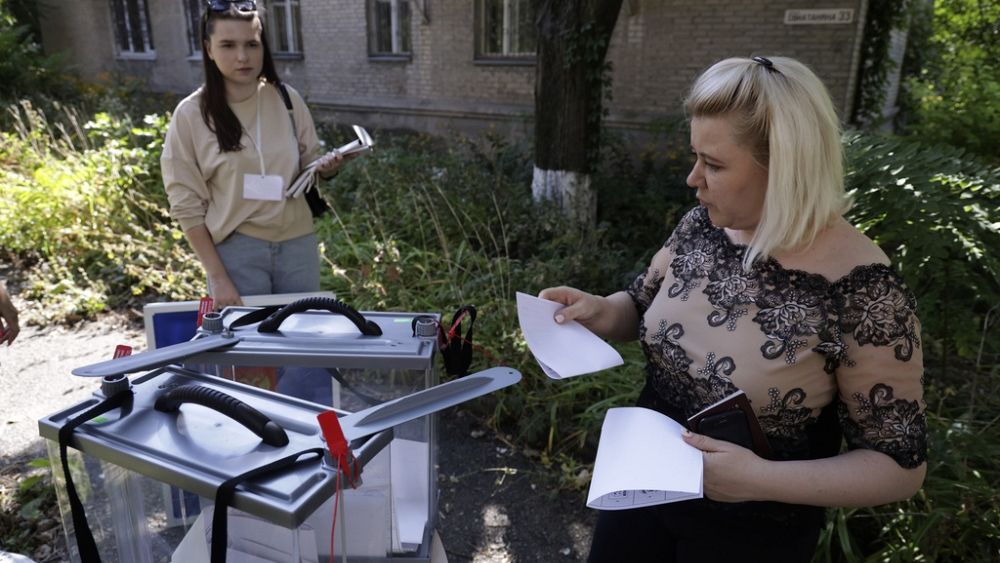 Russian authorities are holding local elections this weekend in occupied parts of Ukraine in an effort to tighten their grip on territories Moscow illegally annexed a year ago and still does not fully control.
The voting for Russian-installed legislatures in the Donetsk, Luhansk, Kherson and Zaporizhzhia regions has already begun and concludes on Sunday. It has been denounced by Kyiv and the West.
"A flagrant violation"
"It constitutes a flagrant violation of international law, which Russia continues to disregard," the Council of Europe, the continent's foremost human rights body, said this week.
Kyiv echoed that sentiment, with the parliament saying in a statement that the balloting in areas where Russia "conducts active hostilities" poses a threat to Ukrainian lives. Ukrainian officials have urged other countries not to recognize the results of the vote, which the Foreign Ministry called "fake elections."
For Russia – which launched a full-scale invasion of Ukraine 18 months ago – it is important to go on with the voting to maintain the illusion of normalcy, despite the fact that the Kremlin does not have full control over the annexed regions, political analyst Abbas Gallyamov said.
"The Russian authorities are trying hard to pretend that everything is going according to plan, everything is fine. And if everything is going according to plan, then the political process should go according to plan," said Gallyamov, who worked as a speechwriter for Russian President Vladimir Putin when Putin served as prime minister.
Voters are supposed to elect regional legislatures, which in turn will appoint regional governors. In the Donetsk and Luhansk provinces, thousands of candidates are also competing for seats on dozens of local councils.
Local elections in Russia
The main contender in the election is United Russia, the Putin-loyal party that dominates Russian politics, although other parties, such as the Communist Party and the nationalist Liberal Democratic Party, are also on the ballots.
For some residents of the Donetsk and Luhansk regions, large swaths of which have been held by Russian-backed separatists since 2014, there is nothing unusual about the vote.
"For the last nine years, we've been striving to get closer with Russia, and Russian politicians are well-known to us," Sergei, a 47-year-old resident of the occupied city of Luhansk, told The Associated Press, asking that his last name be withheld for security reasons. "We're speaking Russian and have felt like part of Russia for a long time, and these elections only confirm that."
Some voters in Donetsk shared Sergei's sentiment, expressing love for Russia and saying they wanted to be part of it.
Polls for "propaganda purposes"
The picture appears bleaker in Kherson and Zaporizhzhia. Local residents and Ukrainian activists say poll workers make house calls accompanied by armed soldiers, and most voters know little about the candidates, up to half of whom reportedly arrived from Russia — including remote regions in Siberia and the Far East.
"In most cases, we don't know these Russian candidates, and we're not even trying to figure it out," said Konstantin, who currently lives in the Russian-held part of the Kherson region on the eastern bank of the Dnieper River.
Using only his first name for safety reasons, Konstantin said in a phone interview that billboards advertising Russian political parties have sprung up along the highways, and сampaign workers have been bused in ahead of the vote.
But "locals understand that these elections don't influence anything" and "are held for Russian propaganda purposes," Kostantin said, comparing this year's vote to the referendums Moscow staged last year in the four partially occupied regions.
Those referendums were designed to put a veneer of democracy on the annexation. Ukraine and the West denounced them as a sham and decried the annexation as illegal.
Advertisement
The new Emirates Premium Economy has arrived on the latest Emirates A380
Get the best value from your summer holiday with exclusive offers and discounts across Dubai and the UAE with Emirates Pass