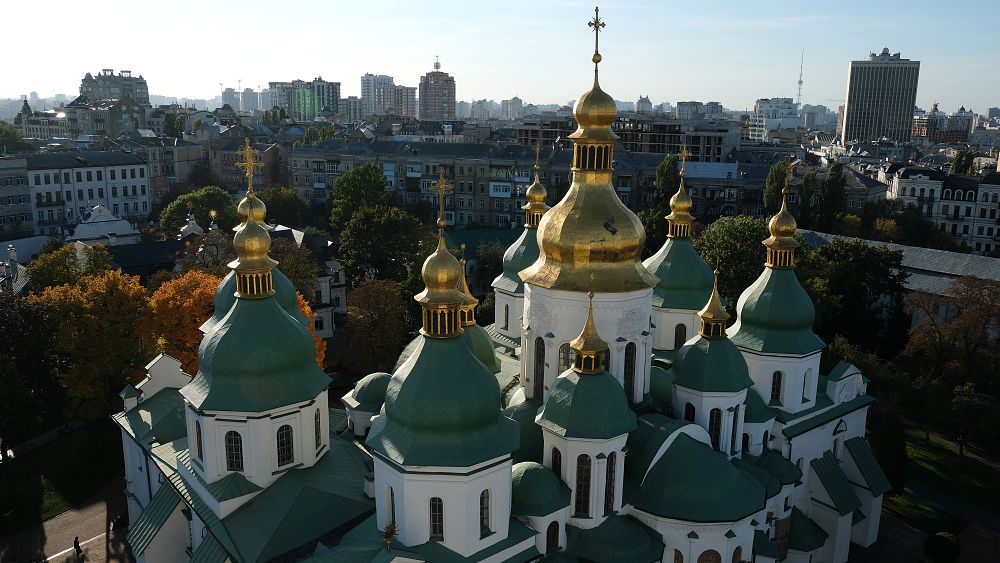 UNESCO puts 2 locations in war-ravaged Ukraine on its list of historic sites in danger
The UN's World Heritage Committee has placed two major historical sites in Ukraine on its list of such sites that it considers to be in danger.
The iconic St Sophia's Cathedral in the capital, Kyiv, as well as the mediaeval centre of the western city of Lviv, are UNESCO World Heritage Sites central to Ukraine's culture and history.
The decision to put those two on the body's list of sites "in danger" has no enforcement mechanism, but could help deter Russian attacks.
Neither site has been directly targeted since Russia launched a full-scale invasion of Ukraine in February 2022 – and Lviv has largely been spared from the fighting. But Russia has unleashed waves of strikes on Kyiv and other cities, hitting residential areas and critical infrastructure.
The decision was made at the 45th session of the World Heritage Committee, which is being held in Saudi Arabia. The committee maintains UNESCO's World Heritage List and oversees conservation of the sites.
A Ukrainian government official welcomed the move.
"We are very happy to have a very rich history and culture of our country, and we would like to say that it has been over thousands of years, and we try to preserve it for our future generations," Deputy Culture Minister Anastasia Bondar said, adding, "so it's very much important that the whole world community will join us also".
The gold-domed St Sophia's Cathedral, located in the heart of Kyiv, was built in the 11th century and designed to rival the Hagia Sophia in Istanbul. The monument to Byzantine art contains the biggest collection of mosaics and frescoes from that period, and is surrounded by monastic buildings dating back to the 17th century.
The Kyiv-Pechersk Lavra, also known as the Monastery of the Caves, is a sprawling complex of monasteries and churches – some underground – which were built from the 11th to the 19th century. Some of the churches are connected by a labyrinthine complex of caves spanning more than 600 metres.
The two sites on the Dnipro River, a 15-minute drive from one another, are "a masterpiece of human creative genius," according to UNESCO.
The other site is the historic centre of Lviv, near the Polish border. A fifth-century castle overlooks streets and squares built between the 13th and 17th centuries. The site includes a synagogue as well as Orthodox, Armenian and Catholic religious buildings, reflecting the city's diversity.
Lviv is more than 500 kilometres from Kyiv and even further from any front lines, but it hasn't been spared entirely. Russian cruise missiles slammed into an apartment building in the city in July, killing at least six people and wounding dozens.
UNESCO added Ukraine's Black Sea port city of Odesa to its list of endangered heritage sites in January. Russian forces have launched multiple attacks on the city, a cultural hub known for its 19th-century architecture. Russia claims that it only strikes military targets.
Under the 1972 UNESCO convention, ratified by both Ukraine and Russia, signatories undertake to "assist in the protection of the listed sites" and are "obliged to refrain from taking any deliberate measures" which might damage World Heritage sites.
Inclusion on the List of World Heritage in Danger is meant to rally urgent international support for conservation efforts. The list includes more than 50 sites around the world.
Russia may have stockpiled ALCMs – British Ministry of Defence
Between October 2022 and March 2023, Russia focused long-range strikes against Ukraine's national energy infrastructure.
Air launched cruise missiles (ALCMs), especially the modern AS-23a KODIAK, were at the heart of most of these strike missions. Russia uses strategic bomber aircraft to release these munitions from deep within Russian territory.
Open source reports suggest that since April 2023, ALCM expenditure rates have reduced, while Russian leaders have highlighted efforts to increase the rate of cruise missile production.
Russia is therefore likely able to generate a significant stockpile of ALCMs. There is now said to be a realistic possibility Russia will again focus these weapons against Ukrainian infrastructure targets over the winter.
Advertisement
The new Emirates Premium Economy has arrived on the latest Emirates A380
Get the best value from your summer holiday with exclusive offers and discounts across Dubai and the UAE with Emirates Pass