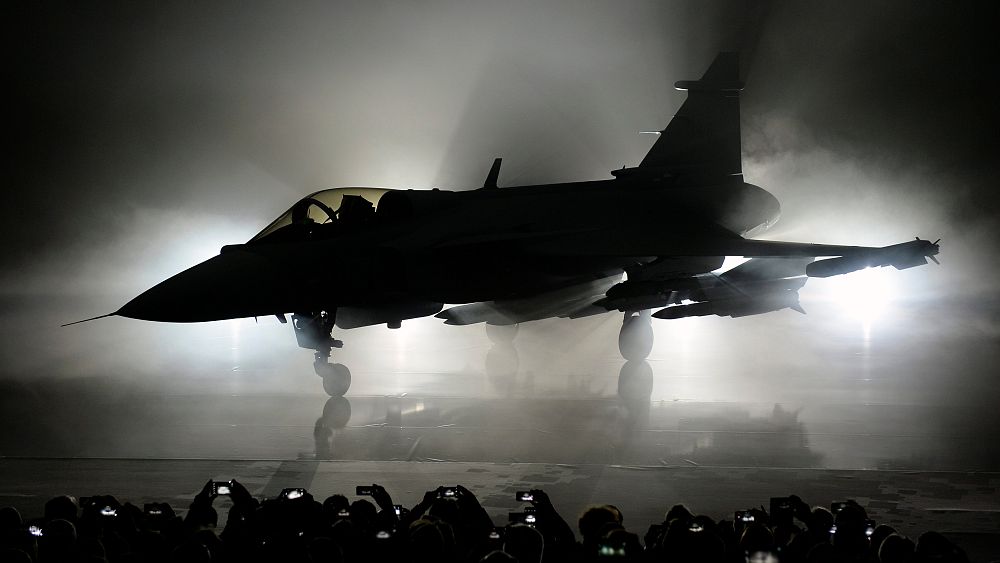 After years of trying to obtain F-16 fighter jets from the US and other NATO members, Ukraine may soon have another source of up-to-date warplanes.
Reports in Sweden say that the country's government is considering sending Swedish-manufactured Gripen jets to the Ukrainians to aid in their fight against Russia – adding another dimension to Nordic and Baltic involvement in the war.
And even as Sweden's NATO accession still depends on the say-so of Hungary and Turkey (the latter of which is trying to secure F-16 warplanes of its own from the US), the Swedish air force has already been training Ukrainian pilots on its number one aerial military export.
At a press conference with Swedish Prime Minister Ulf Kristersson in August, Ukrainian President Volodymyr Zelensky called the Gripen "the pride of Sweden", saying that "I firmly believe that Gripen can make our freedom much more secure".
After the protracted effort to persuade the US to give clearance for the transfer of F-16s from its European allies, the prospect of a faster Gripen delivery will be tantalising for the Ukrainians as they push hard against Russian positions in the country's south-east in particular.
Despite decades of steadfast military neutrality, Sweden spent much of the Cold War concerned about the potential for Soviet action in the Baltic area, and thus developed a strong defensive capability, one that in turn has made it a exporter of military hardware. 
And the Gripen is one of its most fearsome products.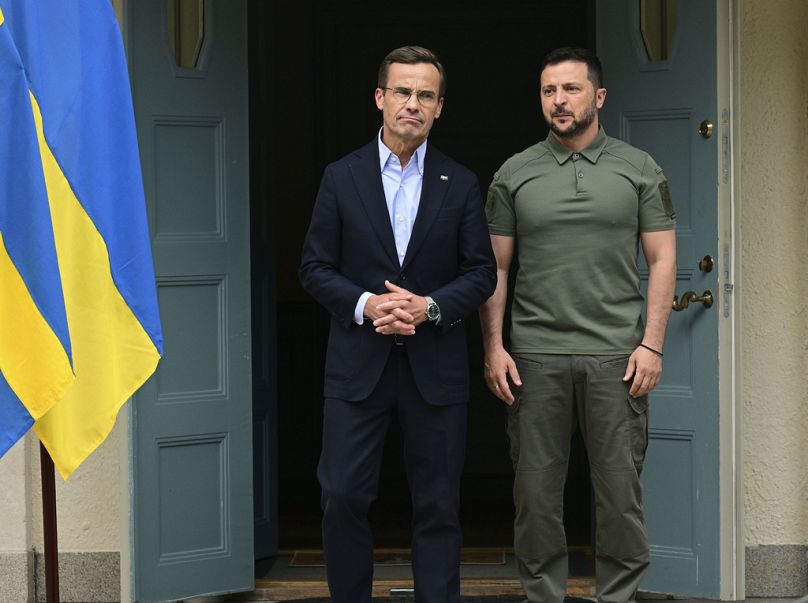 Manufactured by aerospace giant Saab AB, the Gripen has certain advantages over the F-16, some of which make it particularly suited to the Ukrainian war.
For one thing, it was designed with the right adversary in mind: as British defence think tank RUSI explains, the plane "is explicitly designed to counter Russian SAMs [surface-to-air missile systems] and fast jets by flying very low and having an internal electronic warfare suite, and to be easy to maintain and operate from dispersed bases with mobile teams in vehicles".
The Gripen also has the advantage of being able to take off from and land on damaged runways and even everyday roads, and can be fully serviced by a small ground crew without the need to return to a well-equipped airbase. In fact, it is specifically designed to be launchable on a very quick turnaround by dispersed forces in harsh environments.
That could matter greatly to Ukraine, whose bases have been hit hard by Russian missiles and artillery well behind from the front line. And though the transfer of F-16s from certain European operators has been given the go-ahead, the prospect that another supplier could come through with a more versatile asset is a tantalising one.
Much of the Gripen's impact, however, could be about narrative and impression.
A run of stories in the European and American media this summer quoted unnamed western officials – particularly in the US – expressing their concern that Ukraine's counteroffensive has not yet turned the tide against Russia.
Ukraine has been working hard to push back hard against that perception, partly by spelling out ever more bluntly exactly what armaments it needs the west to provide. It is also making much of recent successes against Russia, including a strike on a ship and cruise missile-carrying submarine in the port of Sevastopol.
While boasting that both Russian vessels appear to have been damaged beyond repair, the Ukrainian military also confirmed that the strike was executed using Storm Shadow, a British missile system.
Thus Kyiv's effort to draw a direct line between western contributions and major blows against the Russian military continues. Securing one of the world's top fighters from a country that is joining NATO as a direct consequence of the war would reinforce the impression that Ukraine has a firm hold on the west's support, however difficult the reality on the ground.
Advertisement
The new Emirates Premium Economy has arrived on the latest Emirates A380
Get the best value from your summer holiday with exclusive offers and discounts across Dubai and the UAE with Emirates Pass