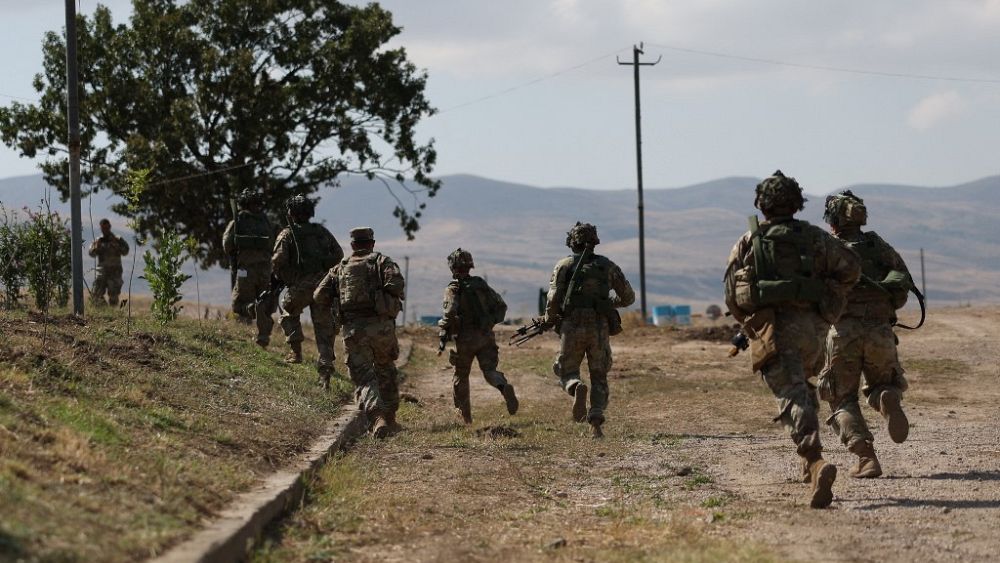 Azerbaijan announced on Tuesday it was targeting Armenian military positions in the disputed Nagorno-Karabakh region.
Tensions have been boiling for months in the ethnic Armenian enclave, which is internationally recognised as part of Azerbaijan, but largely controlled by Armenian separatists. 
Armenia denounced Azeri "aggression" aimed at "ethnic cleansing" on Tuesday, while calling on Russian peacekeepers in the region to intervene. 
Stepanakert, Karabakh's main city, is reportedly under bombardment. 
There were no immediate details on damage or casualties.
Azerbaijan's defence ministry said the "anti-terrorist operation" began hours after 11 soldiers and civilians died in landmine explosions in the breakaway region. 
The ministry did not immediately give details, but said "positions on the front line and in-depth, long-term firing points of the formations of Armenia's armed forces, as well as combat assets and military facilities, were incapacitated using high-precision weapons."
Baku has said peace depends on the "total" withdrawal of Armenian forces in the region. 
"The only way to achieve peace and stability in the region is the unconditional and complete withdrawal of the Armenian armed forces from the Azerbaijani region of Karabakh and the dissolution of the so-called separatist regime," Azeri officials said in a statement.
Armenia claimed it has no armed forces in Nagorno-Karabakh, suggesting its separatist allies were there to face the Azeri assault. 
The Azerbaijani Defense Ministry said it was setting up safe passages for civilians fleeing areas hit by the fighting.  
"In order to enable the evacuation of the population from the dangerous zone, humanitarian corridors and reception points have been set up," it said in a statement. 
Russia, a regional power and mediator, called on both sides to avoid escalation and abide by existing agreements.
Moscow said it was in contact with Baku, lamenting the "anti-terrorist" operation. 
"To resolve the situation… we must respect everything that has been agreed, avoid provocations, work for appeasement and settlement [and] demonstrate responsibility," said Russian Foreign Ministery spokesperson Maria Zakharova.
Azerbaijan said it had informed its regional ally Turkey of the assault in advance.  
Armenian Prime Minister Nikol Pashinian convened his Security Council on Tuesday to discuss the "large-scale military actions initiated by Azerbaijan," according to Russian news agencies. 
Nagorno-Karabakh and sizable territories around the region have been under ethnic Armenian control since the end of a separatist war in 1994.  
Baku regained some parts of the region during a six-week war in 2020. 
That war ended with an armistice that placed a Russian peacekeeper contingent in Nagorno-Karabakh.
Advertisement
The new Emirates Premium Economy has arrived on the latest Emirates A380
Get the best value from your summer holiday with exclusive offers and discounts across Dubai and the UAE with Emirates Pass