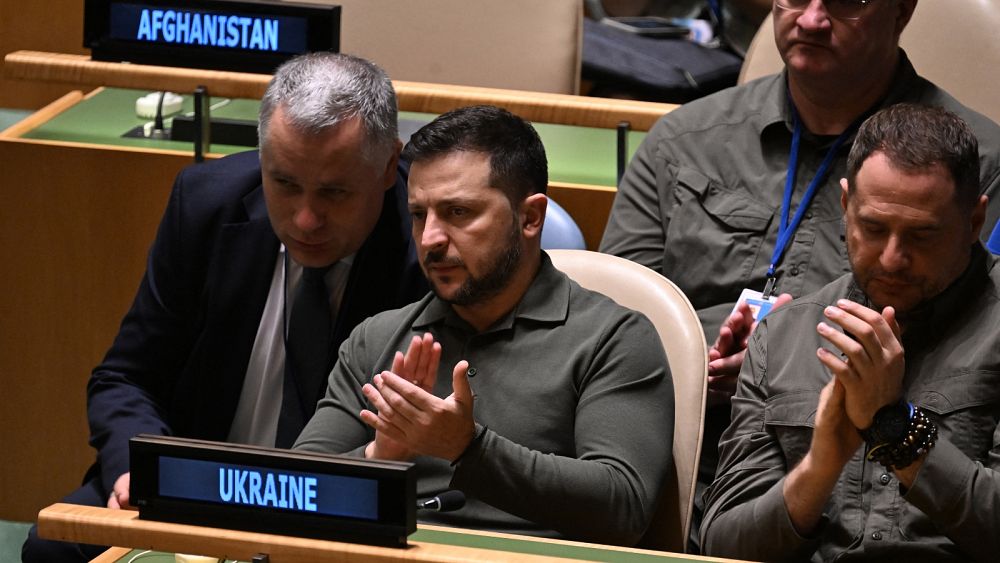 Ukrainian President Volodymyr Zelenskyy has taken to the podium at the United Nations on Tuesday afternoon, for the first time since the Russian invasion, facing a fragmented international community shaken by serial crises, in particular the war in Ukraine.
A year ago, he was exceptionally authorised to deliver his speech via a video message.
This time, he is there in person, for the high-level session of the annual United Nations General Assembly, and a special meeting of the Security Council on Wednesday. 
Ahead of his visit, Zelenskyy suggested that the organisation needs to answer for allowing his country's invader a seat at the tables of power.
Russia is a permanent, veto-wielding member of the council, and Foreign Minister Minister Sergey Lavrov is expected to make remarks.
Asked whether he'd stay in the room to listen, Zelenskyy said, "I don't know how it will be, really."
"For us, it's very important that all our words, all our messages, will be heard by our partners. And if in the United Nations still – it's a pity, but still – there is a place for Russian terrorists, the question is not to me," Zelenskyy said Monday after visiting wounded Ukrainian military members at a New York hospital. 
"I think it's a question to all the members of the United Nations," he added.
The Ukrainian president is in the US this week to make his country's case to the world, and to Washington, for continued help trying to repel Russia's full-scale invasion, nearly 19 months into what has become a grinding war. 
Russia says it is justified. Ukraine's Western allies have supplied weapons and other assistance, and the US Congress is currently weighing President Joe Biden's request to provide as much as $24 billion more in military and humanitarian aid.
Zelenskyy will be at the White House for a meeting with Biden on Thursday, however, US lawmakers are increasingly divided over providing additional money to Ukraine. 
The Ukrainian president has taken the United Nations to task before – even before the war launched by a neighbour that, as a Security Council member, is entrusted with maintaining international peace and security. 
In one memorable example, he lamented at the General Assembly in 2021 that the UN was "a retired superhero who's long forgotten how great they once were."
Advertisement
The new Emirates Premium Economy has arrived on the latest Emirates A380
Get the best value from your summer holiday with exclusive offers and discounts across Dubai and the UAE with Emirates Pass