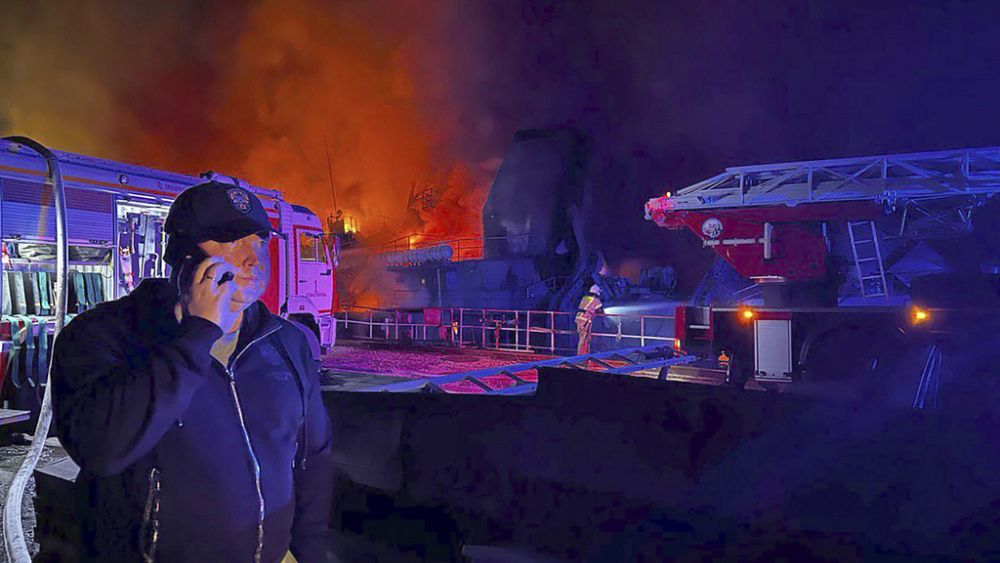 The Crimean city of Sevastopol was temporarily paralysed on Saturday morning, following the latest missile attack against it. 
According to the Russian-installed governor, Mikhail Razvozhayev, the city was put under an air raid alert for an hour after debris from intercepted missiles fell near a pier. He later added on Telegram that another missile fragment fell in a park in northern Sevastopol, parts of which had to be cordoned off. Ferry traffic in the area was also temporarily halted. 
The strike comes one day after the Ukrainian military targeted the Russian Black Sea fleet headquarters, also located in Sevastopol. Local authorities said the attack left the main building in ruins and resulted in one serviceman missing.
However, Ukraine's intelligence chief, Kyrylo Budanov, told American media on Saturday that at least nine people were killed and 16 others wounded as a result of Kyiv's attack on Friday. He claimed that Alexander Romanchuk, a Russian general commanding forces along the key southeastern front line, was "in a very serious condition" following the attack.
Budanov's claim couldn't be independently verified, and he didn't comment on whether Western-made missiles were used in Friday's attack.
Ukraine's military also offered more details about Friday's attack. It said the air force conducted 12 strikes on the Black Sea Fleet headquarters, targeting areas where personnel, military equipment and weapons were concentrated. It said that two anti-aircraft missile systems and four Russian artillery units were hit.
Crimea has served as the key hub supporting Russia's full-scale invasion of Ukraine. Sevastopol, the main base of Russia's Black Sea Fleet since the 19th century, has had particular importance for navy operations since the start of the war.
Ukraine has increasingly targeted naval facilities in Crimea in recent weeks while the brunt of its summer counteroffensive makes slow gains in the east and south of Ukraine, the Institute for the Study of War said. Military experts say it is essential for Ukraine to keep up its attacks on targets in Crimea to degrade Russian morale and weaken its military.
Also on Saturday in Southeastern Ukraine, the military said Russia launched 15 Iranian-made Shahed drones in the Zaporizhzhia region, as well as in the Dnipropetrovsk province. Ukrainian authorities claimed to have destroyed 14 of the drones.
Separately, Zaporizhzhia regional Governor, Yuri Malashko, said Russia had carried out carried out 86 strikes on 27 settlements in the province over the previous day. Many of them lie only a few kilometres from the fighting. Malashko said that an 82-year-old civilian was killed by artillery fire.
In the neighbouring Kherson region, Governor Oleksandr Prokudin reported at least one death and three injuries over the previous day because of Russian shelling.
Advertisement
The new Emirates Premium Economy has arrived on the latest Emirates A380
Get the best value from your summer holiday with exclusive offers and discounts across Dubai and the UAE with Emirates Pass