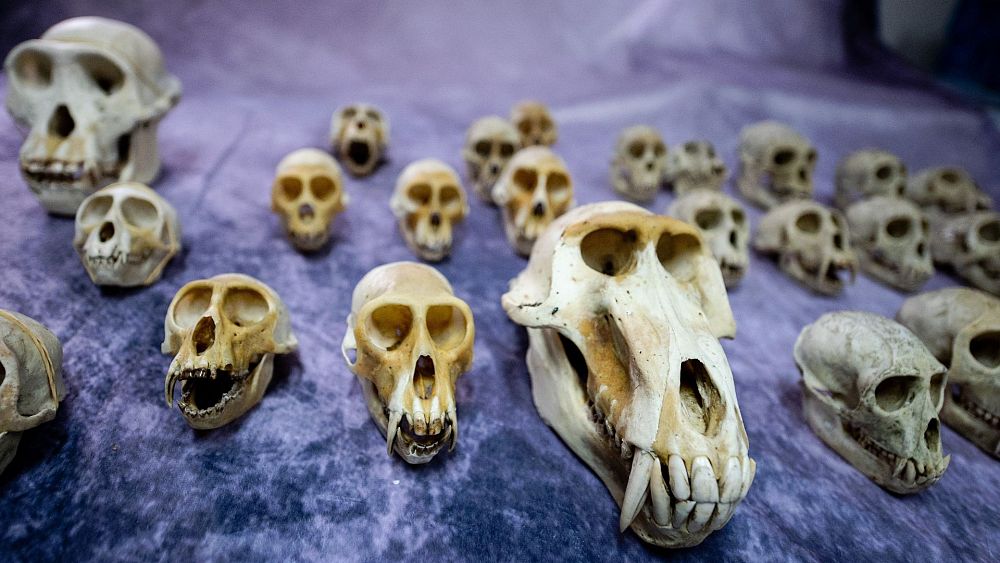 Customs at Paris' Roissy Charles-de-Gaulle could indeed open a natural history museum.
In seven months, 718 animal skulls – including 392 from protected primates – have been intercepted at France's biggest airport in parcels. 
The skulls are seized on an almost daily basis, as officials denounce a trade that is as lucrative as it is morbid and worrying.
These bones, mainly shipped from Cameroon, were headed to the United States for collectors wishing to build up curiosity cabinets or as prizes and gifts for hunting associations.
Animal trafficking: The world's fourth most profitable trade
Buying and selling animal skulls is often illegal as a form of trafficking, though much depends on whether it is a protected species or covered by treaties and regulations. 
"Trafficking protected species is one of the most profitable businesses, after drugs, arms and human beings, with profits ranging from 8 to 20 billion euros each year", Gilbert Beltran, inter-regional director of Roissy customs, said at an official ceremony. 
He painted the activity as "sordid traffic".
In total, 718 animal skulls were seized by customs in seven months. Some packages contained whole specimens, heads, forearms or hands of primates, which are all destroyed for health reasons. Yet, other species (otters, felines, monitor lizards and birds of prey) were also being trafficked.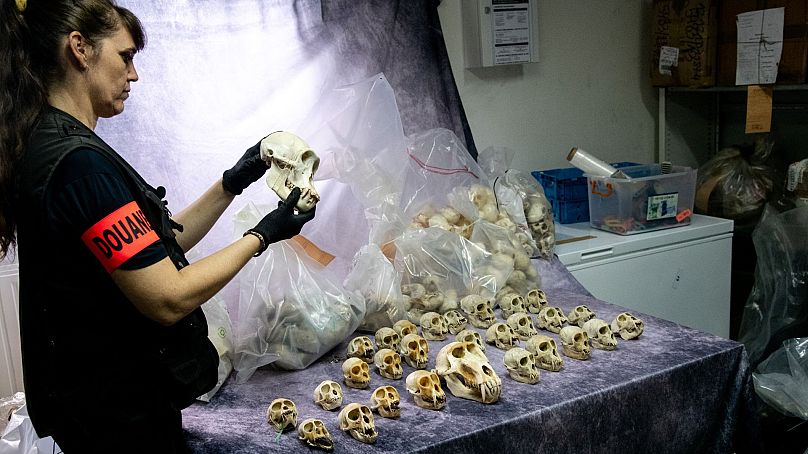 In one extraordinary case dating back to 2 May 2022, customs officers at Roissy discovered seven primate skulls in postal parcels from Africa. During other checks, dozens of primate skulls were found.
"These primates were first hunted for their meat. The resale of skulls is a trade of opportunity", explained Fabrice Gayet, a customs officer and wildlife trafficking expert.
According to him, each small primate skull fetches between €30 and €50 each, which increases to €400 to €500 for those of drills and mandrills and between €800 and €1,000 for those of chimpanzees.
'Critically endangered' species
Animals under threat are being traded. 
Paris officials have intercepted several skulls of the Cameroon red colobus, an animal in "critical danger of extinction" according to the International Union for Conservation of Nature (IUCN). 
So too have mandrill skulls, also considered "vulnerable". 
Live animals or their parts, such as bones or organs, can only be moved with specific permits. None of the packages intercepted at Roissy had these permits.
"Four hundred skulls seized in just seven months… [is fuelling] the hecatomb of primates in these forests, which are being pillaged to satisfy collectors, even though these primates are threatened with extinction", said Sabrina Krief, a great ape specialist.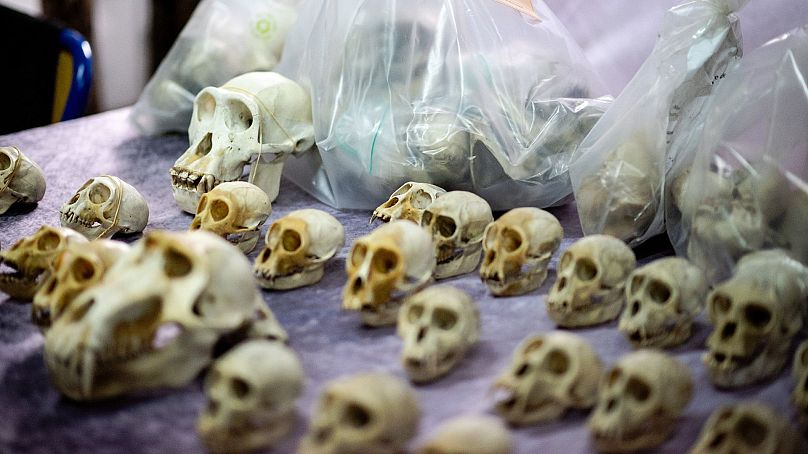 Illegal trafficking also increases the risk of transmission of pathogens between species. 
Primates are under particular scrutiny because their genetic makeup is similar to that of humans, which amplifies the risk of disease transmission. 
"Wildlife trafficking is serious organised crime and a direct and growing threat to biodiversity, global security and the rule of law", warned Frans Timmermans, Vice-President of the European Commission, in November 2022.
Between 2008 and 2017, more than 28 million animals were imported into France, the leading European destination for corals, reptiles and many other species.
Illegal trade in protected species by an organised gang can be punishable by seven years imprisonment and a fine of €750,000 in France.
The skulls seized between May and December 2022 will be sent to the Natural History Museum (MHN) in Aix-en-Provence for study and conservation.
Advertisement
The new Emirates Premium Economy has arrived on the latest Emirates A380
Get the best value from your summer holiday with exclusive offers and discounts across Dubai and the UAE with Emirates Pass