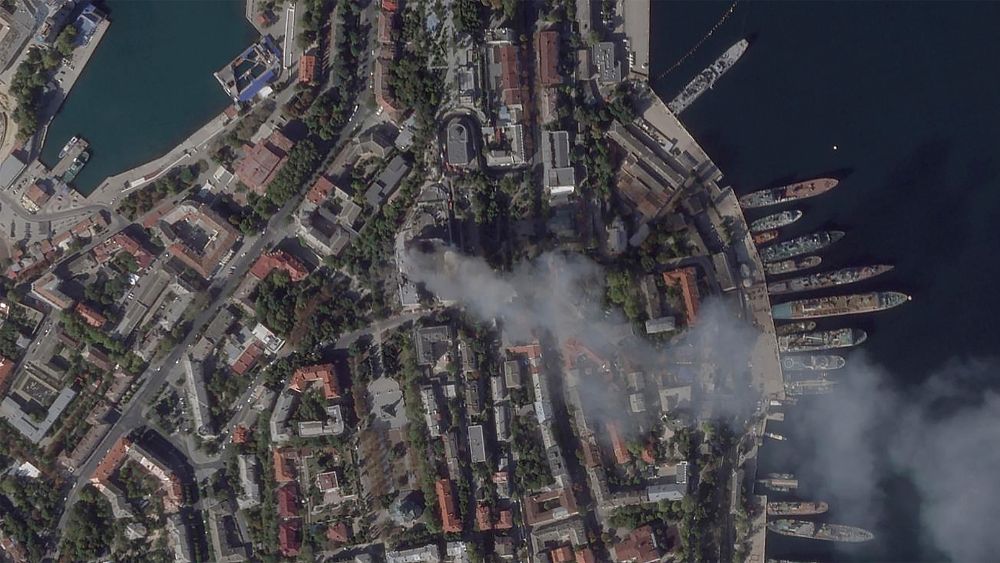 Ukraine claims to have killed more than 30 Russian officers
The missile strike that blasted the Crimean headquarters of Russia's navy last week killed 34 officers, including the fleet commander, Ukraine announced yesterday, albeit without providing evidence.
Ukraine's Special Operation Forces said on the Telegram messaging app yesterday that its strike on the main building of the Black Sea Fleet headquarters in the port city of Sevastopol had wounded 105 people. The claims could not independently be verified and are vastly different from what Russia has reported.
Russia's military initially said one serviceman had been killed, but later claimed the person was not killed but missing. Moscow has provided no further updates.
Ukraine has increasingly targeted naval facilities in Crimea in recent weeks while the brunt of its summer counteroffensive makes slow gains in the east and south of Ukraine, the Institute for the Study of War said. It followed Friday's attack with another barrage on Saturday.
The new death count and casualty figures are a steep increase on previous numbers. Ukraine's intelligence chief, Kyrylo Budanov, told Voice of America on Saturday that said at least nine people were killed and 16 others wounded, and that Alexander Romanchuk, a Russian general commanding forces along the key southeastern front line, was "in a very serious condition."
The new report indicates that the fleet's chief, Admiral Viktor Sokolov, was also killed. He was not named in the statement by the Special Operation Forces, but Anton Gerashchenko, adviser to the minister of internal affairs of Ukraine posted his name and a photo on social media.
Ukraine's military also offered more details about Friday's attack, saying the air force had conducted 12 strikes on the Black Sea Fleet headquarters and targeted areas where personnel, military equipment and weapons were concentrated. It also said that two anti-aircraft missile systems and four Russian artillery units were hit.
Russia's Black Sea Fleet under pressure – UK
In its update on the Ukrainian war this morning, the UK's Ministry of Defence has said that the attacks on Russia's Black Sea fleet in recent days and weeks have been "more damaging and more coordinated than thus far in the war".
According to the ministry, Russia's Black Sea Fleet has faced "severe but localised" damage – not enough to prevent it from fulfilling its core mission, but enough to put it into defensive mode.
"Its ability to continue wider regional security patrols and enforce its de facto blockade of Ukrainian ports will be diminished," the ministry said. "It also likely has a degraded ability to defend its assets in port and to conduct routine maintenance.
"A dynamic, deep strike battle is underway in the Black Sea. This is likely forcing Russia into a reactive posture whilst demonstrating that Ukraine's military can undermine the Kremlin's symbolic and strategic power projection from its warm water port in occupied Sevastopol."
Russian drone strikes pummel Ukraine overnight
Russia attacked Ukraine with 38 Iranian-made Shahed drones overnight, the Ukrainian Air Force said on Tuesday, claiming that Ukrainian air defences had destroyed 26 of the devices.
The Odessa region was one of the positions struck overnight by Russian forces, who in particular targeted the port of Izmail.
The assault lasted two hours, regional governor Oleg Kiper wrote on Telegram, claiming that "most of the drones" had been shot down.
"Unfortunately, the port infrastructure was hit in the Izmail district", he explained, also lamenting two injured truck drivers, one of whom was hospitalised. 
A checkpoint and warehouses, as well as around 30 trucks, were damaged, he added.
The river port of Izmail, located on the Danube on the border with Nato member Romania, has become one of the main export routes for Ukrainian agricultural products to the Black Sea since the agreement allowing Ukraine to freely transit its production was abandoned in July. Russian assaults in the southern regions of Odessa and Mykolaïv have since multiplied.
This latest offensive follows a Russian attack described as "massive" by the Odessa authorities on Monday. The region was attacked by 19 Shahed drones and missiles, including two supersonic Onyxes.
Also in the south, in the Kherson region, four people were wounded after Russian attacks on Monday evening, according to Governor Oleksandr Prokudin.
Advertisement
The new Emirates Premium Economy has arrived on the latest Emirates A380
Get the best value from your summer holiday with exclusive offers and discounts across Dubai and the UAE with Emirates Pass