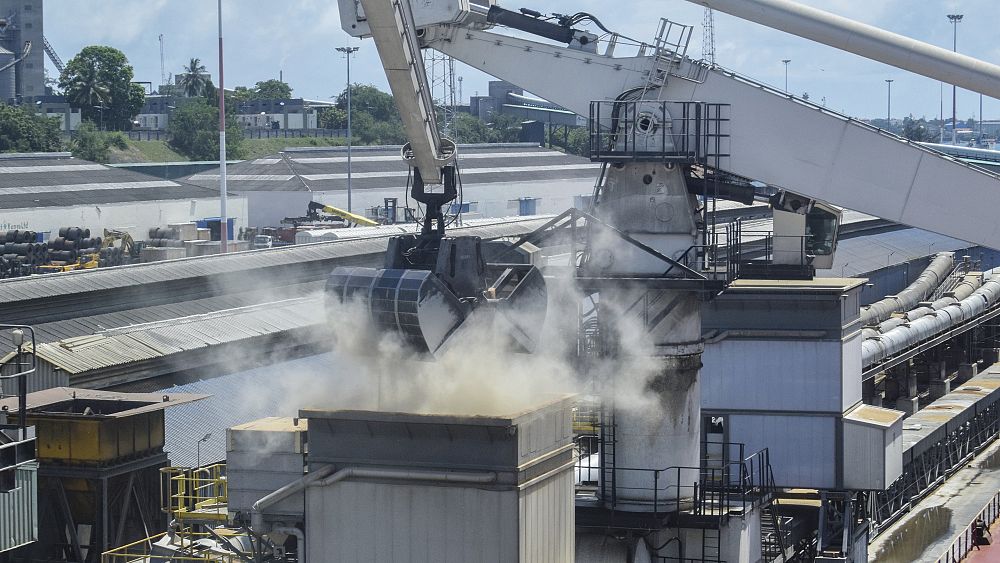 Global food prices have dropped by just over a fifth in the past year according to the UN's Food and Agricultural Organisation  – mainly because of the Black Sea deal with Russia that allows Ukraine to export more of its grain.
The deal, which was brokered by the United Nations and Turkey in July, unblocked shipments that were stuck in Ukraine's blockaded and mined ports, alleviating rising food prices and threat of hunger in some countries.
In March last year Russia's invasion had sent food prices sky rocketing, but even with the fall they're still too high.
Before the war Ukraine exported 10% of the world's wheat, 15% of the corn and 13% of the barley according to the European Commission.
Luckily Australia and the EU have produced more than was expected in the past year.
However there are also global shortages of agricultural fertilisers to contend with; they mostly come from Russia but it's been hit by sanctions.
On Friday, Russia's Foreign Minister Sergey Lavrov said Moscow may pull out of the Black Sea deal if the West fails to remove obstacles to Russia's agricultural exports.
A deal that runs alongside the Black Sea deal aimed to facilitate these exports – but Moscow has repeatedly complained that it's failed to work and that they've have had trouble reaching world markets.
The Black Sea grain deal is crucial to global food security and it has likely saved many lives in Africa.
The Ukraine war couldn't have come at a worst time for the continent where there was already a deadly drought in Somalia, Kenya and Ethiopia and worsening food insecurity in the Sahel.
On Friday, Lavrov told reporters that Russia agreed last month to extend the deal for 60 days – instead of the 120 days set under a previous extension – to send a warning signal to the West.
"After we extended the deal for 120 days, we saw no indication that those issues could be solved and grew tired of appealing to the conscience of those who determine it," Lavrov said of Moscow's dissatisfaction. "If there is no change in removing the obstacles to the exports of Russian fertilizers and grain, we would think whether the deal is needed."
Lavrov shrugged off the West's argument that Russian food and fertilizers are not subject to sanctions. He noted that "obstacles related to financing, logistics, transportation and insurance of Russian exports have remained and even have grown tougher."
Experts say private shipping and insurance companies remain cautious about handling Russian commodities amid the war in Ukraine, although Russian wheat shipments were at or near record highs in November, December and January, according to financial data provider Refinitiv.
Lavrov said the West has effectively blocked the U.N-Turkey agreement on Russian agricultural exports and "that's why we've asked for letters of comfort from certain governments."
Instead of agreeing to another extension later this year, Russia may decide to cooperate directly with Turkey and Qatar to ensure grain gets to the countries that need it.
Lavrov's warning echoed one from Russian President Vladimir Putin, who said last month that Moscow could end its participation in the initiative if its conditions were not met. Putin said Russia expected the facilitation of exports of its own agricultural products as part of a package agreement.
Advertisement
The new Emirates Premium Economy has arrived on the latest Emirates A380
Get the best value from your summer holiday with exclusive offers and discounts across Dubai and the UAE with Emirates Pass