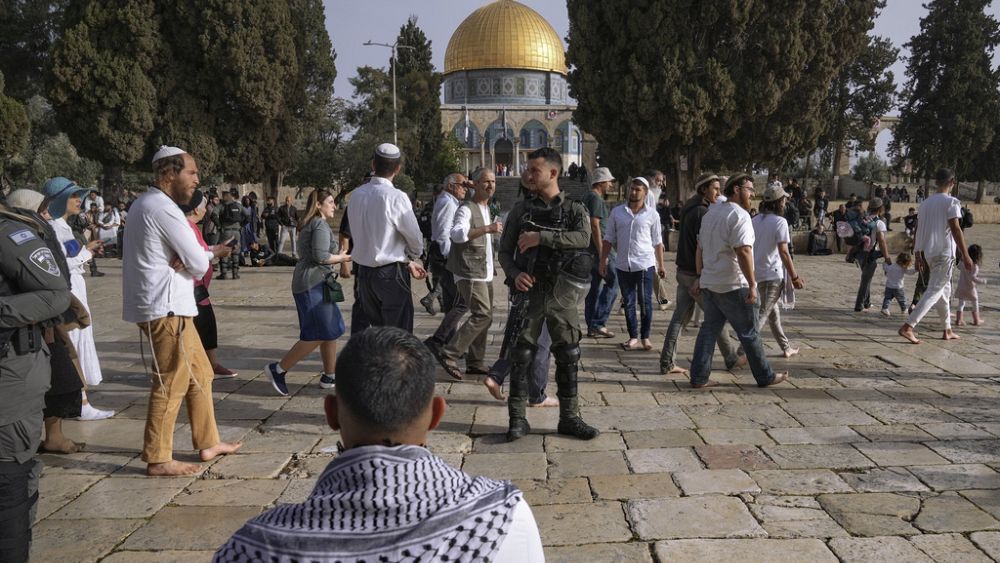 Israeli warplanes and artillery struck targets in Syria following rare rocket fire from the north-eastern neighbour, as Jewish-Muslim tensions reached a peak Sunday at a volatile Jerusalem shrine with simultaneous religious rituals.
Thousands of Jewish worshippers gathered at the city's Western Wall, the holiest place where Jews can pray, for a mass priestly benediction prayer service for the Passover holiday. At the Al-Aqsa Mosque compound, a walled esplanade above the Western Wall, hundreds of Palestinians performed prayers as part of observances during the Muslim holy month of Ramadan.
Hundreds of Jews also visited the Al-Aqsa compound under heavy police guard Sunday, to whistles and religious chants from Palestinians protesting their presence.
Such tours by religious and nationalist Jews have increased in size and frequency over the years, and are viewed with suspicion by many Palestinians who fear that Israel plans one day to take over the site or partition it. 
Israeli officials say they have no intention of changing long-standing arrangements that allow Jews to visit, but not pray in the Muslim-administered site. However, the country is now governed by the most right-wing government in its history, with ultra-nationalists in senior positions.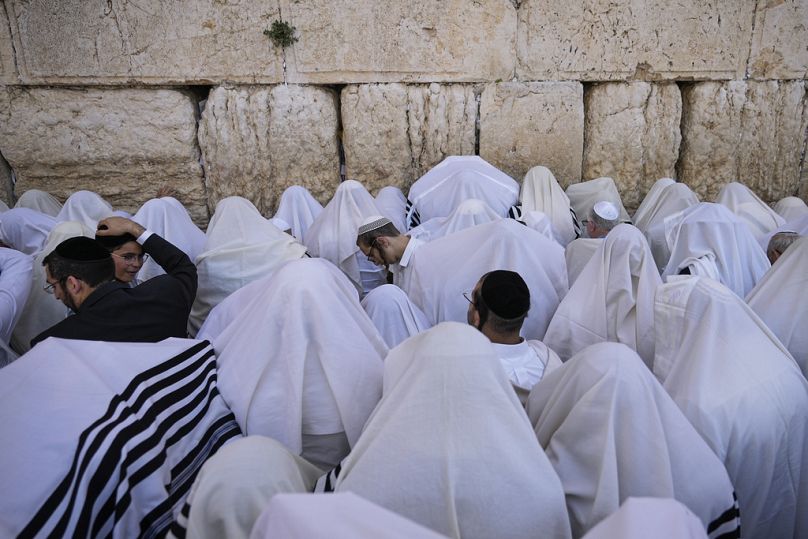 Tensions have soared in the past week at the flashpoint shrine after an Israeli police raid on the mosque. On several occasions, Palestinians have barricaded themselves inside the Al-Aqsa Mosque with stones and firecrackers, demanding the right to pray there overnight, something Israel has in the past only allowed during the last 10 days of the Muslim holy month of Ramadan. 
Police removed them by force, detaining hundreds and leaving dozens injured. 
The violence at the shrine triggered rocket fire by Palestinian militants from the Gaza Strip and southern Lebanon, starting Wednesday, and Israeli airstrikes targeted both areas.
Late on Saturday and early Sunday, militants in Syria fired rockets in two salvos toward Israel and the Israeli-annexed Golan Heights. A Damascus-based Palestinian group loyal to the Syrian government claimed responsibility for the first round of rockets, saying it was retaliating for the Al-Aqsa raids.
In the first salvo, one rocket landed in a field in the Golan Heights. Fragments of another destroyed missile fell into Jordanian territory near the Syrian border, Jordan's military reported. In the second round, two of the rockets crossed the border into Israel, with one being intercepted and the second landing in an open area, the Israeli military said.
Israel responded with artillery fire into the area in Syria from where the rockets were fired. Later, the military said Israeli fighter jets attacked Syrian army sites, including a compound of Syria's 4th Division and radar and artillery posts.
Advertisement
The new Emirates Premium Economy has arrived on the latest Emirates A380
Get the best value from your summer holiday with exclusive offers and discounts across Dubai and the UAE with Emirates Pass