Just after her 90th birthday, Isabel Ruiz began to babble at a family gathering.
Her daughter knew immediately something was wrong. Not one single word of what Isabel was saying made sense.
Despite her age, the mother had never had any problems, so she decided to call a doctor. The diagnosis was a micro stroke and to prevent this from happening again, Isabel was referred to a neurologist in Valencia (Spain) to assess her condition.
It was not until two months later that she was able to visit the specialist.
The neurologist ordered her to take three tests, but eleven months later she's still waiting to take the most important one: a CAT scan.
"My mother has not even been given a date for it. The doctor has urged the hospital to hurry up," Alejandra, one of Isabel's daughters, told Euronews.
She now has been waiting since last June only to get a diagnosis. The neurologist had set an appointment for this month to show her the results, but they had to postpone it due to the delay in taking the test.
"I pray that the hospital won't take too long to call. She's a very elderly woman who had a stroke and we still don't know what state she's in. We're really worried about her", added Alejandra.
Isabel's is not an isolated case: Hospital waiting lists in Spain are at historic highs. 
By the end of last year, a record 793,521 patients were awaiting surgery in the country's healthcare system. This was 88,000 more than in December 2021, representing a 12% rise.
Now it is also taking longer to visit a doctor than ever. 
The average waiting time to book an appointment to see a medical specialist and to undergo surgery have both increased, according to the latest data released by the Spanish Ministry of Health.
Officials show that Spaniards were waiting an average of 95 days, nearly three months, for an appointment with a specialist.
Isabel has not been lucky. An appointment with a neurologist is one of the longest to take, with an average of 113 days.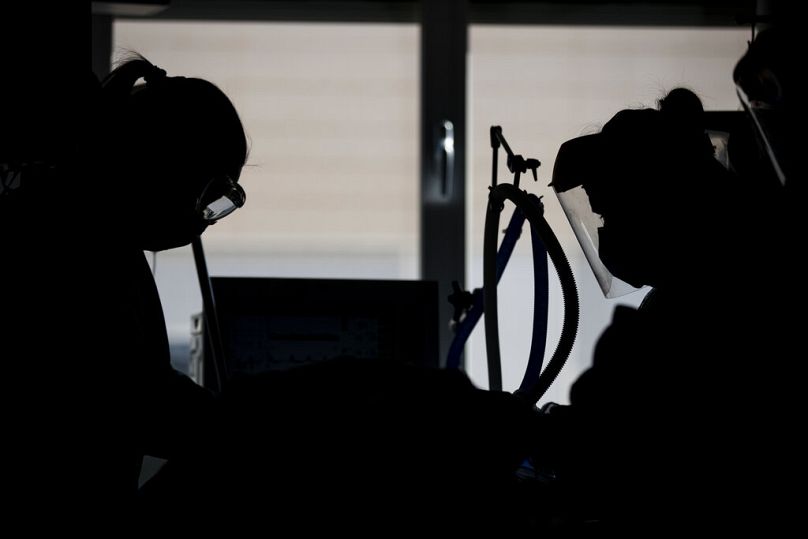 More patients than ever on the waiting list
Every year, peoples' patience is forced to increase as the waiting times worsen. 
Six months ago, 17.6% of patients spent more than six months before getting surgery. As of today, it's grown to 22%.
Miguel Angel Rivas is recovering from heart surgery in his home town Logroño, in northern Spain. 
In June 2022, during a routine visit to his GP, the doctor told him his heart was "racing like a motorbike", as Miguel Ángel himself describes it.
They called an ambulance and took him directly to the emergency room, where they were able to stabilise his condition and send him home. Two months later he was seen by a cardiologist who recommended a relatively simple operation.
Miguel Ángel had to undergo cardiac ablation, a procedure in which scars are done in small areas of the heart to improve its rhythm.
He had to wait eight months, until last January he was called to undergo the operation.
"Looking at the waiting times, it is obvious that the situation in Spain is quite bad. We have not been able to get back to the numbers we had before the Covid pandemic," says Marciano Sánchez-Bayle, president of the Spanish Association for the Defence of Public Health. 
"The problem not only lies in surgery waiting lists. It's also about medical appointments with family doctors and specialists. This is unacceptable", he adds.
Sánchez-Bayle points out that delays in each step of the process towards surgery add up and in the end lead to a very long wait. 
What worries him most are the consequences for the patient: "This long delay makes people's previous situation and health problems worsen. Some may even die while waiting."
Problems in the Spanish healthcare system
Spanish medical unions came up with several proposals which were sent to the Ministry of Health at the beginning of April.
Amongst the petitions, the unions were asking for an extension of working hours, so that afternoons during every day of the week could be covered, increasing resources of specialised centres and home hospitalisation.
"A greater capacity of resolution within primary care would take pressure off other areas. We need to put to use all of our resources in the public health system. Extending patient contact hours is key," says Sánchez Bayle.
"Medical opening hours in the public system span from eight in the morning to three in the afternoon. There's no possibility to have appointments during evenings, on Saturdays or public holidays."
Another aspect that worries experts is the average per capita health spending.
"The Spanish budget has not been increased. We still have a negative differential in terms of average number of euros spent per patient in comparison to other European countries," says the spokesman.
Spain invests approximately 1,808 euros per capita, while the EU average is 2,244. Countries such as Germany, with 4,418 euros, France, with 3,523, and Italy, with 2,043, exceed Spanish investment.
Advertisement
The new Emirates Premium Economy has arrived on the latest Emirates A380
Get the best value from your summer holiday with exclusive offers and discounts across Dubai and the UAE with Emirates Pass