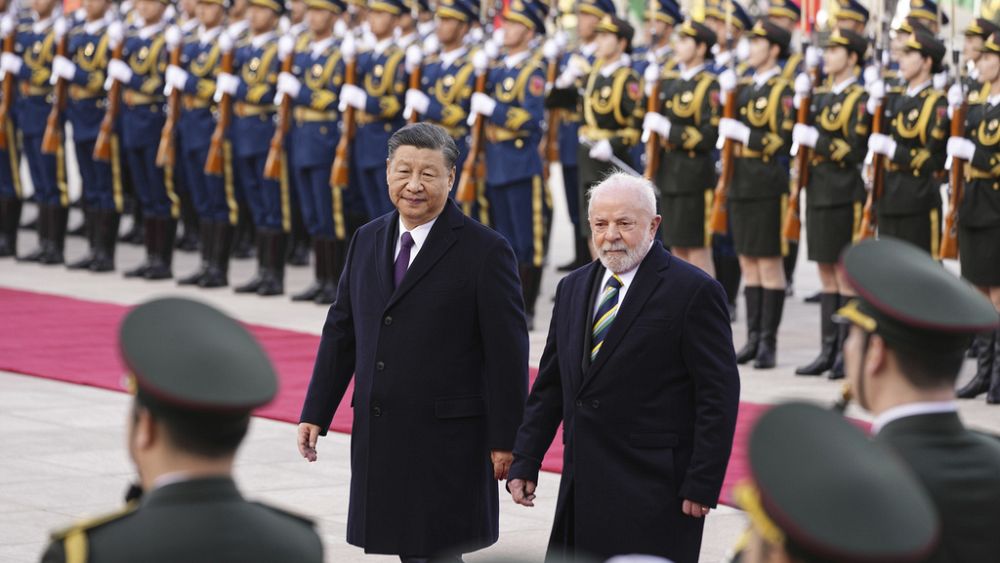 Brazilian leader Luiz Inácio Lula da Silva is set to forge closer ties with Chinese President Xi Jinping during a meeting in Beijing on Friday.
The encounter comes just a day after he lashed out at the power of the US dollar and the International Monetary Fund (IMF).
The veteran leftist, whose government recently announced a deal with Beijing to trade in their own currencies – ditching the dollar as an intermediary – is in China to boost ties with his country's top trading partner and spread his message that "Brazil is back" as a key player on the global stage.
"Why should every country have to be tied to the dollar for trade?… Who decided the dollar would be the (world's) currency?" Lula said in Shanghai at a ceremony to inaugurate his political ally Dilma Rousseff as president of the development bank set up by the BRICS nations (Brazil, Russia, India, China and South Africa).
"Why can't a bank like the BRICS bank have a currency to finance trade between Brazil and China, between Brazil and other BRICS countries?… Today, countries have to chase after dollars to export, when they could be exporting in their own currencies."
Lula also had strong words for the International Monetary Fund, alluding to accusations the IMF forces overly harsh spending cuts on cash-strapped countries like Brazil's neighbour Argentina in exchange for bailout loans.
"No bank should be asphyxiating countries' economies the way the IMF is doing now with Argentina, or the way they did with Brazil for a long time and every third-world country," he said.
"No leader can work with a knife to their throat because (their country) owes money."
'Brazil is back!'
Lula, who took office in January, is looking to reposition Brazil as a global go-between and deal broker, seeking friendly ties across the board after four years of relative isolation under his far-right predecessor, Jair Bolsonaro.
He is due to meet with Chinese Premier Li Qiang at Beijing's Great Hall of the People on Friday afternoon, followed by talks with Xi Jinping. Lula visited US President Joe Biden in February.
"Brazil is back!" Lula promised in Shanghai, where he arrived on Wednesday night.
"The time when Brazil was absent from major world decisions is in the past. We are back on the international stage, after an inexplicable absence."
One of the main topics on the agenda when Lula and Xi meet is expected to be the Ukraine war.
Brazil has positioned itself as a mediator in the conflict, while China is under pressure to do more. There are concerns in the West that they are both overly cosy with Russian President Vladimir Putin.
Both countries have refused to join Western nations in imposing sanctions on Russia for its invasion.
Advertisement
The new Emirates Premium Economy has arrived on the latest Emirates A380
Get the best value from your summer holiday with exclusive offers and discounts across Dubai and the UAE with Emirates Pass