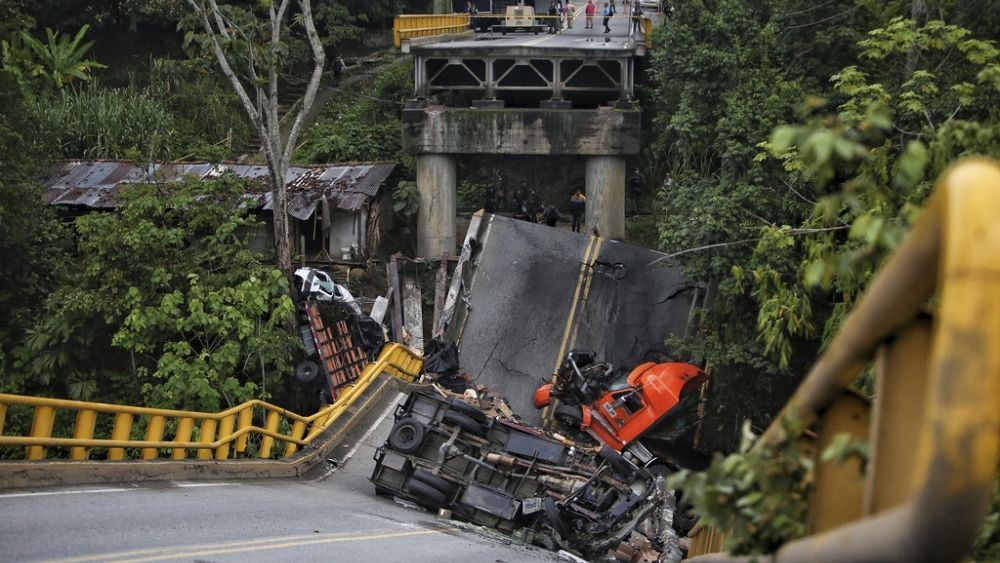 Columbian authorities are investigating the cause of a collapsed bridge in the west of the country that left two police officers dead. The National Infrastructure Agency (ANI) said the collapse might have been intentional.
The images of the El Alambrado bridge went viral on social networks. Commuters reported damaged vehicles and trucks that had fallen into the La Vieja River minutes after the incident took place on Wednesday.
"We cannot rule out any cause," said the director of the ANI, William Camargo.
The authority is also investigating whether the collapse was due to the progressive deterioration of the structure due to continued overhead heavy loads or a maintenance failure 
"Additionally, [we must] verify static loads, dynamic loads and also explore the possibility that some small structural elements might have been tampered with which could have impacted the stability of the bridge by people intent on causing harm," said Camargo.
Four trucks, two of them from the police loaded with weapons, and a car fell into the void when the bridge collapsed, authorities reported.
Two uniformed men, ages 38 and 44, died and fifteen people were injured.
"Solidarity with the families of the victims. I have ordered an investigation to be launched to establish the causes of the collapse of the bridge and those responsible," left-wing president Gustavo Petro, wrote on Twitter.
The mayor of neighbouring Caicedonia, Carlos Alberto Orozco said that the collapse affects trade between the centre of the country and Buenaventura, the main port on the Pacific.
Columbian guerilla groups reportedly target oil pipelines, roads and public force buildings as war strategies in the midst of prolonged internal conflicts.
Authorities had recently carried out a study on the bridge in which they did not detect any human interference that could signal a possible collapse. "That is why there is talk of a sudden failure," Camargo said.
Advertisement
The new Emirates Premium Economy has arrived on the latest Emirates A380
Get the best value from your summer holiday with exclusive offers and discounts across Dubai and the UAE with Emirates Pass