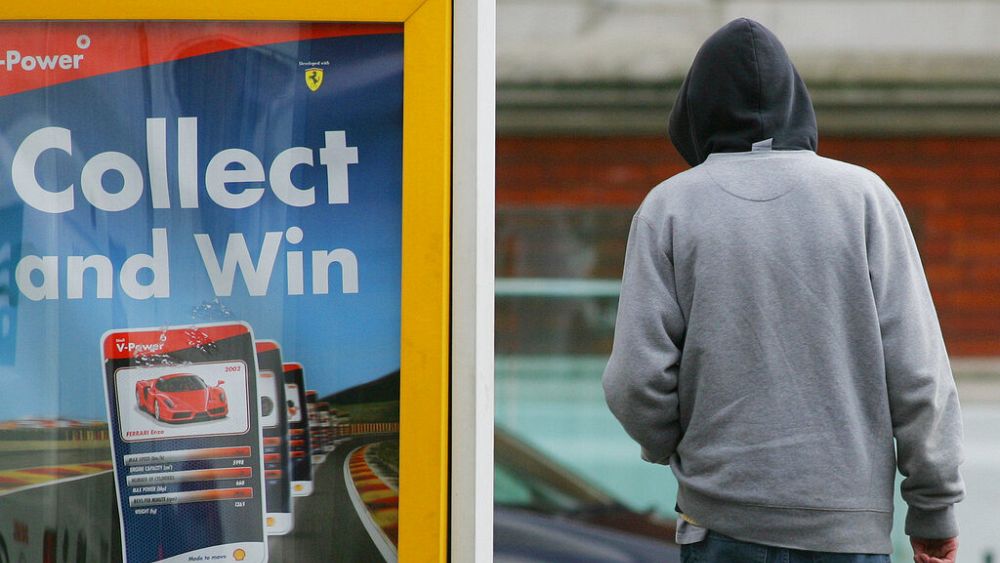 Stabbing is a big problem in Britain. 
With children as young as 12 getting stabbed in brutal knife attacks, campaigners and local authorities have installed "bleed control kits" up and down the country. 
Placed outside conflict hotspots, such as supermarkets and fast food outlets, the small red cabinets contain publically accessible medical equipment, which can stem the bleeding from catastrophic wounds until an ambulance arrives. 
They are a grim indictment of an issue blighting the lives of more and more young people each year. 
Knife crime in England and Wales was 9% higher in March 2022 compared to the previous year, and 34% higher than in 2010/11, with police recording around 45,000 offences, according to the Office for National Statistics (ONS).
That's nearly 125 a day. 
"The vast majority of young people don't carry knives", says Patrick Green, CEO of the Ben Kinsella Trust, an anti-knife crime charity. "They know it is wrong."
"But there are some who we as a society have failed to keep safe and help make better decisions."
The trust was set up by the family of 16-year-old Ben Kinsella, who petitioned then Prime Minister Gordon Brown to help stop the epidemic of violence around him, but who was later tragically murdered in a knife attack while walking home from a night out with friends in 2008.
A "long list" of things drive knife crime, says Green. "Social exclusion, poverty, deprivation, inequality, racism – a whole number of factors make people vulnerable to being drawn into crime and, ultimately, violence."
He likened the devastation to a "virus or epidemic", emphasising there was not one profile that put someone at risk.
"Once it becomes established, it grows quickly. The sense of fear that stabbings generate creates a situation where young people feel unsafe and sometimes make the wrong decision to carry knives to protect themselves."
"This, of course, then makes them more vulnerable to being injured," he added.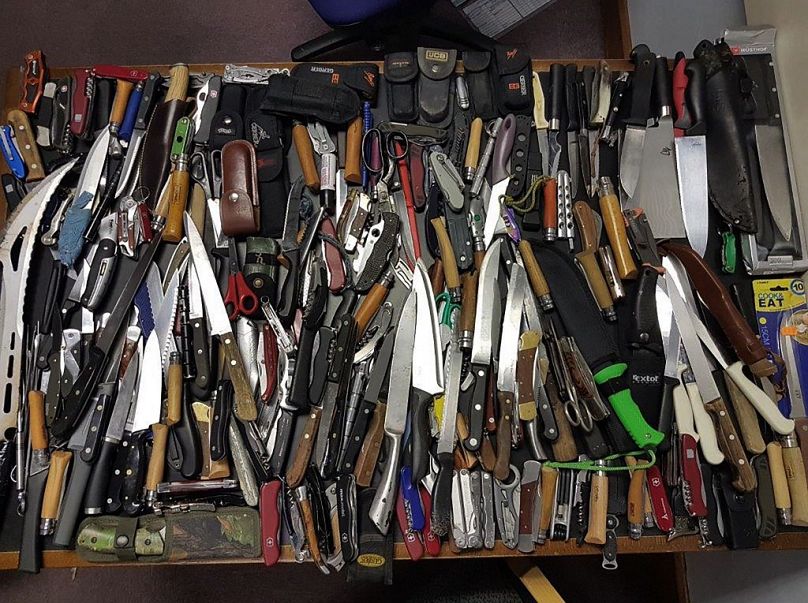 Around 4% of young people in England and Wales are estimated to carry a weapon one or more times each year.
The vast majority do so because they feel vulnerable, according to surveys by childrens' charity Barnardos and others cited by the Home Office.
"There's a huge lesson here in terms of messages," Green told Euronews. "Adults and the wider community need to make sure that young people feel safe."
"But it is a complex issue," he continued. "The reasons why they carry knives are varied and I think this in itself is one reason why it's very difficult to tackle.
'Each death is a national tragedy'
Though the odd murder "caught the public's eye" from time to time, Green claimed knife crime was not getting enough attention.
"We're seeing lives lost every year, but the crisis doesn't get anything like the publicity or indeed level of response it deserves."
More than 280 people in England and Wales were killed with a knife or other sharp instrument in the year ending March 2022, leaping 19% compared to the previous period, as per data from ONS.
Fifty-one of those stabbed to death were teenagers.
Yet, even when violence is not deadly, it can still have a devastating emotional and psychological impact on victims, scarring them for life.
London has the highest rates of stabbings, though the number of deaths fell last year. Despite making up only 13% of the total population, black Londoners account for 45% of the capital's knife murder victims, according to the London Assembly. 
"One stabbing on our streets is one too many and we are serious about tackling knife crime and youth violence," said London's Metropolitan Police in a statement sent to Euronews. "We are helping young people turn away from a life of crime, focusing our efforts on the most vulnerable children and teenagers at risk of violence."
"We are putting extra resources into areas that see the most violence to focus on those areas."
'Choices aren't made in a vacuum'
In a decades-long effort, successive governments of both left and right have adopted punitive measures aimed at deterring what is often labelled as "gang violence".
Possessing a knife carries a maximum penalty of four years imprisonment and an unlimited fine. But, in recent years, the Conservatives have introduced a series of laws increasing police powers to stop and search young people, while introducing "tougher sentences" for offenders.
While recognising they had an important part to play, Green said policies based on deterrence were not a "silver bullet", despite being "often portrayed as the ultimate answer".
"There's also no discernible evidence that they [stop and search policies] make a significant difference to knife crime, he told Euronews, claiming some communities – such as Black or Asian minorities – were already "over-policed". 
A number of other factors can help tackle knife crime, such as prevention, early intervention and education, besides raising awareness among parents, carers and mentors about what they can do to combat the problem.
"Knife crime is everybody's responsibility," said Green. "Of course, police and politicians carry a significant burden but we can all do something about it."
"We need to find out what concerns young people, intervene early and help them live positive lives and go on to achieve what they set out to achieve."
Advertisement
The new Emirates Premium Economy has arrived on the latest Emirates A380
Get the best value from your summer holiday with exclusive offers and discounts across Dubai and the UAE with Emirates Pass