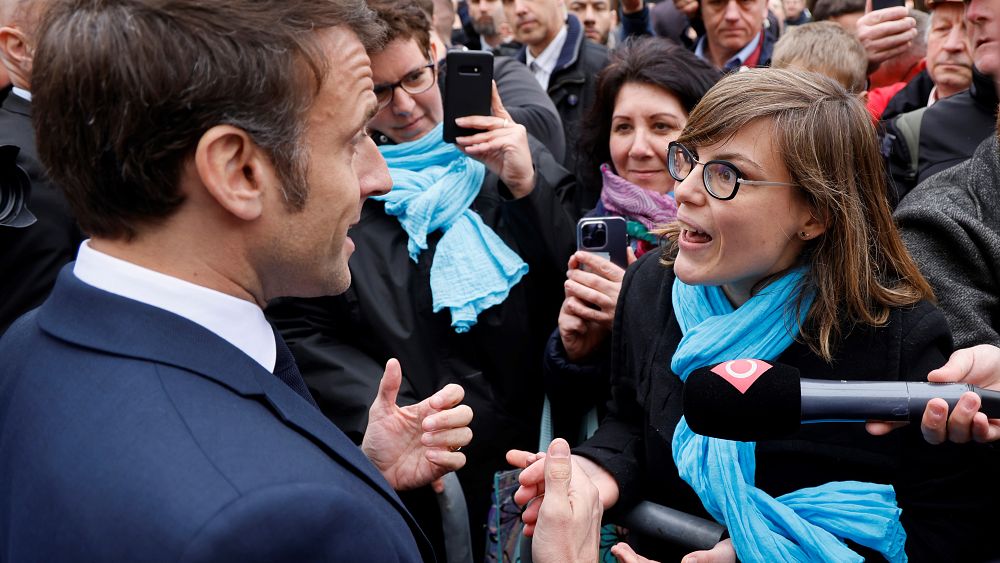 French President Emmanuel Macron was loudly jeered by crowds in eastern France on Wednesday as he embarked on his first trip out of Paris since signing his unpopular pensions reform into law.
Macron had been encouraged by allies to get out and meet voters after signing the reform following months of protests, with some fearing he was becoming too reclusive inside the presidential palace.
But as he arrived in Selestat in the Alsace region, some locals chanted slogans including "Macron resign!" and booed and jeered the 45-year-old, with some personally heckling him.
One man accused him of having a "corrupt government on a scale we have never seen before", adding: "You will fall soon, you'll see."
Macron told the man his ideas were "unfair".
"I have had it worse"
Asked by a journalist how he felt about the angry reception from the crowd, the president replied: "I have had it worse."
It was not all condemnation and some people offered him encouragement, including one retiree who told him: "Keep going."
Macron commented: "There are people who are not happy. Everyone should be free to express themselves. Afterwards, the country has to go forward."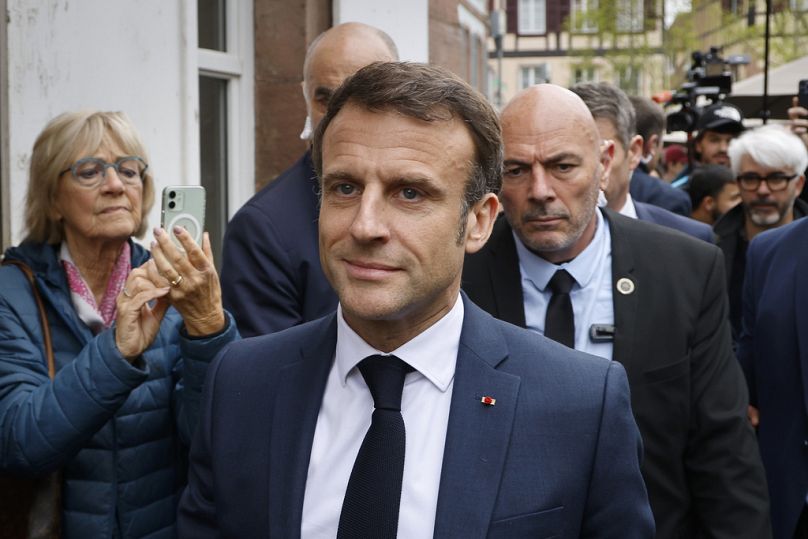 He later told reporters that such incidents would not stop him making visits across France and going on walkabouts.
"This anger has to be heard and I am not deaf to it," he said. "This anger is being expressed, and I didn't expect anything else, but it won't stop me from continuing to make trips," he said.
On an earlier stage of his trip Wednesday, police pushed back dozens of protesters banging kitchenware ahead of the president's arrival in the village of Muttersholtz.
Pot-bashing
Pot-bashing, a form of protest with a long history in France, began during Macron's address to the nation on Monday evening after he signed the bill into law over the weekend.
"It's not saucepans that will enable France to move forward," Macron said as he visited a wood factory in the village.
"The reality across the country is not just those making noise with pans or grumbling."
"You will always see me with people… I have to keep going," he added.
The president made very few public appearances to speak to voters during the three months leading up to the legislation being signed into law, whose flagship measure is hiking the retirement age from 62 to 64.
Political opponents and trade unions have urged protesters to maintain their campaign against the law and called for a new day of mass protest on May 1.
Macron told regional newspapers on Wednesday that he would invite the unions back to the presidential palace in May and said agreements with employers would be "faithfully transcribed" into law.
"Expressions of anger"
The images of the heckling come as polls show Macron's popularity ratings close to their lowest ever levels.
The next presidential elections in France are not until 2027 and Macron by law cannot stand a third consecutive time. But analysts have warned the current situation is playing into the hands of far-right leader Marine Le Pen.
The scenes recall Macron's visits around France during the so-called "Yellow Vest" protests of 2018-19, when the head of state was frequently confronted by angry hecklers and protesters.
On Tuesday evening, a private trip by Macron to Saint-Denis, northeast of Paris, also saw around 300 demonstrators voice their anger at his pension changes.
"People will make themselves heard but that's part of the moment," an aide to the president told reporters on Wednesday, adding that there would be "expressions of anger most probably, support perhaps."
The head of state was slapped in the face in 2021 by a 28-year-old unemployed mediaeval history enthusiast during a visit to a small town in southeastern France.
After Wednesday's visits, Macron is set to go to a school in the southern Herault region on Thursday.
"Le Refuge"
A video surfaced Tuesday of Macron singing the traditional song "Le Refuge" — about a lodge in the mountains on France's southwestern border with Spain — in the street after his televised address on Monday.
He was surrounded by men in their 20s and 30s singing vigorously and the incident might at first have seemed a welcome show of connection with voters for the president.
But the video was first published on the Facebook page of an organisation called "Projet Canto" which, according to left-wing newspaper Liberation, was founded and run by far-right activists.
Jean-Luc Melenchon, a figurehead for the hard left and former presidential candidate, said Macron's power was waning.
"The president's authority is rotting away," he wrote on his blog.
Advertisement
The new Emirates Premium Economy has arrived on the latest Emirates A380
Get the best value from your summer holiday with exclusive offers and discounts across Dubai and the UAE with Emirates Pass