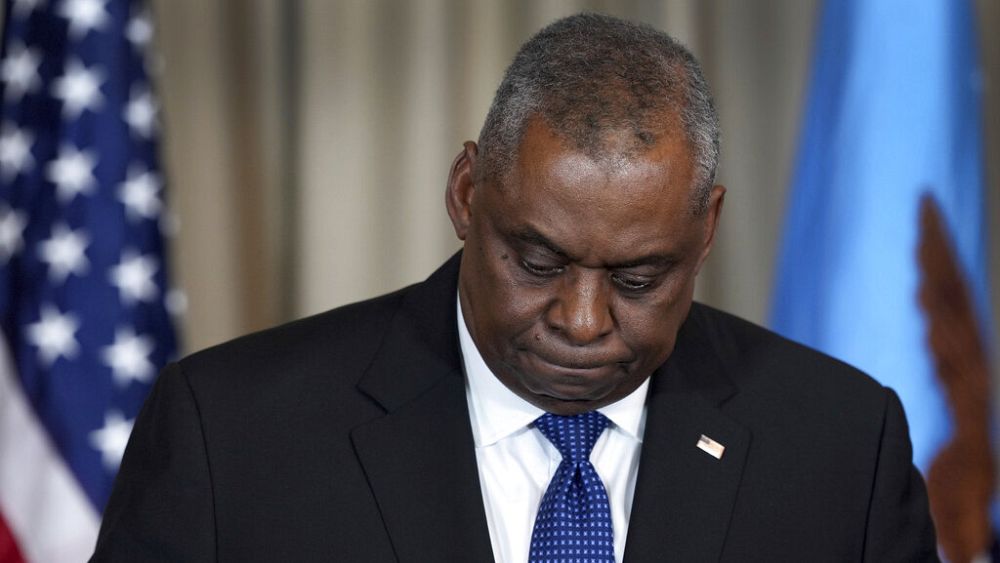 Ukrainian President Volodymyr Zelenskyy urged NATO Secretary-General Jens Stoltenberg on Thursday to push NATO members for more military aid including warplanes, artillery and armoured equipment ahead of Friday's Ukraine Defence Contact Group meeting with US Defence Secretary Lloyd Austin at the Ramstein Airbase in Germany.
The meeting at the world's largest airbase outside of the US is the main international forum for drumming up military support for Ukraine.
NATO's chief was in Kyiv to vocalise his support for Ukraine's membership bid to the US-led alliance.
Stoltenberg defiantly declared Thursday that Ukraine's "rightful place" is in the military alliance and pledged more support for the country on his first visit to Kyiv since Russia's invasion just over a year ago.
Stoltenberg said he and Zelenskyy discussed a NATO support programme for Ukraine.
"This will help you transition from Soviet-era equipment and doctrines to NATO standards and ensure full interoperability with the alliance," Stoltenberg said. "NATO stands with you today, tomorrow and for as long as it takes."
He noted an announcement Thursday by Denmark and the Netherlands that they plan to provide Ukraine with at least another 14 refurbished Leopard 2 battle tanks by early 2024.
Zelenskyy suggested that more weapons will "meet the prospects on the battlefield" and ensure peace will return to Ukraine and, subsequently, all of Europe.
"The aggressor must be defeated. And this is our joint responsibility with our partners: to gain more time for peace, that is, to be as active as possible now in supplying arms and ammunition to accelerate our joint victory," he stressed.
 "We understand this visit of the Secretary-General, the first one since the full-scale war, as a sign that the alliance is ready to start a new chapter in relations with Ukraine," said Zelesnkyy.
 "Today, at the negotiations, we spoke on four main issues. The first is Rammstein. The meeting will be held tomorrow. And the decisions we expect from partners. First of all, it concerns the armed support of our active actions" he added.
The alliance has focused on bolstering defences on its own territory to dissuade Russia's President Vladimir Putin from attacking any member country. Under NATO's collective security guarantee, an attack on one member country is considered an attack on all of them.
Kremlin spokesman Dmitry Peskov said Thursday that preventing Ukraine from joining NATO remains one of the goals of what Moscow calls its "special military operation." Speaking in a conference call with reporters, Peskov said that Ukraine's accession would pose a "serious, significant threat to our country, to our country's security."
Advertisement
The new Emirates Premium Economy has arrived on the latest Emirates A380
Get the best value from your summer holiday with exclusive offers and discounts across Dubai and the UAE with Emirates Pass